What Really Happened Between Aaron Carter And Lindsay Lohan?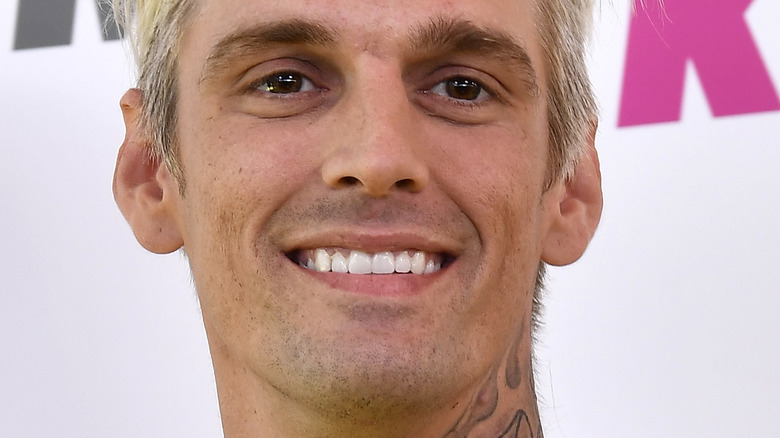 Frazer Harrison/Getty Images
Aaron Carter tragically passed away in his home on November 5, according to a report from TMZ. Per the outlet, Carter — who was also gearing up for a major career comeback — was found unconscious at his home and was pronounced dead at the scene. And while the singer's official cause of death has yet to be determined, Carter's life was seemingly filled with highs and lows.
Carter rose to fame as a child pop star in the early 2000s. His self-titled debut album was released in 1997 but failed to achieve commercial success. However, the singer's second attempt, "Aaron's Party (Come Get It)," helped catapult the Florida native's career. The album was released in October 2000 and quickly shot to the top of the charts. It peaked at No. 4 on the Billboard 200 and sold more than 3 million copies worldwide.
During the triumphant start of his career, Aaron Carter also had a tumultuous love life. The "I Want Candy" singer was previously linked to both Hillary Duff and Lindsay Lohan and the trio was involved in one of the most notorious love triangles to ever form.
Aaron Carter was dating Hillary Duff and Lindsay Lohan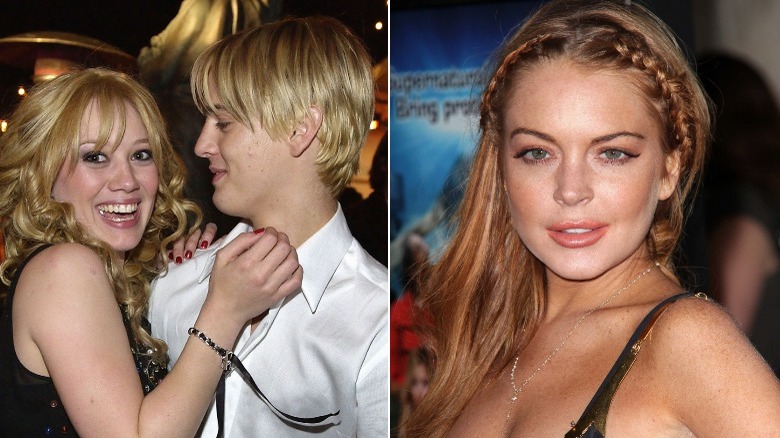 s_bukley/Shutterstock & Lucy Nicholson/Getty
Following Aaron Carter's death, Hillary Duff shared a sweet tribute to the pop star online. "For Aaron- I'm deeply sorry that life was so hard for you and that you had to struggle in front of the whole world," Duff shared on Instagram. Adding, "Boy did my teenage self love you deeply. Sending love to your family at this time. Rest easy."
Duff and Carter were reportedly in an on-again, off-again relationship for three years, starting in 2000, per E! News. Years later, Carter admitted that he would also spend time with another former Disney darling, Lindsay Lohan, during his breaks from Duff. "I was actually dating her for like a year and a half ... Then I just got a little bored, so I went and I started getting to know Lindsay," Carter said in a 2006 interview, via Entertainment Weekly. Carter went on to reveal that he eventually got "bored" in his relationship with the "Freaky Friday" star, which prompted him to reconcile with Duff. Things then got a bit messy, as Carter suggested Lohan "wasn't even that good looking."
Aaron Carter still had love for Lindsay Lohan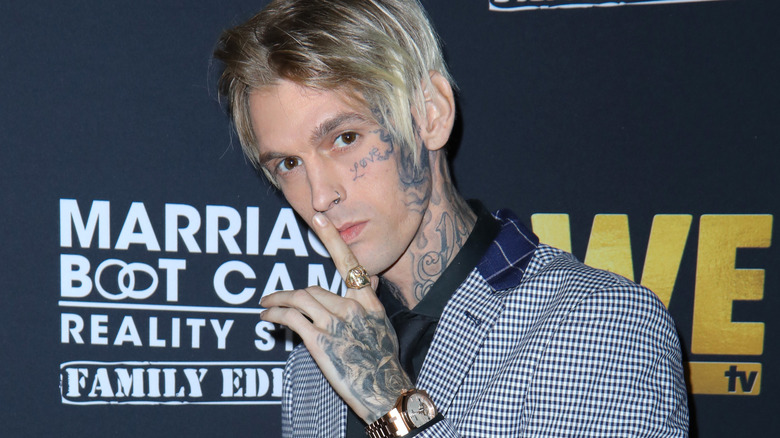 Jc Olivera/Getty Images
Despite Aaron Carter's seemingly shady comments about his relationship with Lindsay Lohan, the "Mean Girls" actor shared touching words about Carter following his death. "My heart goes out to his family and may he rest in peace," Lohan said during an interview with Entertainment Tonight. "And God bless him ... and yeah, just [a] lot of love there." In a separate interview with Access Hollywood, Lohan went on to reveal that she hadn't spoken to Carter in a "long time," but was sure to send well wishes to the singer's family.
Carter also seemed to have changed his perspective on Lohan before his death. In a 2013 interview with Peter Panos, Carter admitted he cared deeply about the actor. "You know, I love that girl, she'll always have a beautiful place in my heart," Carter said. Adding, "She just deals with struggles like we all do." And while it's unclear whether Carter and Lohan ever reconciled, it seems as if the two had a deep admiration for one another.