What We Know About Erin Andrews' Husband, Jarret Stoll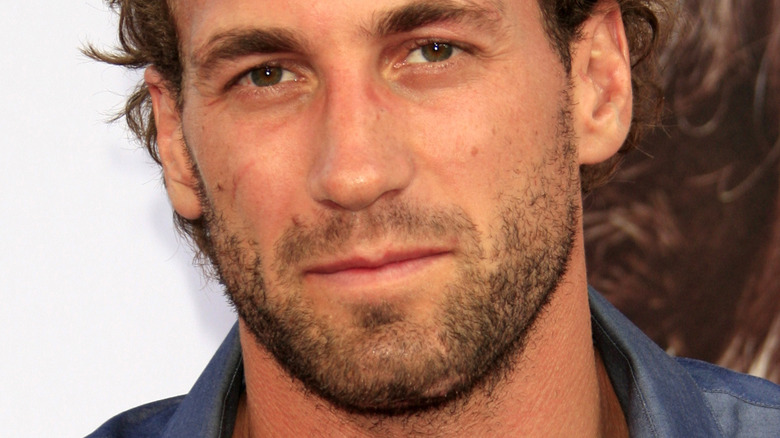 Kathy Hutchins/Shutterstock
Rarely are sports broadcasters as well-known as the athletes they cover, but Erin Andrews is a special case. The television personality has been behind the camera for around two decades, and currently covers Fox Sports' Thursday Night Football, in addition to co-hosting "Dancing with the Stars." A staple on the sidelines, she's reported on major sporting events like the College World Series and the Big Ten basketball games — but her fame has also made her a target. Andrews' career has been marred by bizarre scandals, arrests, and even a stalking case. From being filmed nude in 2008 without her consent, to contending with a double standard in sports media, the TV journalist has weathered her fair share of hard times.
The silver lining is that Andrews has had husband Jarret Stoll to support her in more recent years. The couple met through their mutual friend Michael Strahan in 2012, and at first, it didn't seem like things would pan out. Per Harper's Bazaar, Stoll wanted to take Andrews out for dinner, but she was too busy covering the World Series to take him up on the date. Undeterred, Stoll snuck into the dugout to talk to his crush in person, and the romantic gesture paid off, per The Spun. Andrews and Stoll tied the knot in 2016, and it's been happily ever after ever since.
The wedding made headlines, given Andrews' prominence in the sports reporting world. But what do we know about her husband?
Jarret Stoll had a successful career with the NHL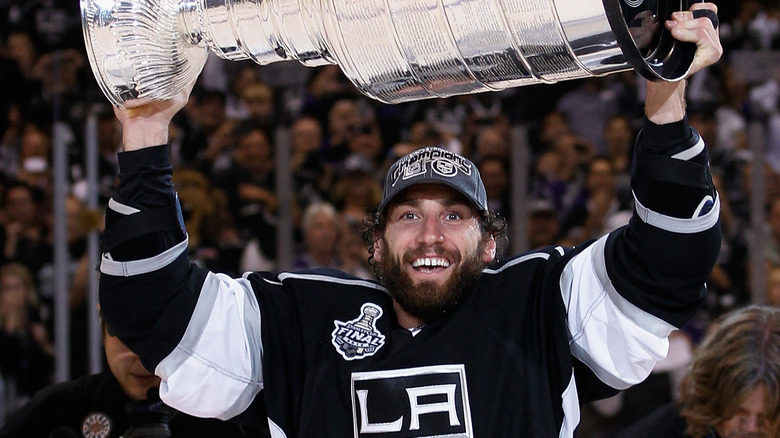 Bruce Bennett/Getty Images
Growing up in Canada, Jarret Stoll began playing hockey at a young age and seemed destined to excel on the ice. "We lived in a small town, so that's all you did," Stoll's mother told the Los Angeles Kings in 2014. "Going to the rink was our entertainment, and we'd go there every day of the week. Us moms would sit in the waiting room ... while the kids were skating or shooting the puck around." Per OilersNation, Stoll made it to the NHL and played for the Edmonton Oilers throughout the 2000s. From there, he was traded to the Los Angeles Kings and went on to win two Stanley Cups in 2012 and 2014.
Though Stoll later joined the New York Rangers and played for the Minnesota Wild, he is most well-known for his time with the Kings. It's therefore fitting that he works for the franchise today, after hanging up his skates for good. "It's awesome to still work for the team that you played for and that you loved playing for; that gave you an opportunity to win the Stanley Cup," he told the NHL in 2017. According to the outlet, Stoll dabbles in multiple roles within the organization, including working with Player Development, and appearing on broadcasts as an analyst. "For Player Development, I love ... seeing kids play, getting on the ice with them, seeing them improve," he added.
Jarret Stoll weathered a drug scandal
While Jarret Stoll was used to seeing his name in lights, he made headlines in 2015 for an unfortunate reason. According to TMZ, the star athlete was headed to a pool party in Las Vegas when he was found with "3.3 grams of coke ... and 8.1 grams of Molly." Stoll was taken to jail where he was booked and released on a $5,000 bond. Two months later, he pleaded guilty to "two reduced misdemeanor charges," and was sentenced to 32 hours of community service, according to the Los Angeles Times. In response, the LA Kings center released a statement where he expressed gratitude for the ability to "share positive life lessons to kids" through his community service work. "My focus remains on hockey and I'm looking forward to getting back on the ice next season," he added.
Following Stoll's drug scandal, Erin Andrews commented on her then-boyfriend's arrest. "I have no idea what tomorrow will bring," Andrews told Redbook (via Us Weekly) in the wake of Stoll's arrest. "We're brought up thinking our lives are going to be a Taylor Swift song. Then you get older and wiser. You don't know what is going to bring you happiness." But for Stoll and Andrews at least, it seems like everything's coming up roses in the end.