Former NFL Star Michael Oher Celebrates Off-The-Field Milestone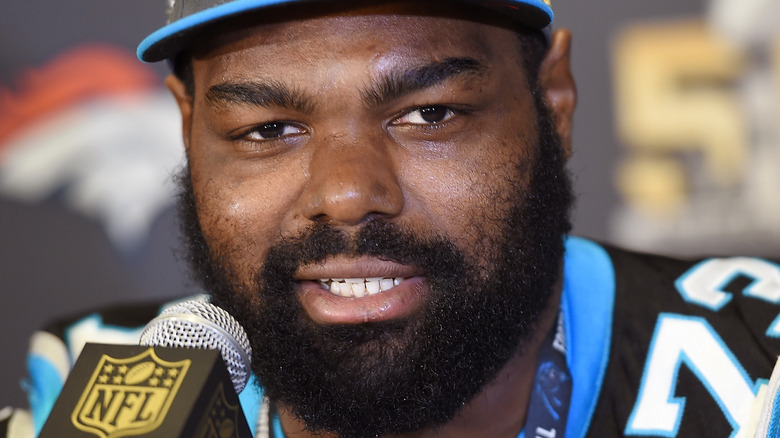 Thearon W. Henderson/Getty Images
Former NFL left tackle Michael Oher was a first-round draft pick in 2009. He was an offensive lineman for the Baltimore Ravens, the Tennessee Titans, and the Carolina Panthers throughout his eight-season career. According to Sportskeeda, he was known to be one of the best guards in the league. He won one Super Bowl with the Ravens in 2013.
But the offensive tackle became famous when the movie "The Blind Side" was released, which highlights his childhood of being abandoned and adopted. According to ESPN, Oher wasn't a fan of the movie, believing that it hurt his football career. "People look at me, and they take things away from me because of a movie," he told the outlet. "That's why I get downgraded so much, because of something off the field."
The former professional football player preferred to keep his personal life private, so it came as a surprise to people when he subtly revealed he had a wife. The Tennessean reported that a potentially intoxicated Oher allegedly assaulted an Uber driver, as he wanted the driver to follow his wife's car. But with a recent event happening, it seems that the two may not have been married at the time after all.
Michael Oher announces his marriage to Tiffany Roy
Former NFL player Michael Oher has announced his marriage to longtime girlfriend Tiffany Roy. "Filled with joy, can't believe people took their time and came to celebrate," he stated in the caption of his Instagram post on November 7. He thanked his wife for what he called the "best single weekend he's ever been a part of." Oher closed out the post by saying, "I'm complete, let's keep trending upward!"
The wedding was reportedly held at the JW Marriott in Nashville, Tennessee. According to People, Oher and Roy have been together for 17 years and got engaged in July 2021. They also share two sons and two daughters. "The most magical part was our vows," Roy told the media outlet, adding that she enjoyed seeing her husband get all romantic. "I really felt like a true Queen." She then expressed that she was a little nervous at first, but her son brought her back to reality. "It was filled with so much joy, excitement, and happiness," she added.
Although it is unclear whether or not Oher's adoptive family attended the ceremony, he seems to still have a good relationship with them. According to The Focus, he has been a big supporter and advocate for his adoptive family's charity organizations. Both his adoptive siblings have looked up to him, and his adoptive mother occasionally posts about him on Instagram.