Inside The Death Of Aaron Carter's Father Robert Carter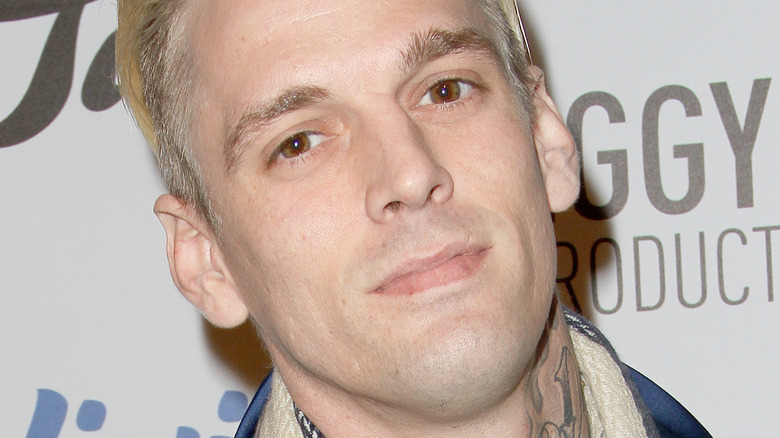 CarlaVanWagoner/Shutterstock
This article includes discussions of mental health, depression, and addiction.
The death of Aaron Carter shocked the world on November 5, 2022. The former child star sang early 2000s hits like "That's How I Beat Shaq" and "I Want Candy." Aaron was found unresponsive at his home in Lancaster, California, and was pronounced dead at the scene. He was only 34. His brother, Backstreet Boys' Nick Carter, took to Instagram to post a heartfelt tribute to Aaron. "Even though my brother and I have had a complicated relationship, my love for him has never ever faded," Nick wrote. He also acknowledged his brother's struggle with addiction and mental illness. "I have always held on to the hope that he would somehow, someday want to walk a healthy path and eventually find the help that he so desperately needed," he said. "I love you Chizz. Now you can finally have the peace you could never find here on earth."
Aaron had made no secret of his mental health struggles and addiction. In 2019, the Florida-born singer discussed his addictions and mental health diagnosis which included schizophrenia, acute anxiety, and bipolar disorder, as per CNN. "This is my reality. I have nothing to hide," he said while appearing on "The Doctors." 
Those close to the Carter family say that 34-year-old Aaron Carter was haunted by the tragic death of his father, Robert Carter, in 2017.
Robert Carter died of a heart attack
Evan Agostini/Getty Images
Robert Carter, the father of pop stars Nick and Aaron Carter, died of an apparent heart attack on May 16, 2017 at 65 years old. Per TMZ, sources close to the family said that Robert had complained of chest pains and twitching in his arm the night before he died. Nick, his eldest son, confirmed his death via Twitter, saying, "I am heartbroken to share the news that our father, Robert, passed away last night ... While we learn more about the cause of death, and begin the grieving process, we ask that our privacy be respected at this difficult time."
Aaron posted his own statement on Twitter, saying he was shocked and "completely shattered" by his father's passing. "I loved my dad so much," he tweeted. "#RIP DADDY I Love You." He also shared an emotional tribute to their father on Instagram. "My heart is broken," Aaron said. Robert, nicknamed Bob, was known to fans of Nick and Aaron after his family appeared in the 2006 E! reality series "House Of Carters." His sudden death followed the accidental overdose of Aaron's sister Leslie Carter on January 31, 2012. Despite his complicated relationship with Aaron, Robert had always been supportive of his youngest son, telling People when Aaron got arrested for marijuana possession in 2008, "The bottom line is that I love my son very much. It's important that he knows that I will do anything for him."
Aaron Carter blamed himself for the deaths of his sister and father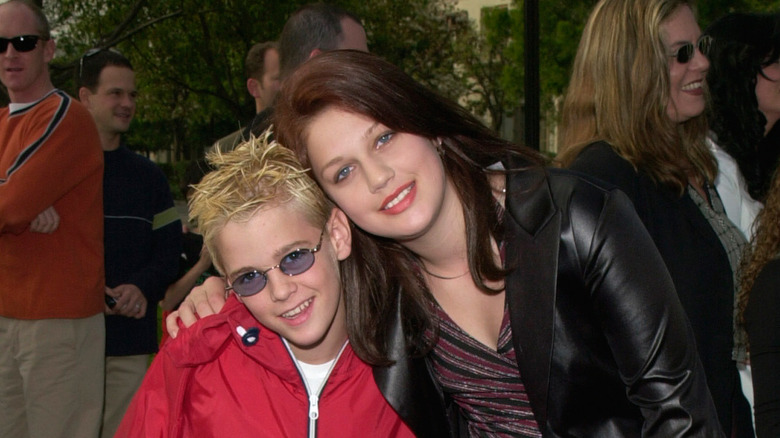 Featureflash Photo Agency/Shutterstock
Aaron Carter was devastated by the loss of his sister and father. In 2019, several years after Mr. Robert's death, Aaron talked about his grief in an episode of WE tv's "Marriage Boot Camp: Family Edition." "I felt like I'd been responsible for the death of my sister, for the death of my dad, for my family falling apart," he confessed. His mother Jane also appeared on the show and shared her thoughts. "I think that's one of the things that hurts Aaron the most, he just was so busy with his own life that he wasn't there, and I think he wanted to be there for them.  In his heart he feels like he could've done something more," she said.
In the wake of his death in November 2022, a source close to Aaron told People that he struggled with the losses until the very end. "Aaron never really dealt with a lot of trauma he had," the source said. "He was really torn up when Leslie died, but it was Bob's death that really threw him." Losing his father was very hard on Aaron, according to the insider. "That's when I saw him really start to spiral. He had gotten in trouble before, but he went from a partier to something a lot more dark then," he said, adding, "It was like he gave up."
If you or someone you know needs help with mental health, please contact the Crisis Text Line by texting HOME to 741741, call the National Alliance on Mental Illness helpline at 1-800-950-NAMI (6264), or visit the National Institute of Mental Health website.