Inside Aaron Carter's Heartbreaking Relationship With His Parents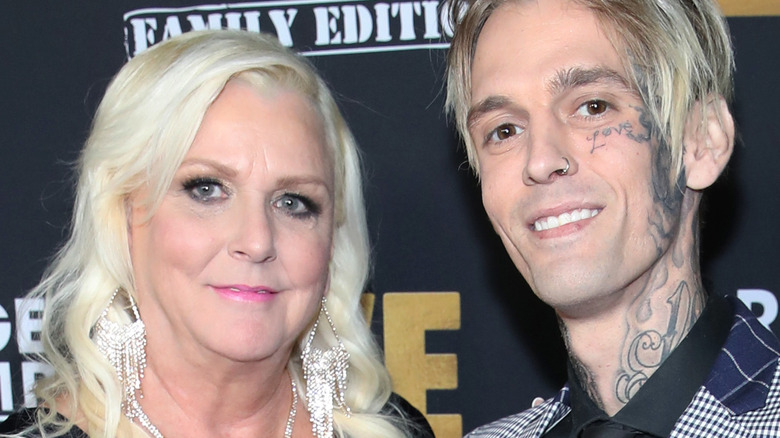 Randy Shropshire/Getty Images
The sudden and tragic death of Aaron Carter rocked the music world after a staff member at his house found the pop singer unresponsive in his bathtub on the morning of November 5. A representative for Carter released a statement saying, in part (via the U.S. Sun ): "Aaron worked very hard towards the end of his life in recovery, to be a good father and to make amends with his family." Although no official cause of death has been determined, the representative offered a hint that substance abuse may have been involved. Indeed, Carter had battled addiction for years, as did his late sister Leslie, who died of an overdose in 2012 (via People).
Carter leaves behind a son, Prince, by his ex-fiancée Melanie Carter. On October 22, Carter tweeted a tribute to his 11-month mark ("daddy and mmaaaamma love you!!"). Sadly he also left the earth with a lot of unfinished business in his immediate family. In addition to Leslie, Carter had seven other siblings, including a twin sister, Angel, and his older brother, Nick, best known as a member of the Backstreet Boys. Nick and Aaron Carter's relationship had been strained in recent years as a result of Aaron's erratic behavior toward Nick and his wife; in 2019, Aaron tweeted that he "[didn't] intend" to see his brother again.
Three years before his death, Carter revealed the sad truth that he and his father had never been on close terms, either.
Aaron Carter had a fraught relationship with his parents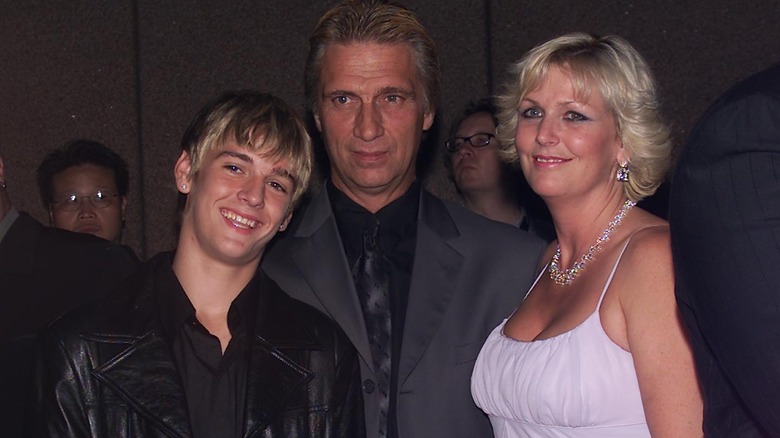 Evan Agostini/Getty Images
Aaron Carter and his parents, Bob and Jane Carter, encountered issues all too common among families of young celebs. Aaron's early singing success — he began performing at age 7 and released his first hit album at age 12, per The New York Times — meant wealth and fame led to headaches. Over the years, they got into both legal and physical disputes, and Aaron accused his mother of taking $100,000 from his own bank account. In 2008, Aaron was arrested for marijuana possession. At the time, Bob told People that he was "floored" by the news. "Other people suspected he had a problem, but I denied it and didn't believe it," he said. "But now I feel hurt and betrayed." Still, he insisted that he loved his son and "would do anything for him."
Bob Carter died in 2017, which left Aaron devastated. Yet, two years later, when Aaron and Jane appeared on "Celebrity Boot Camp: Family Edition," they had an emotional exchange in which Aaron revealed that his relationship with his dad wasn't what it could have been. As reported by Entertainment Tonight, Jane asked her son, "Did you feel love for him? Did you feel like he really loved you, the little boy?" Aaron's tearful response was "no," and his mother admitted that she agreed with him. Now, she is left to mourn a son who lived with pain for most of his adult life.