Are Raven And SK From Love Is Blind Season 3 Still Together?
When it comes to reality TV dating shows, Netflix's "Love is Blind" takes the cake as one of the most dramatic series on-air. The popular show, which first made its debut in 2020, follows a group of singletons searching for everlasting love. However, unlike similar shows, contestants are tasked with dating each other in pods for 10 days without seeing each other, per Variety. After a marriage proposal is accepted, the contestants meet each other face-to-face.
When discussing the series' premise, creator Chris Coelen told Deadline in 2020, "Love is Blind is pretty simple about whether love — pure love — can overcome all of the obstacles that can get in its way in today's world." Over the last three years, fans have immersed themselves in the series' larger-than-life couples and their dramatic antics.
On October 19, the show returned for its third season and featured 30 new contestants eager to find love. However, one of the most popular relationships of the season was between SK Alagbada and Raven Ross — who dealt with an array of issues regarding their connection and future relationship goals. With the season finale now available on the streamer, fans have been eager to find out if the two stayed together after filming. 
Raven and SK are on really good terms after the finale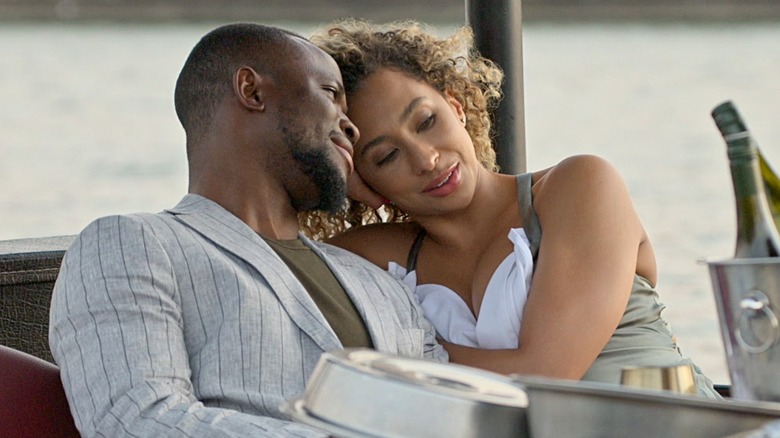 NETFLIX
In recent weeks, reality TV fans have immersed themselves in the dramatic third season of "Love Is Blind." While the new batch of couples faced an array of ups and downs throughout the 11-episode season, none were as dramatic as SK Alagbada and Raven Ross' relationship. During their time on the series, the pair clashed over their cultural differences, SK's impending move to California, and lack of intimacy.
However, one of the couple's most shocking moments occurred on their wedding day, when SK revealed that he couldn't marry Raven despite the latter saying yes to his proposal. "We have a very unique and complex set of circumstances. I feel like today is not the best time for us to do this," he said (via Hello!).
Fortunately, for devoted fans, the pair revealed that they overcame their relationship roadblocks during the show's recent reunion special. "Raven and I, we got to talk after the wedding. We just kind of explained and poured each other's heart out," SK explained (via Women's Health). SK went on to say that even though he moved to California and Raven stayed in Dallas, the two are on "really good terms" and are taking their relationship "one day at a time." Raven echoed similar sentiments, stating, "I feel like we have a lot more story to tell."
SK says fans missed major moments from his love story with Raven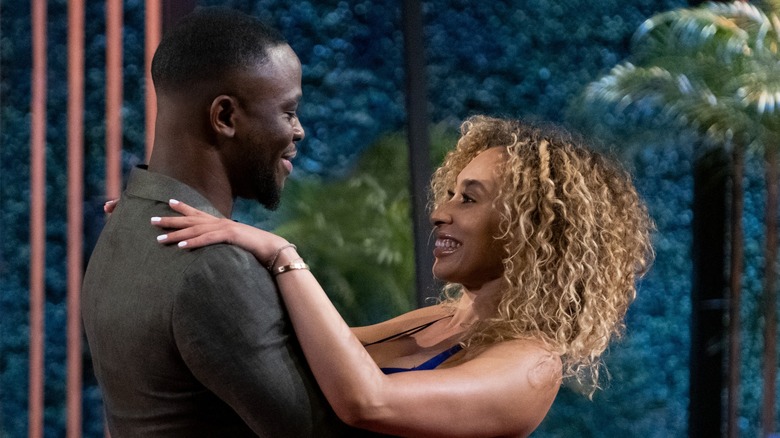 PATRICK WYMORE/NETFLIX
With "Love is Blind" Season 3 officially over, SK Alagbada and Raven Ross have spilt behind-the-scenes tea regarding their time on the series. In an interview with People, SK revealed that viewers "missed out" on elements of their love story. "Raven and I's story, the way it was portrayed on the show, I kind of feel bad watching it, especially from the perspective of the audience, because a lot of our love story wasn't completely told in the way it was portrayed," he told the news outlet. SK went on to say that instead of focusing on how their love story "came to be" editors prioritized "other incidents in the show."
Lastly, the Master's student revealed that he and Raven were always on the same page regarding their long-distance relationship — which was a major focal point for the pair throughout the season. "In our very first conversation, I brought it up. I was like, 'I'm actually getting ready to go to grad school in the fall.' And she didn't really have a problem with that," he said.
While their love story has gone through an array of edits and bumps in the road, the two are showing no signs of slowing down. Speaking to Us Weekly, Raven expressed her excitement over her future with SK after filming. "We've been working on [our relationship]. He's just such a beautiful person, so we've been giving each other patience. It's been great," she said.