How Eurovision Changed Everything For Celine Dion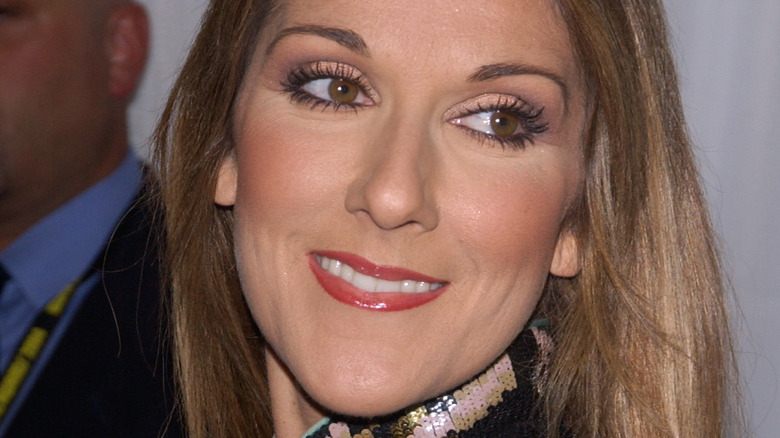 Featureflash Photo Agency/Shutterstock
The Eurovision Song Contest has launched the careers of many a singing hopeful over the years, with plenty of acts praising the iconic European yearly tradition for giving them a boost. "We've never been scared of the Eurovision label. For us, Eurovision was never the goal — it was just a way to reach our goals," Eurovision Song Contest 2021 winners Måneskin bandmember Damiano David told NME in October. "That was the sliding door for us. We've never been afraid of being 'a Eurovision artist' forever. We knew that it was going to change our lives. We're happy, and we will always remember Eurovision as one of the main steps of our career," he added.
Of course, ABBA also famously competed in the competition for Sweden back in 1974 — and we know exactly how all that turned out. One pretty shocking thing about that year's contest, though? They only came in eighth place, while the late Olivia Newton John (yes, that Olivia Newton John!) competed for the U.K. and came in second place. What a year that was!
One other uber-famous person you may have forgotten ever competed on the show, though? None other than Celine Dion! Yep, despite being a French-Canadian native, Dion represented Switzerland during the 1988 contest — and singing in front of Europe changed everything for this superstar.
Celine Dion was confused by her Eurovision Song Contest appearance
A 20-year-old Celine Dion performed the track "Ne Partez Pas Sans Moi" (which translated to "Don't Leave Without Me") during the 1988 Eurovision Song Contest, which took place in Ireland. Naturally (we mean, this is Celine Dion we're talking about) Dion's voice captured the continent's hearts and she went on to win by just one point, beating out the U.K.'s Scott Fitzgerald, per Smooth Radio.
Dion recalled the somewhat unexpected decision for her to take part on "The Jonathan Ross Show" in 2013, admitting even she was confused initially about why she was asked to compete for Switzerland. "First of all it was a very strange adventure for me... I receive a call and I was in Montreal, where I live and they want me to go to Ireland and they want me to represent Switzerland," she said on the British talk show. "I didn't get it, so I'm like but what about people in Switzerland? What are they going to think? Where's she coming from? We don't even know her."
It all worked in Dion's favor though, as everything changed after her win. Her first album since appearing on the contest, "Unison," was released in 1990 and went on to see global success (while her previous releases had mainly seen success only in her native Canada). Per the Historical Dictionary of Popular Music, the album sold a whopping 4 million copes worldwide.
Celine Dion saw incredible success after the Eurovision Song Contest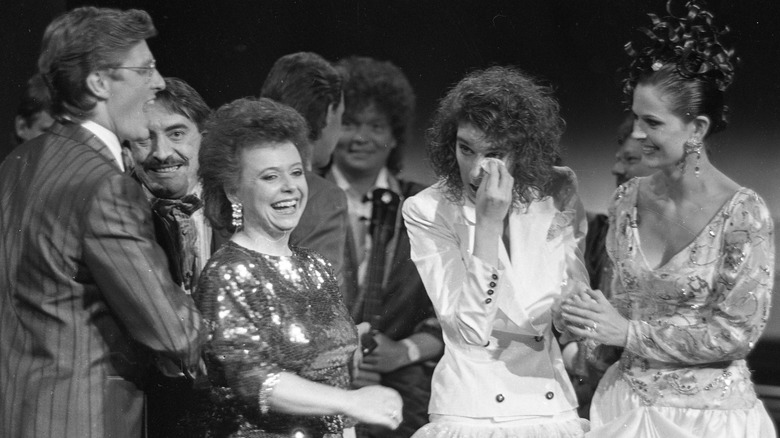 Independent News And Media/Getty Images
Of course, it goes without saying that Celine Dion only went from strength to strength following her Eurovision Song Contest appearance, selling millions upon millions of albums since then. In 1992, she dropped her self-titled album which, thanks to her newfound notoriety, sold 5 million copies worldwide, per Canadian Hall of Fame. That number was eclipsed though when she dropped "The Colour of My Love" the following year, which sold an incredible 20 million copies across the globe.
But it seemed like Dion always knew the competition would take her far. The day after winning, Dion hosted a breakfast with reporters and admitted she had an inkling she could take the crown due to there being a lot of hype around her and her song. Dion was the bookies favorite to win, and plenty had speculated in the media that she'd come out on top. "To be the number on in the newspaper, it's not the important thing to me," she told the media. "It was to be the number one yesterday on stage, in front of the audience. It was the important thing for my career, for my life."