Are Alexa And Brennon From Love Is Blind Season 3 Still Together?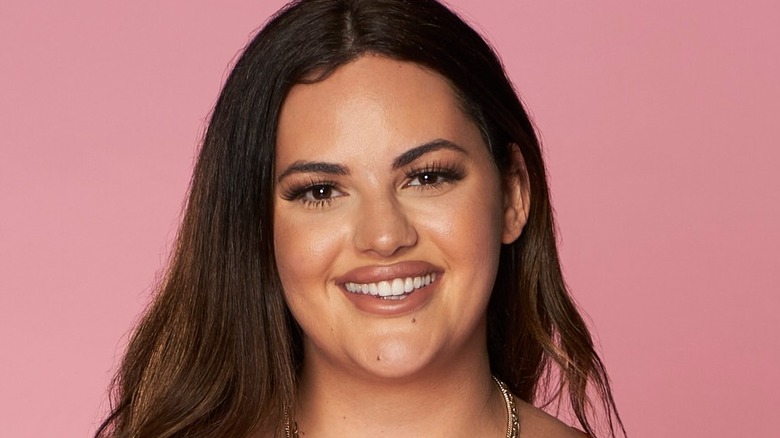 Ser Baffo/Netflix
And just like that, Season 3 of Netflix's hit TV show "Love Is Blind" has wrapped. Each season, there always seems to be that couple that fans fall in love with, and for Season 3, it was Alexa Alfia and Brennon Lemieux. From the beginning, Alfia and Lemieux had a connection like no other. Quickly confiding in each other what they wanted in life, it wasn't long before they completely fell for one another.
In fact, Lemieux was the first man to get on one knee and propose –- of course, without seeing Alfia. According to Marie Claire, Lemieux shared, "I want to spend every day of my life trying to make you happy in any way that I can ... Will you marry me?" Alfia had no hesitation and accepted the proposal. When the couple left for "the real world," they were still madly in love with one another. However, one thing that Alfia worried about was her religious background (via Us Weekly). Alfia grew up in an Israeli family and believed that Lemieux might struggle with her background.
Another issue that arose in the couple's relationship was finances. Lemieux revealed to Alfia and her father that he struggled with money while growing up (via Marie Claire). Alfia's father expressed concern he wouldn't be able to provide for his daughter, but Lemieux promised he would do everything to give her a good life. But religion and financial problems can cause a marriage to falter, so did this adorable couple say yes at the altar?
Alexa and Brennon are happily married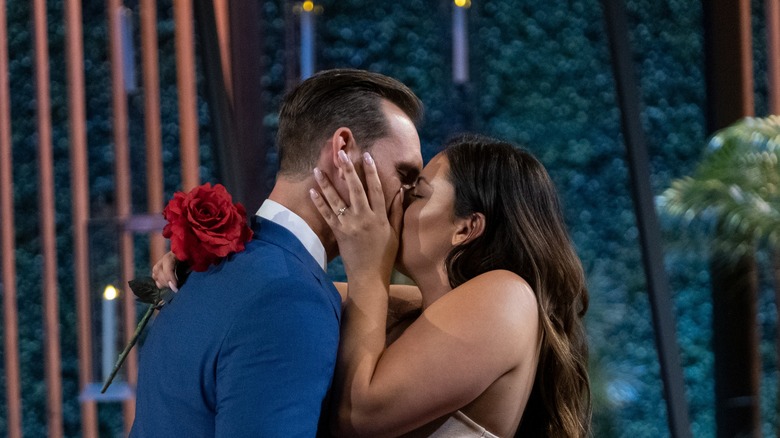 Patrick Wymore/Netflix
Although "Love Is Blind" had fans wondering whether Alexa Alfia and Brennon Lemieux were actually going to tie the knot, there was nothing to be worried about. It was so clear that the couple was infatuated with one another, and when the day came to get married, the couple said, "I do!" (via Us Weekly).
Now, some couples tie the knot at the altar but end up splitting before the show's reunion. Alfia and Lemieux beat these odds and remain happily married (via People). Alfia shared at the reunion special, "I've never been loved in the way that he loves me." Lemieux also expressed how much he adores Alfia with a sweet post on Instagram, revealing he didn't care about what she looked like because she was the love of his life. 
The couple did face bumps in the road that included things like religion and finances, but it didn't deter them from falling for one another. Alfia told People, "I think our backgrounds are very different, but at the end of the day, we have such a love for family and I think that love is the most important thing ... I could have all the money in the world, but what does it mean if I don't have it with my Brennon? He's everything to me." This and many other reasons are why the couple captured the hearts of fans around the country. 
Alexa and Brennon are making plans for the future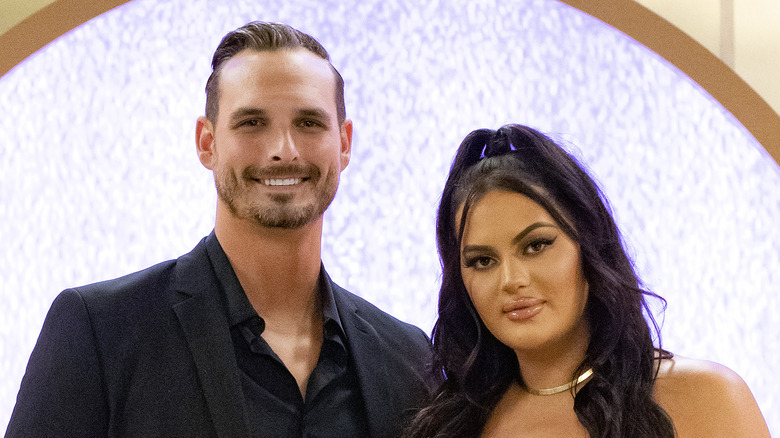 Sara Mally/Netflix
Alexa Alfia and Brennon Lemieux are head over heels in love with each other after tying the knot on "Love Is Blind." And for the couple, it goes beyond just the show. Alfia and Lemieux are making plans for the future from babies to holidays.
When questioned about whether they were welcoming a baby, Alfia shared she's "not pregnant", but added "yet" (via People), keeping fans' love for the couple alive as they look toward the future. While they aren't exactly ready to have a child, they are ready to become parents in another way. Lemieux told Us Weekly the next step for the couple is becoming dog parents. The big commitment is an exciting move for the couple as they navigate life with one another.
The couple is also looking forward to the holiday season and is planning on how to divide their time. As fans saw in the season, Alfia has a huge family and Lemieux adores his family, so it's going to be difficult for the two to figure out where to spend each holiday. Lemieux shared with Us Weekly, "The biggest challenge is like trying to select holidays. Like we go with this family half the holiday and then we drive like 200 miles to this family. So trying to select that kind of stuff." Still, the couple is willing to deal with this struggle if it means staying happily in love.