Jennifer Aniston Gets Support From A Famous Ex After Opening About Her Fertility Struggle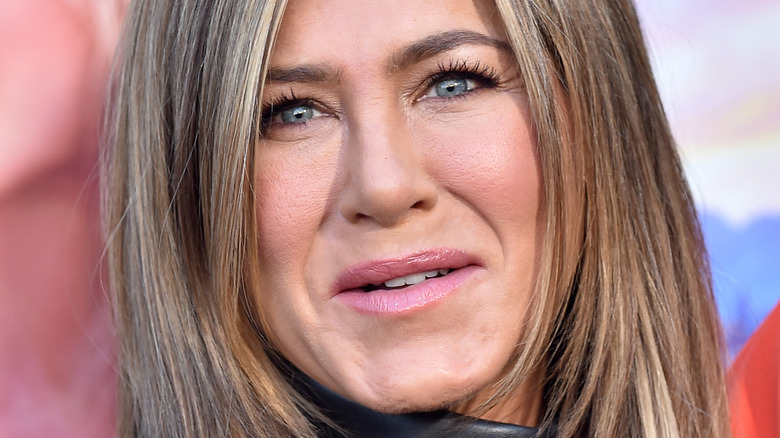 DFree/Shutterstock
In her December 2022 cover story for Allure, Jennifer Aniston got candid about her fertility issues. She also opened up about the fact that her life isn't always as glamorous as it may appear, sharing,  "I would say my late 30s, 40s, I'd gone through really hard s**t, and if it wasn't for going through that, I would've never become who I was meant to be."
During her marriages to Brad Pitt and Justin Theroux, Aniston constantly faced questions about when she would have kids. It's something she touched on in a 2021 interview with The Hollywood Reporter, saying, "I used to take it all very personally — the pregnancy rumors and the whole 'Oh, she chose career over kids' assumption." In her interview with Allure, Aniston delved into the truth behind the assumptions. "I was trying to get pregnant. It was a challenging road for me, the baby-making road," she continued. She added, "All the years and years of speculation ... It was really hard. I was going through IVF, drinking Chinese teas, you name it."
Allure noted that during that time in her life, Aniston was saddened about struggling to get pregnant. However, as the years have gone by, Aniston has reached a level of peace, telling the outlet, "The ship has sailed." The "Friends" alum has "zero regrets" about trying to get pregnant. "I actually feel a little relief now because there is no more, 'Can I? Maybe. Maybe. Maybe.' I don't have to think about that anymore."
Following the interview's release, Aniston has received a lot of support from fellow stars, including her ex-husband.
Justin Theroux will always support Jennifer Aniston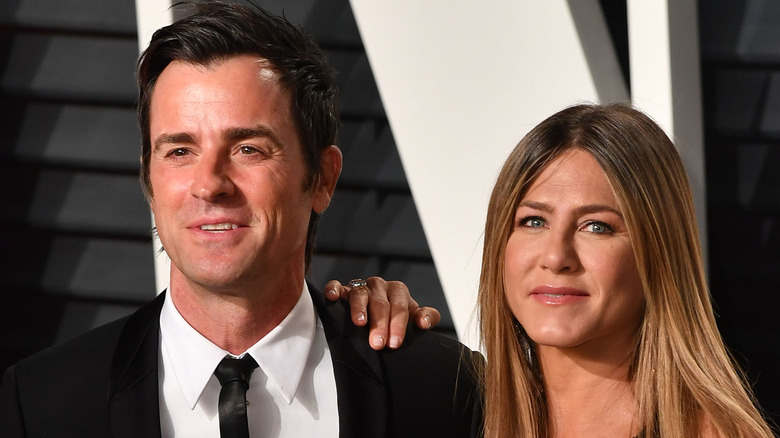 C Flanigan/Getty Images
Justin Theroux and Jennifer Aniston have a long history. The two were first linked in 2011 and they ended up tying the knot in 2015 before calling it quits three years later (via People). While Aniston and Theroux ended their relationship, it didn't end badly and was reported to be "mutual and lovingly made" (via US Weekly). It seems like the two are still on good terms considering the fact that when Aniston opened up about her struggles with fertility, Theroux continued to support his ex.
As Aniston shared, during her 30s and 40s she struggled with IVF, and during this time, she was in a relationship with Theroux (via Allure). As if struggling with getting pregnant wasn't enough, the actor also had to face the constant scrutiny from tabloids that she and Theroux were expecting. Aniston told Allure she "got so frustrated" with the constant gossip, so decided to set the record straight in a 2016 piece for the Huffington Post. Aniston blasted the media for their criticism of her and other women. And although the couple split, just one year later, Theroux and Aniston continue to support and love one another.
In fact, Aniston posted her cover story photos with Allure on her Instagram, and stars flocked to the comments showing support, including Theroux (via Entertainment Weekly). Theroux commented with a fist pump emoji and red heart on the post, showing that no matter what has happened, he will always be on her side.