Inside Serena Williams Relationship With Tiger Woods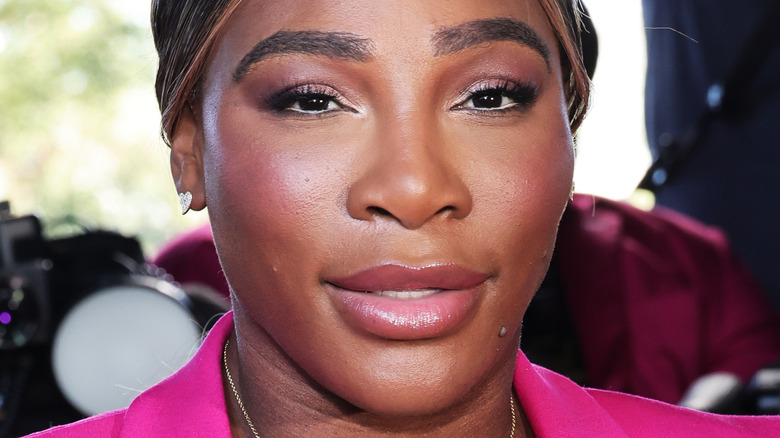 Jamie Mccarthy/Getty Images
Just like in Hollywood, the concept of #friendshipgoals exists in the world of sports. It may seem unlikely since athletes compete with each other all the time, but after the games are over and done with, many of them manage to form lifelong bonds — including rivals.
Take the NBA's Larry Bird and Magic Johnson, for example. The two used to be bitter rivals and eventually became the best of friends. "Both Larry and I are very strong, strong-willed, strong-minded," Johnson once shared with NPR. "Sometimes that armor is weakened. As strong as I appeared to be, I still needed a friend to just say, 'Hey man, I'm here, I'm supporting you. Just do what you got to do to be here for a long time.'" He continued, "You don't have to talk every day and we don't. But we know that if I need something, he's gonna be there. If Larry needs something, I'm gonna be there."
There are also times when athletes from completely different fields somehow cross paths and forge an unlikely friendship. Serena Williams and Tiger Woods are one of those unexpected duos, but as it turns out, the golf legend and tennis GOAT lean on each other through the toughest of times.
Serena Williams didn't expect to be friends with Tiger Woods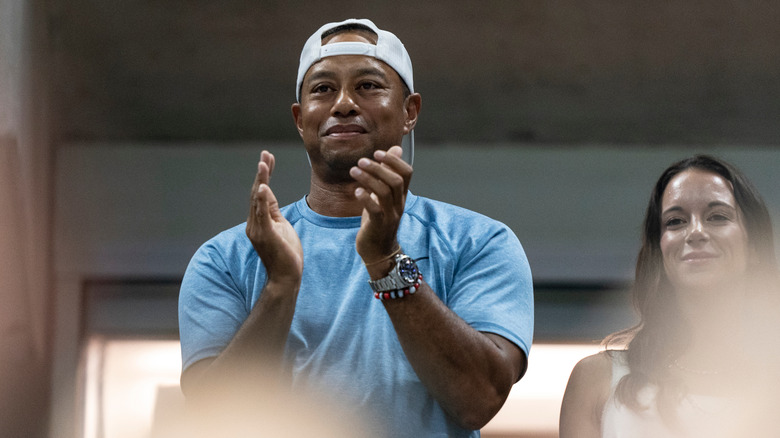 lev radin/Shutterstock
Even though Serena Williams is already a legend herself, never in her wildest dreams did she ever expect to meet Tiger Woods, much less be his friend. In an interview with NBC Sports, the tennis player shared that she had always looked up to him, especially because he's one of the few black athletes who has made a massive impact in sports.
"When I first met Tiger, I honestly didn't think we would be friends. I was just honestly in awe of him, like he is Tiger Woods, he was competing against everyone and he looked like me," she shared, adding that she has much respect for his tenacity and sheer ability to come back from the lowest of the lows. "One thing I admired the most about Tiger is his mental strength and his ability to win. Win on one leg or win when you are feeling awful. That's a real champion."
Woods, for his part, considers Williams one of his closest confidantes, too. "We're very close friends," he told The New York Times in 2018. Apparently, having both experienced setbacks in their respective careers, they give each other pep talks to for added motivation and empowerment. "We've talked at length," he continued, "I think we both have had some nice comebacks."
What's even more interesting is that, apparently, Woods gave Williams the push to return to the game that she loves.
Serena Williams credits Tiger Woods with her tennis comeback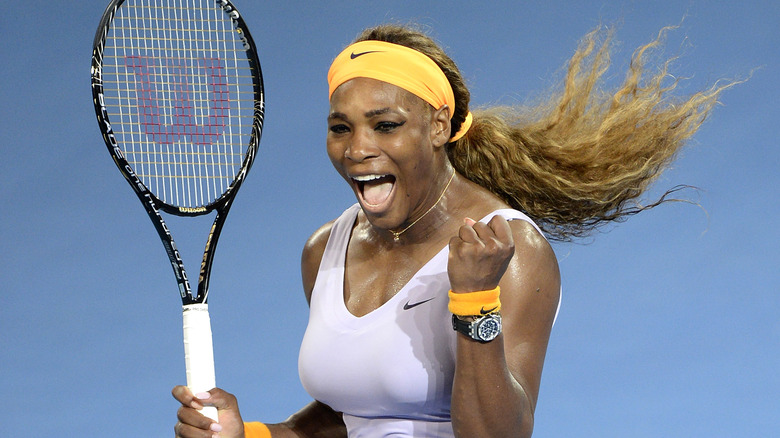 Bradley Kanaris/Getty Images
Serena Williams said that she probably wouldn't still be playing if it wasn't for the encouragement Tiger Woods had given her. After winning at the US Open in September 2022, Williams revealed that Woods gave her the push she desperately needed.
"He's one of the reasons I'm here, one of the main reasons I'm still playing," she told People. "We talked a lot. He was really trying to get me motivated. There's a few people, but we were like, 'Okay, we can do this together,' you know?" She admitted that she felt "lost," but thankfully, Woods had steered her in the right direction. "It was good, because I didn't know what I wanted to do ... was just lost, so many questions. When you can rely on someone like that, I mean — my goodness, he's Tiger Woods — it was really helpful to get clarity."
In an essay written for Vogue, Williams also shared how valuable Woods' words were to her career. "He's Tiger, and he was adamant that I be a beast the same way he is!" she wrote. True enough, thanks to his continued support, the tennis pro once again reached the point where it "felt magical to pick up a racket again." And Woods couldn't be any prouder. After cheering her on at the US Open, he publicly expressed how proud he is of his friend. "It was a privilege to watch greatness. Congrats @serenawilliams," he tweeted.