Lala Kent Clarifies What Her Relationship Status Really Is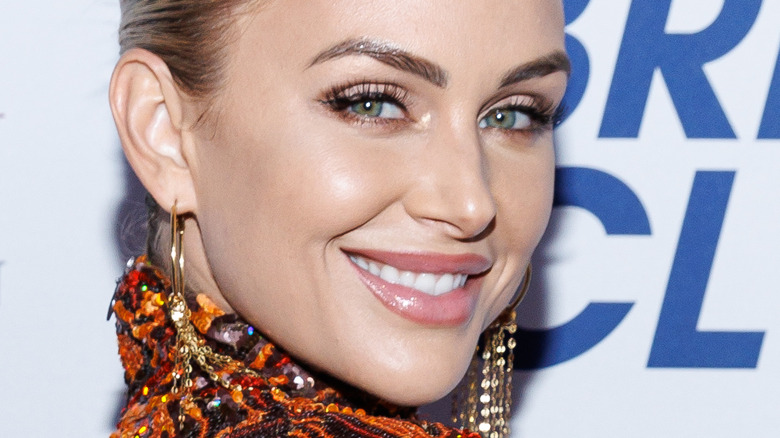 Rich Polk/Getty Images
We may receive a commission on purchases made from links.
Lala Kent had dropped hints about her love life since her split from Randall Emmett, but had been unwilling to provide concrete details. In November 2021, the "Vanderpump Rules" star broke off her engagement to Emmett after reportedly catching him cheating. The two share a daughter, Ocean, and Emmett wanted to repair the relationship. "Randall did not want to split but it was Lala's decision. The trust is gone," an insider told Us Weekly at the time.
Almost a year later, Kent appeared to have moved on with another man. The Bravolebrity opened up about her feelings, but did not reveal her new beau's identity. "I think I might be in love with someone," she said while appearing on SiriusXM's "Jeff Lewis Live" on October 9. Kent said her unnamed man was someone she met through friends, and she was clear about her intentions. "I'm going to need to like, have his baby or something," she added. Later that month, the reality TV star continued to gush over her new love interest while throwing serious shade at her ex. "I'm having the best sex of my life, which I mean, compared to my old relationship that was not hard to do," Kent told Us Weekly on October 15.
After she posted tattoos of her new beau, it was revealed on November 3 that Kent's mystery man was model Don Lopez. Once the cat was out of the bag, Kent came clean about her relationship status.
Why Lala Kent's relationship was mostly physical
Although Lala Kent had intimated that she could be headed towards a long-term relationship with her new man, it appeared the relationship has already run its course. Apparently, after the "Give Them Lala" podcast host posted photos of Don Lopez, it gave her an opportunity to find other suitors. "Now I've got to scratch him off the roster," Kent said while appearing on SiriusXM's "Jeff Lewis Live" on November 10. Contrary to earlier claims that the "Vanderpump Rules" castmate was head-over-heels, Kent said it was mostly a physical relationship with Lopez. In fact, the two never went out together. "No 'dates' dates. I'm not dating," Kent emphasized. "Dating is off the table. I don't really want to get to know anyone, I don't want anyone to get to know me," she clarified. 
Earlier in the year, Kent was forthright about her aversion to the dating life. "The last date I went on, it was a group date, because remember y'all, that's the only thing I'm comfortable with right now," she said on an Amazon Live chat in February (via People). The Bravolebrity shared that the potential mate failed the rigorous screening test she used, which involved hiring a private investigator to dig into their past. 
In October, Kent said that she was open to dating, but it was not her top priority. "I think my person is out there, but Ocean [her daughter] is on my mind 24/7," Kent told People.