Who Is Senan West, Dominic West's Son Who Plays Prince William In The Crown?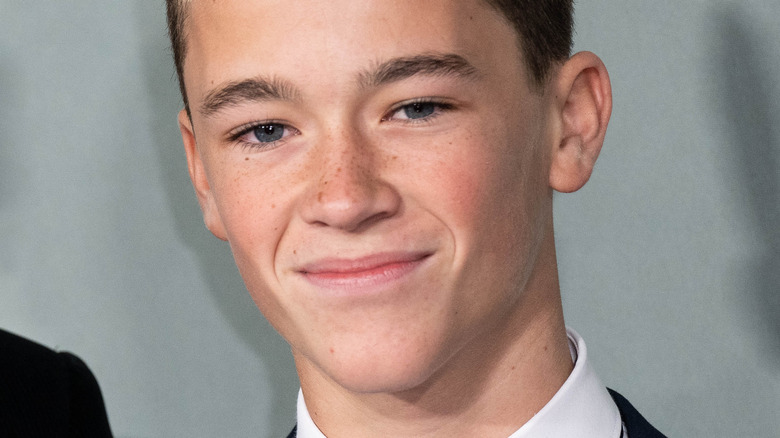 Jeff Spicer/Getty Images
Dominic West doesn't have any qualms about portraying a member of the royal family in Netflix's "The Crown." He raised his defense of the TV series in an interview with Town & Country. "Who wears the crown has been a legitimate subject for dramatization since well before Shakespeare," West noted, adding that the position of the monarch is a public one. "We're bowing to these people — who are they? What are they doing? Do they deserve our reverence?" he asked.
West was cast to play Prince Charles in Season 5 of "The Crown," taking over for Josh O'Connor, who gave us the most perfect portrayal of a newly married Charles. O'Connor charmingly said he had no advice to give to West and knew that the character was in capable hands. West is also a good choice for Charles because both have experience with the scandal that comes from affairs. For Charles, of course, it was the tug between Princess Diana and Camilla Parker Bowles. For West, he landed in hot water after he was seen canoodling with Lily James in Rome. His wife, Catherine FitzGerald, forgave the incident, while James offered a cryptic no-comment. But all that is in the past. We're looking ahead at a new chapter in the fictionalized sensation of the British royal family and West isn't alone on set. He's joined by his son, Senan West, who plays his on-screen son, Prince William.
Senan West had never acted before in his life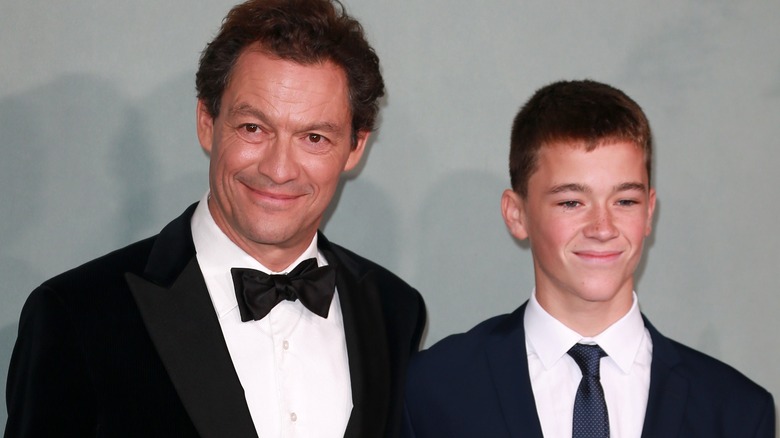 Fred Duval/Shutterstock
Dominic West earned his acting chops. The Eton College graduate landed his first bit in 1991 in a short called "3 Joes," playing the character Joe Smoker, per IMDb. It didn't get much better than that for a long time — not until he landed "The Wire" in 2002 as Detective James 'Jimmy' McNulty. Things picked up the pace with the TV series "The Affair," where he played Noah Solloway and in the "Downton Abbey" film "A New Era." Dominic might be a familiar face now, if not quite a household name, but he wasn't well-known for a long time.
Meanwhile, his son, Senan West had no prior acting experience whatsoever and waltzed onto the set of Netflix's "The Crown" and landed the role of young Prince William. It certainly didn't hurt that his dad was cast as Prince Charles! Dominic told Town & Country that casting agents were struggling to find a boy age 13 who resembled William and that's when he brought Senan into the mix.
"Do you know how lucky you are? Bloody lucky!" Dominic asked Senan. As if this wasn't intense enough for the new actor, Senan's first scene on set was opposite Imedla Staunton, who plays Queen Elizabeth II. "This woman's amazing. Listen and enjoy and learn," Dominic said to his son. What a way to enter the acting world!
Dominic West was glad son Senan didn't get cast in Season 6 of The Crown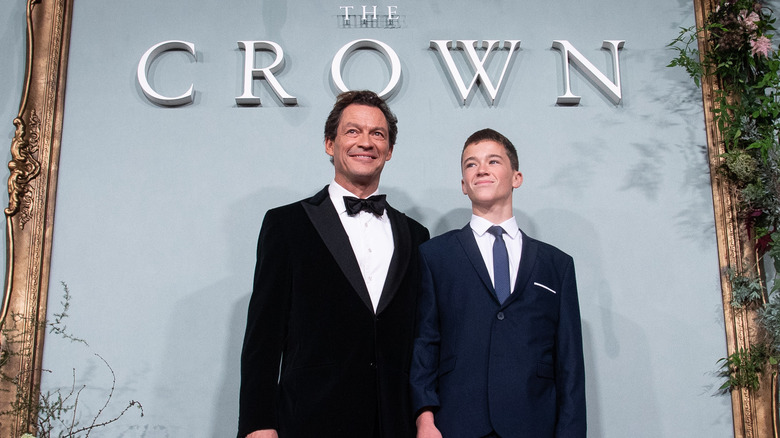 Jeff Spicer/Getty Images
Dominic West and wife Catherine Fitzgerald share four children: Dora, Senan, Francis, and Christabel, according to The U.S. Sun, and Dominic has daughter Martha from a prior relationship.
While working on "The Crown," the experience of acting out a father-son dynamic as Prince Charles and Prince William was a remarkable one for Dominic and Senan. The latter was coached on set by his dad as he made rookie mistakes. Dominic told Town & Country there was a scene with a massive dessert spread. "William is supposed to be stuffing his face, and so Senan was — he was going like this," he told the outlet, mimicking a puffed face. He rushed to Senan and said, "Calm down, calm down! You've got to do it 20 times!"
But for Dominic, it also meant that he could easily play Charles as a loving father opposite his own son as William. He called the familial casting a "shortcut to a sort of tactile intimacy that you have with your kids that no one else has." Unfortunately, for Senan, he didn't get cast in season 6 as an older William, so his time on "The Crown" remained brief. But for Dominic, this was a win. "I felt a bit uncomfortable," he explained, noting that Charles and William start to develop a more contentious relationship. He said he was relieved when Senan didn't get the part.