How Did Matthew Stafford Meet His Wife Kelly?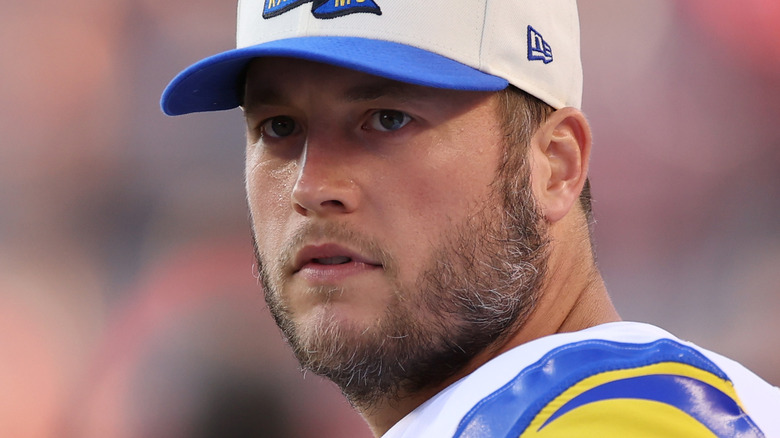 Ezra Shaw/Getty Images
Matthew Stafford, a quarterback for the Los Angeles Rams, originally had his sights set on baseball but quickly discovered in high school that he had a panache for football. What can you do? While Matthew has had a steady career in the NFL, it's his off the field antics that often get him either into trouble or featured in unfavorable headlines. He got into major hot water after the Rams Super Bowl win, when photographer Kelly Smiley fell off of the stage while taking photos of him and wife, Kelly Stafford, during their celebratory parade. Matthew walked away, while his wife ran to help the fallen photographer.
Despite the unfortunate optics, Matthew and his wife released a statement saying that they'd cover the photographer's hospital bills and damaged equipment. Other team members jumped to Matthew's defense too, and noted that he was too drunk to be fully aware or helpful in the crisis. Nevertheless, it was a rough moment, and it was largely his wife Kelly who helped out at that time. While Matthew didn't come out looking the best, Kelly sure did.
Guests at Matthew and Kelly's wedding got Nike shoes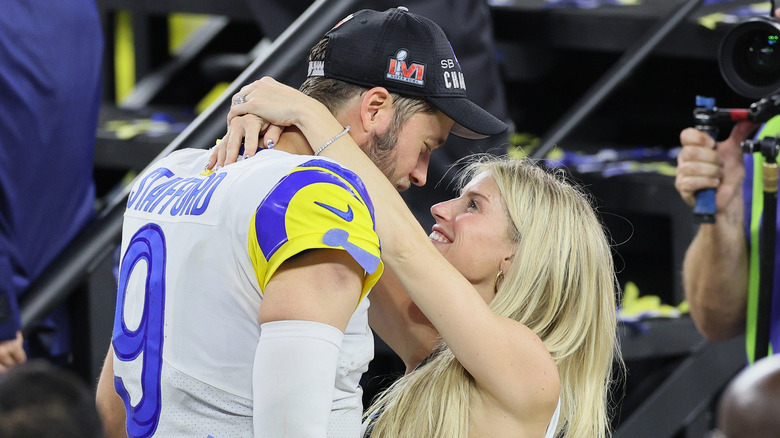 Andy Lyons/Getty Images
Matthew Stafford met his future wife, Kelly Stafford (née Hall) at The University of Georgia, according to Life & Style. In an absolutely perfect romance, Matthew was playing football for the Bulldogs while Kelly was a cheerleader. Following his college football career, Matthew became the No. 1 pick in the NFL draft of 2009, according to Paper City, and joined the Detroit Lions.
Matthew proposed in 2014, per Closer Weekly, and the two got married in April 2015 in Atlanta. Their wedding was major. Guests had to check their cell phones, according to Paper City, and every guest got a hat and the opportunity to have it designed by an airbrush artist. Why a hat, you ask? "Matthew has always needed a hat to pull over his face while he's on the dance floor," his wife joked. "Whenever I asked him to dance, he would say, 'I really just need my hat.'" It gets even better. Guests also got a new pair of kicks and since Matthew was sponsored by Nike, there was a Nike bar so that guests could slip into something more comfortable on the dance floor. Not a bad wedding at all.
Their family only grew following their nuptials. The happy couple welcomed four daughters — Tyler, Hunter, Sawyer, and Chandler — following their 2015 wedding.
Kelly survived a brain tumor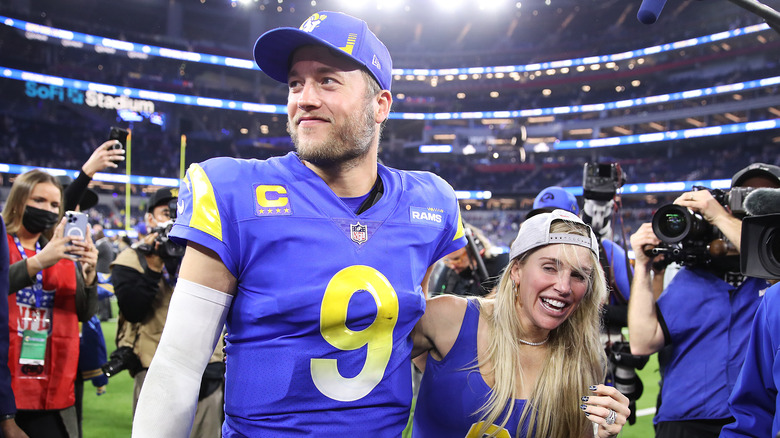 Christian Petersen/Getty Images
While their wedding was jacked up, Matthew and Kelly Stafford have gone through serious health concerns throughout their married life. Kelly was diagnosed with a brain tumor and shared updates on Instagram about her journey. On April 3, 2019, Kelly wrote that she noticed things were off; she was struggling with balance and feeling dizzy. Once vertigo hit, she got an MRI. "A few days later we were hit with the results," she wrote. "I had a tumor sitting on some of my cranial nerves."
In May 2019, Kelly shared an update after surgery and rejoiced that all went well; she was especially grateful to her husband. "Thank you Matthew," she wrote. "Thank you for taking care of me and our family and always putting us first. Thank you for always being my rock and keeping me at ease during the toughest time of my life."
While Kelly has been recovering amazingly, Matthew had his own health crisis in a football-related accident. On November 10, 2022, the New York Post reported that he was put on NFL concussion protocol. Kelly was extremely upset and on her Instagram Stories, she wrote: "I hope as this sport develops, so does the concern for head health and the research around it." She was especially concerned for their four children, twins Chandler and Sawyer, Hunter, and Tyler, who need their father, she said.