Who Is Kyle Richards And Mauricio Umansky's Daughter, Farrah Brittany?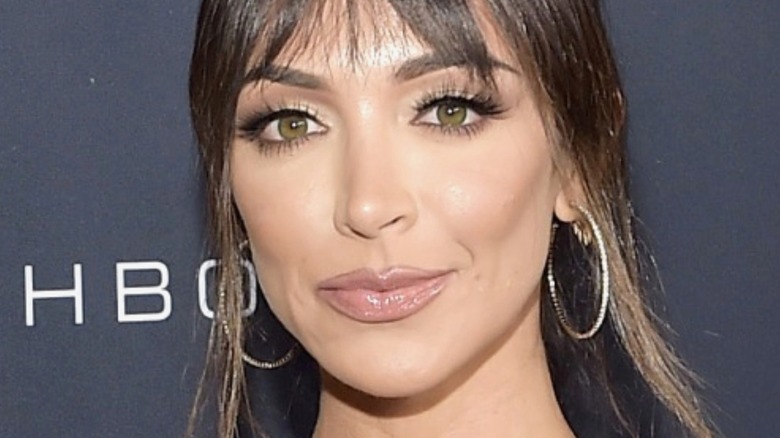 Stefanie Keenan/Getty Images
When "Buying Beverly Hills" premiered on Netflix, fans were yet again given a glimpse into what America's luxury real estate industry entails. Seemingly following in his wife Kyle Richards' footsteps, business mogul Mauricio Umansky introduces us to his real estate firm, The Agency — his dream real estate team consisting of top agents like daughters Alexia Umansky and Farrah Brittany — the latter who is already a fan favorite. "I really like Farrah! She is responsible, accountable, hard worker, a natural leader," one fan wrote on Twitter. "#BuyingBeverlyHills is actually really good and I'm slightly obsessed with Farrah," a second person tweeted.
But while viewers definitely have a soft spot for Farrah, they couldn't help but notice that the reality star goes by a different surname from the rest of her family. This is because according to People, Farrah is not actually Umansky's biological daughter, but rather his stepdaughter whom Richards welcomed during her first marriage to Guriash Aldjufrie. Nonetheless, Farrah is no less his daughter than his biological kids. 
Speaking in the first episode of "Buying Beverly Hills," Umansky revealed he has been a part of Farrah's life since she was 5 and now considers her his daughter. "I certainly don't think of her as my stepdaughter, Umansky said (via Newsweek), adding that in the same vein, she also does not see him as her stepfather. But outside of having a famous mother and a successful father, who really is Farrah Brittany?
Farrah Brittany fell in love with real estate as a child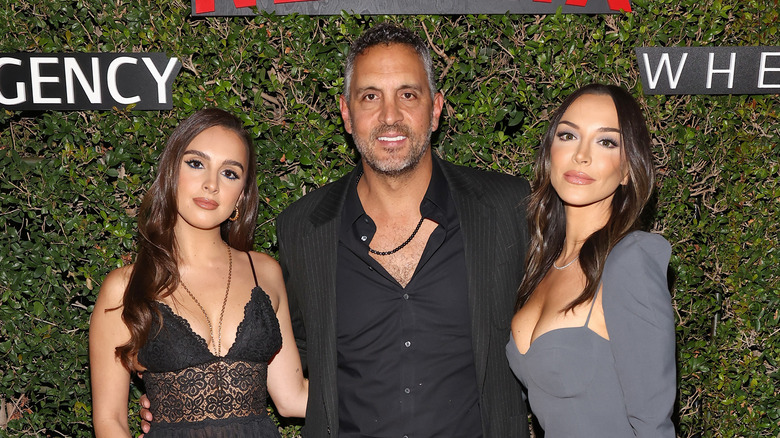 Tommaso Boddi/Getty Images
Like Mauricio Umansky, Farrah Brittany has carved a space for herself in the real estate industry. Per Marie Claire, Farrah was one of the founders of her father's firm The Agency. Now a senior agent, Brittany has racked up millions in sales and listings, earning her a spot on REAL Trends' list of the Top 250 Realtors in the U.S, according to The Worth. But for Farrah, real estate is not just a job, it's a childhood dream come true.
Sharing her real estate journey in 2020, Farrah admitted to have fallen in love with real estate as a child. "When I was little, I would ask my parents to take me to open houses on Sundays so that I could learn about all of the different neighborhoods within L.A.," she told Haute Residence. "Even as a young kid, I had an appreciation for architecture and I loved imagining what kind of people would be the right fit for each home."
Now a real estate badass in her own right, Farrah attributes some of her success to the skills she garnered from her time studying psychology in school. "I graduated with a major in psychology and a minor in business," she said. "That combination definitely prepared me for working in such a face-to-face, relationship-based industry, and the business skills certainly come in handy and can apply to everything else that is required to run a real estate business."
Farrah Brittany is in a blissful relationship
On "Buying Beverly Hills," fans watched Farrah Brittany get engaged to her long-time love, Alex Manos. Farrah announced the engagement back in November 2021. "Beyond grateful for you I love you so much @mralexmanos," she wrote in an Instagram post at the time.
Farrah, however, is still reeling in the love of her engagement — so much so, that she is yet to pick a wedding date. "We do not have a date set," she told Us Weekly. "To be honest, I really just wanted to enjoy the engagement for a minute. And I know people dive right into that — that's not my personality or my partners." But while Farrah is in no rush, she is already making plans for her big day. In fact, she already has the most important part sorted. "I got my dress, and that's about it. But we are getting closer to finalizing some things, or at least, you know, starting that whole process," she told Us Weekly.
In "Buying Beverly Hills" Farrah opened up about her relationship with Manos, revealing that they have a living arrangement that works for them. "I have my own house," the reality star said, per Bravo. "And then I also have our house, which is the house that Alex and I live in together." Knowing who Kyle Richards is, whenever Farrah and Manos decide to tie the knot, we can expect it to be nothing short of grand.