Did Farrah Fawcett Marry Ryan O'Neal Before Her Death?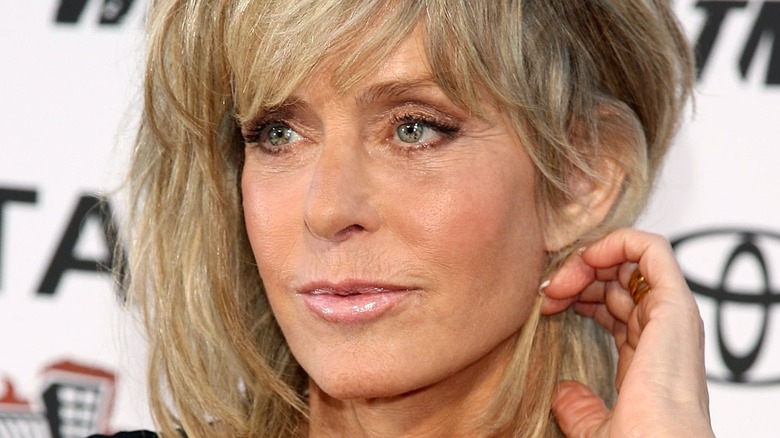 Kevin Winter/Getty Images
Farrah Fawcett was in the public eye for four decades. And for most of those years, she was linked to "Paper Moon" star Ryan O'Neal. Fawcett and O'Neal's relationship was complicated, to say the least. For starters, the actors became involved in 1979, when Fawcett's then-husband Lee Majors introduced the two, People detailed in 1980. By doing so Majors lost a wife and a friend all at once. "Ryan really made a play for her," Majors told the magazine. "I called him and asked him to lay off a bit. 'I can't,' he told me. 'I really love her' ... I haven't spoken with him since."
O'Neal and Fawcett's relationship continued to be plagued by controversy, some that went beyond possible infidelity. O'Neal's daughter, Tatum, accused her father of abusing the "Charlie's Angels" star. "He had a terrible temper and was very violent. He beat her up," she told Talk magazine (via E! News) in 1999, two years after Fawcett left O'Neal for the first time after catching him in bed with Leslie Stefanson, Vanity Fair reported.
According to Tatum, who starred in "Paper Moon" with O'Neal, her father's abuse wasn't just physical. "My dad was a Svengali for her. He took over her life, her career, but there was a price," she added. Despite their troubles, Fawcett and O'Neal got back together in 2001, according to Biography. Before Fawcett died of cancer in 2009, she and O'Neal vowed to tie the knot — plans that played decisive in her will. 
Ryan O'Neal proposed to Farrah Fawcett on her deathbed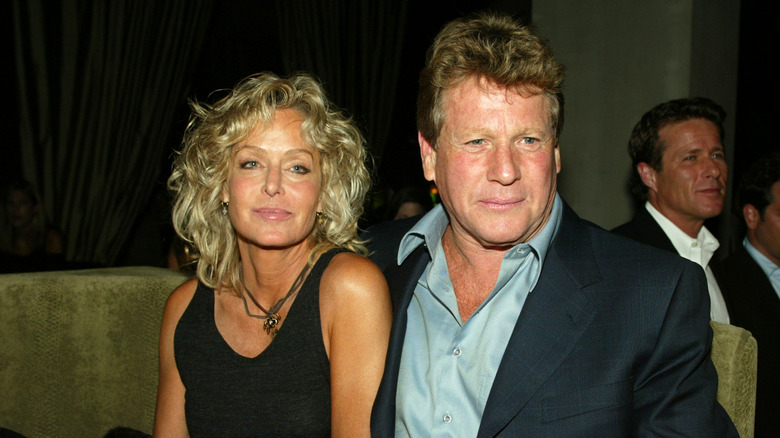 Kevin Winter/Getty Images
Farrah Fawcett and Ryan O'Neal were together for nearly 20 years before his infidelity ended the relationship, as detailed in a 2009 Vanity Fair profile. But despite living under the same roof for so many years and sharing a son, Fawcett and O'Neal never got married. They almost did twice, though. The first time was an impulsive act that was seemingly halted by fate. After he proposed using a cigar band, the two decided to head to church, but a flat tire got in the way, according to The Hollywood Reporter. And they left it at that. 
Both stars had good reasons to be hesitant about marriage. Fawcett had been in a tumultuous marriage that ended in divorce, the Daily Mail noted. O'Neal didn't have one, but two failed marriages in the books. In spite of their reservations, Fawcett and O'Neal put the option back on the table later in life. This time around, the circumstances caused many to view the news with suspicion. 
O'Neal announced he had proposed to Fawcett in a June 2009 interview with ABC News' "20/20," just days before she died on the 25th. "I've asked her to marry me, again, and she's agreed," he told Barbara Walters. Fawcett was on her deathbed then, which O'Neal was well aware of. "We will, as soon as she can, say yes ... Maybe we can just nod her head," he joked. But his plans never came to fruition.  
Farrah Fawcett didn't include Ryan O'Neal in her will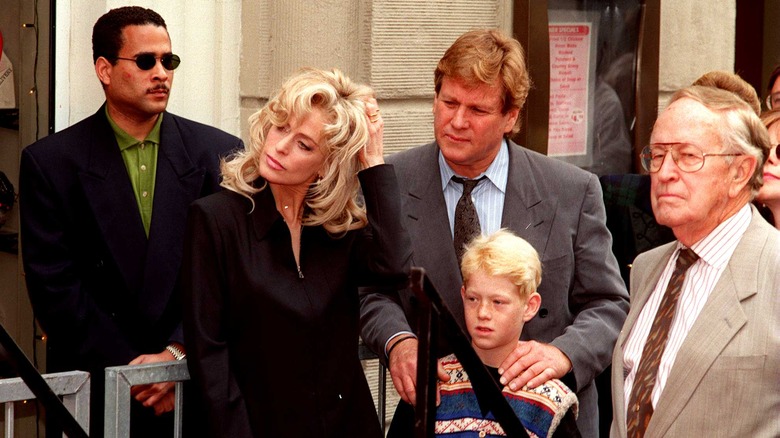 Denny Keeler/Getty Images
Farrah Fawcett didn't leave Ryan O'Neal anything, a reality that could've been different had they signed marriage papers before she died. The contents of Fawcett's will, which she last updated in 2007, included yet another surprise. Not only did the actor leave her partner and father of her child out of her living trust, but she also included an ex-boyfriend in her inheritance. As Radar reported, Fawcett left $100,000 to Greg Lott, a football player she dated back in her college days in Austin, Texas, and with whom she reconnected after breaking up with O'Neal in 1997, according to ABC News. The bulk of the inheritance, though, Fawcett unsurprisingly left to her son, Redmond, pictured above with his parents.
The timing of O'Neal's proposal to Fawcett didn't go unnoticed, not even by his own family. In fact, his son Griffin had strong opinions about his father's intentions. "My dad's only goal was to make sure he would be in the will," O'Neal's eldest child told Vanity Fair. "It was so disgustingly transparent as soon as he found out she was terminal. I consider him a vulture presiding over a carcass. Ryan thought he was going to get everything."
But O'Neal didn't walk away with nothing. In 2013, he won a lawsuit against the University of Texas, to which Fawcett donated her art collection, allowing him to keep an Andy Warhol portrait of Fawcett worth $30 million, according to CNN.