Inside Steve Harvey's Drama With Second Wife, Mary Shackelford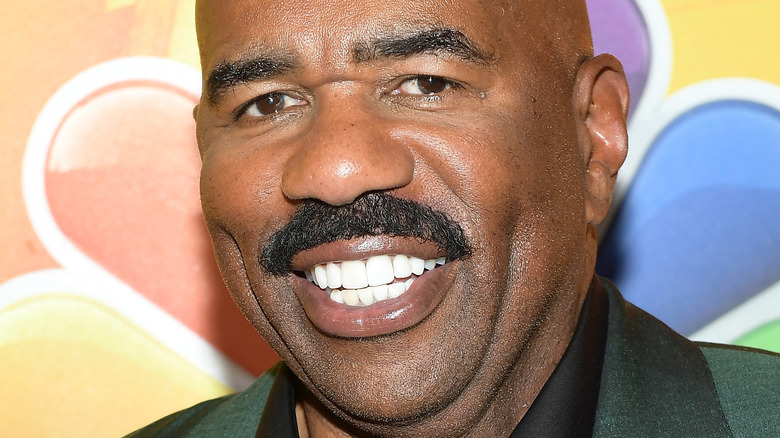 Matt Winkelmeyer/Getty Images
Love him or hate him, it seems like you can't turn on the television without seeing American talk show host and comedian Steve Harvey. While there are a few sketchy things about Harvey that everyone just ignores, there's also a lot about the "Family Feud" host that fans might not be aware of. For starters, he's tied the knot three times. While he's been happily married to Marjorie Harvey since 2007, his first two marriages ended all but amicably. According to Parade, the comedian married Marcia Harvey in 1981 while still employed as an insurance salesman. The two welcomed three children before they ultimately split in 1994.
Even before he finalized his divorce from Marcia, Harvey had allegedly started seeing the woman who would become his second wife, Mary Shackelford. The two hit it off and wound up marrying in 1996. Per The U.S. Sun, the two welcomed their only child, a son named Wynton Harvey, in 1997. The two called it quits in 2005, with some reports suggesting that the comedian had been unfaithful. "I've made so many bad decisions," Harvey told eNCA (via Good Housekeeping). "You've got to get a divorce to find the right chick. I know a little bit about that." Ultimately, Steve's drama with his second wife would last a lot longer than their marriage. Let's dive into it. 
A judge reprimanded Mary Harvey for spreading false statements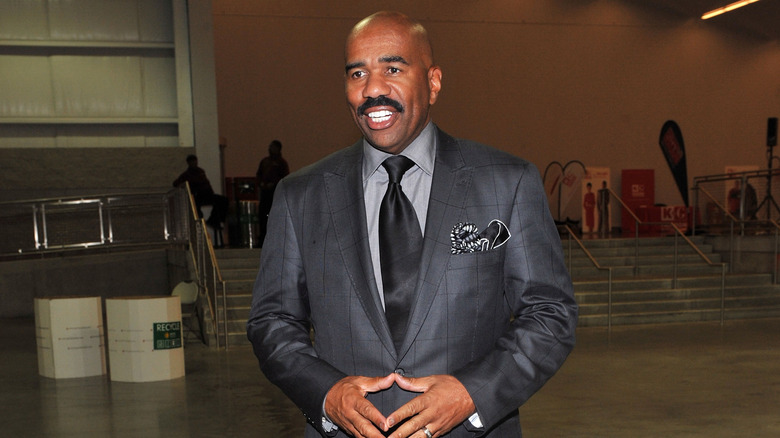 Henry S. Dziekan Iii/Getty Images
In 2011, about six years after Steve Harvey divorced Mary Shackelman, some serious drama began to unfold. According to Us Weekly, Mary started spreading salacious rumors about her ex-husband on YouTube. She used her account to allege that the comedian had multiple affairs during their marriage, including with his current wife, Marjorie Harvey. However, a Texas judge subsequently reprimanded Mary for spreading false information and possibly violating a gag order. 
Daily News reports that the court disputed Mary's claims that she had been evicted and left destitute by Steve, noting that she received substantial alimony and several homes as part of their divorce agreement. He also ordered her to take down the disparaging YouTube videos and issued a temporary injunction barring her from "discussing the pending and past litigation with the media." 
Despite the legal setback, Mary continued her crusade against her ex-husband and sued him for $60 million in 2017, per E! News. Among the litany of accusations found in the suit were child endangerment, intentional infliction of emotional distress, and "soul murder." According to the lawsuit, "soul murder is achieved by a combination of torture, deprivation and brainwashing." In a statement issued to The Jasmine Brand, Steve's lawyer called the claims "meritless" and "completely false." A court later dismissed the suit.
Steve Harvey called out his ex-wife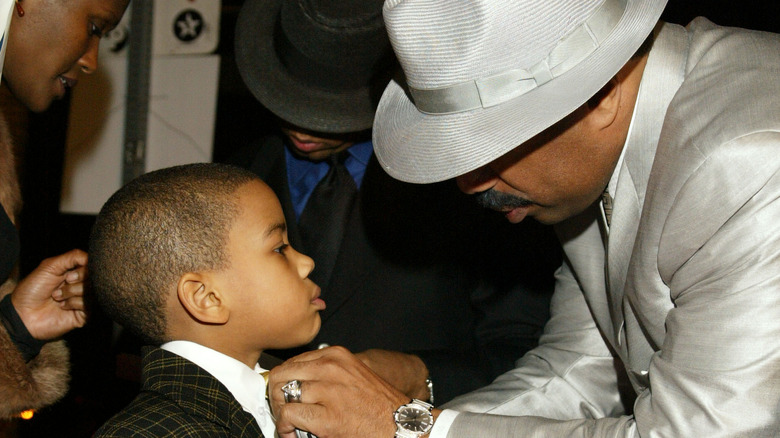 Doug Benc/Getty Images
As their son Wynton Harvey didn't turn 18 until 2015, Steve Harvey's divorce from Mary Shackelford also included a bitter custody battle. According to the Daily Mail, a court granted Steve custody of their son despite allegations of child abuse by Mary during their divorce proceedings. According to Steve's representatives, the court concluded that "based on the information obtained, the child does not appear to be at risk."
Although Steve has remained quiet regarding the drama surrounding his second wife, the comedian called her out in 2011. "The part that's hurtful in here is my wife and children have to be [dragged] into this," he said on the Steve Harvey Morning Show (via HuffPost). "You know, if you're going to be vindictive, then go ahead and just aim it at me, but my son is coming in the room crying."
Over the years, Steve and the son he shares with mary have remained close, with Wynton appearing on his father's talk show in 2015. The two seemed to be on good terms, with Wynton gifting his father a picture of the two of them for Father's day. "It's gonna remind me of how much of an influence you were to me and how you basically turned me into a good enough student so I could actually be accepted into college ... You were able to turn me around,"  Wynton said.