The Truth About Steve Harvey's Wife, Marjorie Harvey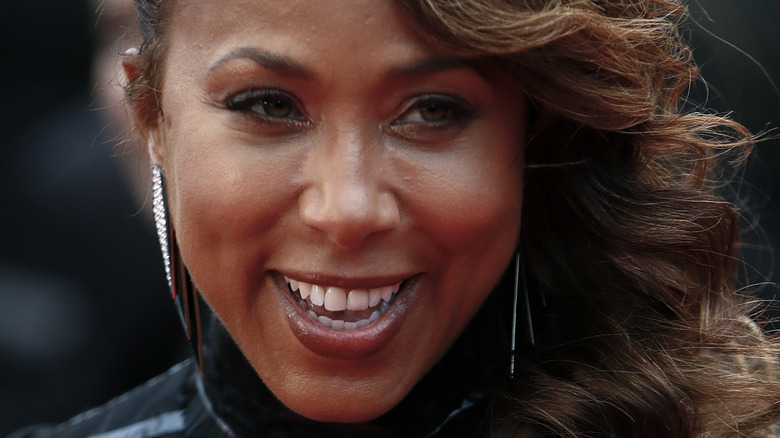 John Phillips/Getty Images
Steve Harvey is well-known across America as one of the country's foremost comedians, serving as the face of many of America's most popular daytime television shows. Most notable among these shows would be the widely popular game show "Family Feud," as well as his own shows, including comedic talk show "Steve," and judicial-comedy show "Judge Steve Harvey." Steve has received much praise for these roles, having received five Daytime Emmy Awards from 12 nominations over the years. In addition, he has even been credited for having "saved" "Family Feud." 
Naturally, Steve's personal life has also been the subject of much interest, with many fans of the widely-beloved comedian curious about his personal life; namely, his marriage to his third and current wife, which began in 2007. So who is Steve's wife, Marjorie Harvey, née Bridges? Well, it turns out the acclaimed talk show's wife has made just as much of an impact on the world as her famous husband.  
Steve and Marjorie Harvey started a foundation focusing on young people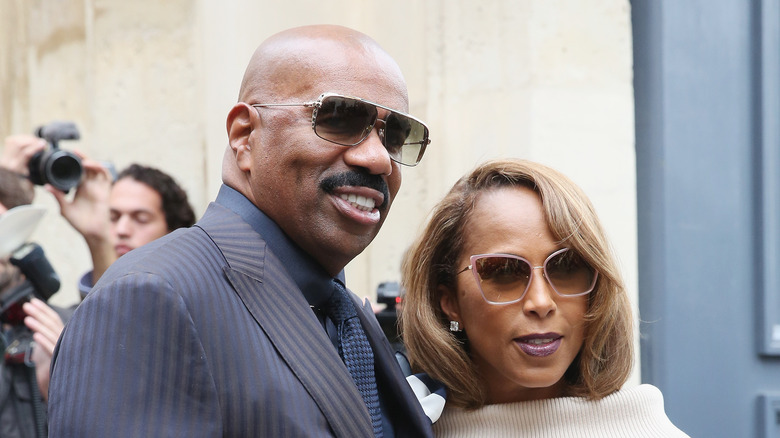 Mireya Acierto/Getty Images
According to Steve Harvey himself, it may have been love at first sight with his current wife, Marjorie Harvey. According to Steve, they first met when Marjorie came to one of his comedy shows, likely around 2005. "She came down front with her girlfriend. When I saw her, I quit breathing," he said. "I wasn't even talking." Marjorie then added that after a long period of silence, Steve finally told the audience, "Oh, I'm sorry. I don't know who this is, but I'm gonna marry her." Of course, Steve's predictions would prove to come true. 
Currently, the couple jointly run the Steve & Marjorie Harvey Foundation, a nonprofit focused on youth education. According to their website, the foundation "provides youth outreach services that help cultivate the next generation of responsible leaders by providing educational enrichment, mentoring, life transformation skills, and global service initiatives." 
In 2018, Atlanta TV station 11 Alive reported that the foundation hosted a special camp in rural Georgia for hundreds of fatherless boys, where they got to partake in a number of activities they most likely wouldn't be able to do otherwise, such as fishing. The following year, The Source reported that the Steve & Marjorie Harvey Foundation also aimed to provide $23,000 scholarships for eight students of Kent State University, which is also Steve's alma mater.
Both Steve and Marjorie Harvey have been married before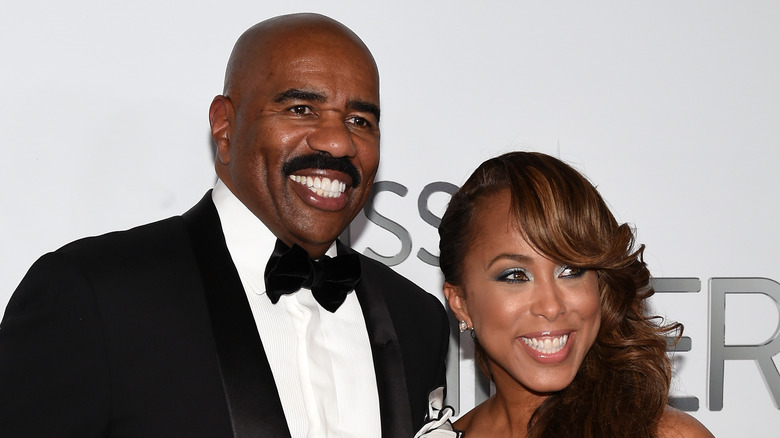 Ethan Miller/Getty Images
According to Parade, Steve and Marjorie Harvey's marriage to one another is the third marriage for each of them; Steve had previously been married to Marcia Harvey from 1981 to 1994, and Mary Shackelford from 1996 to 2005. Only two years after his second divorce, he married Marjorie, and the two have been together for 15 years now, with Steve even publicizing a heartwarming love letter he wrote to Marjorie on their most recent anniversary. 
According to People, Steve has seven children, three of whom are Marjorie's from a previous marriage, who Steve adopted as his own. Three of Steve's biological children, which includes twins, came from his first marriage, with his fourth child coming from his second. Though Steve and Marjorie share no biological children together, they couldn't be happier as a blended family. Marrying her was a "second chance," Harvey told the outlet. "It was like being reborn. I messed up so many times in my life. She made all the difference. When you're happy at home, you can make a lot of things happen."
In a 2014 report by Parade, Steve reiterated his love for his wife and couldn't help but gush about his marriage to Marjorie, telling the outlet it was "the most rewarding thing that ever happened to me." "She gave me a life and a relationship that I didn't know existed," he said, calling her "my soul mate and my best friend."