How Marjorie Harvey Influenced Husband Steve Harvey's Style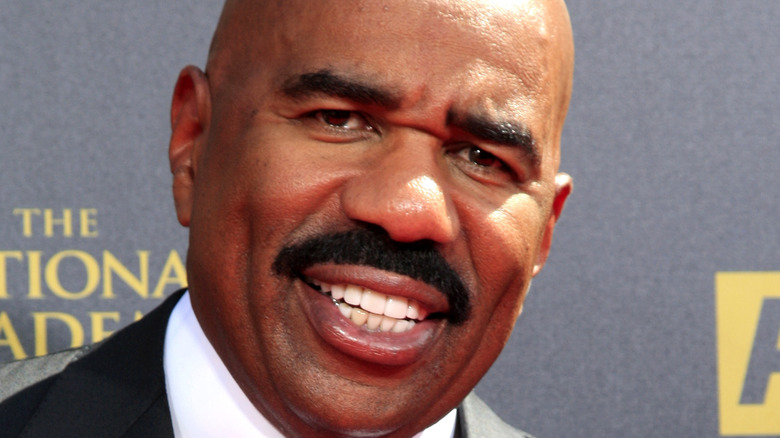 Joe Seer/Shutterstock
Steve Harvey may be known for his long-term run as the host of "Family Feud" or because of his mishap during Miss Universe — but if there's one thing Harvey isn't going to mess up, it's his relationship with his wife, Marjorie Harvey.
Back in 1987, Steve and Marjorie met while Steve performed a stand-up comedy show in Memphis, Tennessee. And you could say it was love at first sight because after walking in to the show late, Marjorie caught Steve's eye — and not just because of the tardy entrance, but because Steve knew right then and there she was the one. "The very first thing I said to Marjorie was, 'I don't know who you are, but I'm going to marry you one day.' That was the beginning," Steve explained, per Good Housekeeping.
The two then went on to date but it was simply the right person, wrong time. After going their separate ways, the two reconnected in 2005 and were married two years later. Now, as the couple celebrates their 15th anniversary this summer, Steve is opening up about how Marjorie has changed his life in more ways than one. Whether it be their marriage and family, his career, or even his style, Steve explained that Marjorie has a major say in all that he does — including all the success the long-term host has amassed over the years — and that he wouldn't be where he is without her.  
Marjorie encourages Steve to dress to impress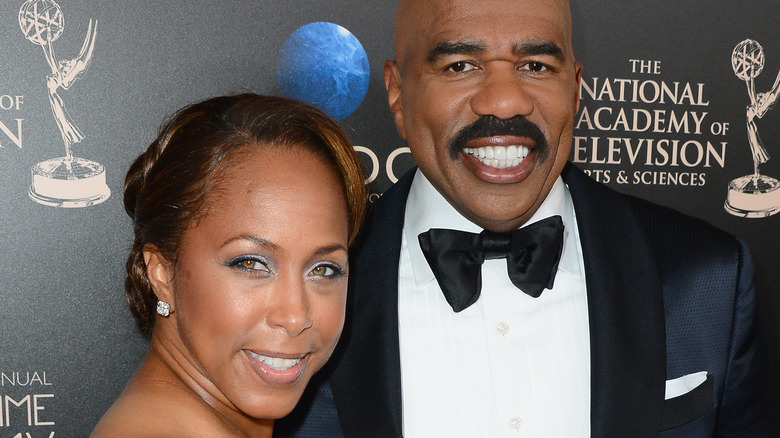 Mark Davis/Getty Images
During their summer celebration of love, Steve Harvey is opening up about how he and his wife, Marjorie Harvey, have made their relationship work for 15 years — and to Steve, that means listening to everything Marjorie says, including what she has to say about his fashion.
In an interview with E! News, Steve explained that Marjorie recently encouraged him to dress more like himself on camera. When hosting, Steve is known to don a simple tux. But according to Steve, Marjorie wanted to see him dress on-camera how he does in normal life — with a bit more flair. "What was I going to tell her, 'No?'" Harvey joked, "The woman you sleep with has a lot of power." Yet, knowing the "Family Feud" host has a packed schedule, Steve explained that Marjorie got him a stylist to help. 
And thanks to Marjorie, that new style went off without a hitch with colorful jackets and blazers, bountiful patterns, and matching sets. But while Steve has been rocking the new style, it's not just him who is enjoying it. In fact, Marjorie has joined in as the two have taken over Instagram not only with their matching couple outfits, but with their support for each other's personal style. After posting a video of himself and Marjorie rocking their new style, Marjorie left four kissy face emojis under the video – letting everyone know she loves and supports her hubby and his style.
Marjorie encourages more than just Steve's style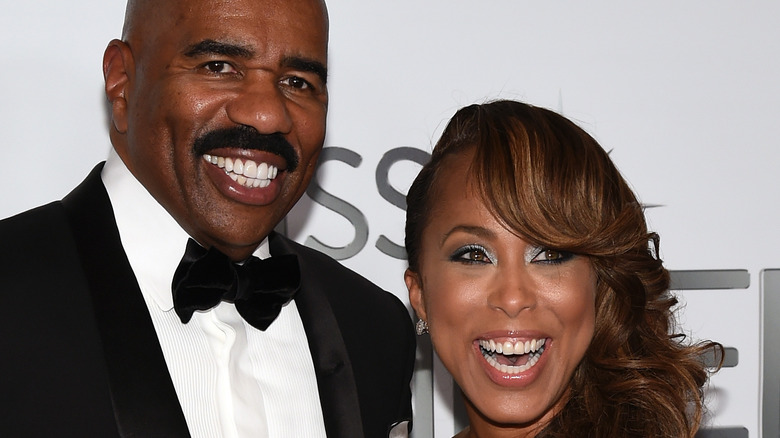 Ethan Miller/Getty Images
Thanks to Marjorie Harvey, Steve Harvey's improved style not only won over his wife and fans, but won over the fashion industry as well. Only months after the change in his style, the "Family Feud" host announced that he created his very own collection of menswear — called H by Steve Harvey.
The collection which matches his revamped style — inspired by Marjorie — features colorful, monochromatic suits and ties that fit anyone's budget and lifestyle. But like always, the collection launch of H by Steve Harvey wouldn't have happened without his personal cheerleader, Marjorie.
In an interview, Steve explained that not only did Marjorie help revamp his style, but she also continues to encourage his career — one that spans comedy, hosting, and now fashion. "There is not a great man I know that achieved greatness without a her. You can go down the list. I needed the her, and the her for me has been instrumental," Steve said, explaining that Marjorie is his "her" and "a guiding force" in his life. "The career that people see today? I can only tell you that it came from the peace she provided," he said, per The Washington Post. "It freed my mind up to become the creative that I wanted to be." And knowing Marjorie encouraged Steve's style and his creativity, it seems there will only be more where that came from when it comes to H by Steve Harvey in the future.