The True Story Of How Steve And Marjorie Harvey Met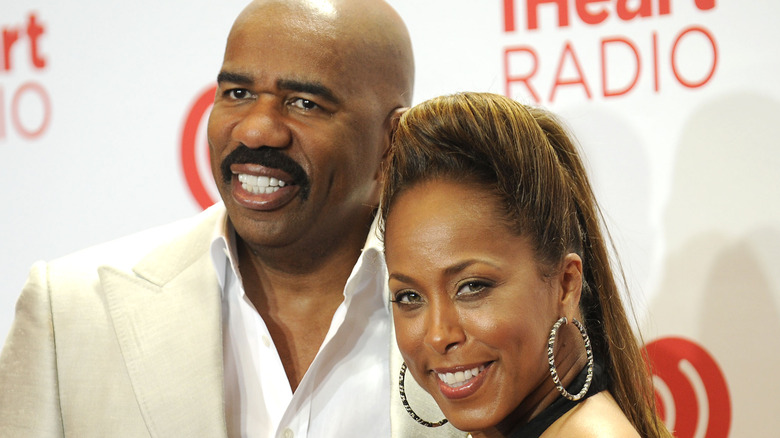 David Becker/Getty Images
Steve Harvey and Marjorie Harvey are totally couples with the ultimate meet cute. The Harveys, who share seven children between them, officially tied the knot back in 2007 — and they've been going oh so strong ever since.
Steve even took the time to pen the most adorable message for his lady love in June, gushing over Marjorie in an open letter published by Good Housekeeping. "I want to thank you, because without you there is no way my life could be this. I owe you a debt of gratitude because you simply changed my life. If people get tired of hearing me say that, that's OK. It doesn't change the facts," Steve told his wife. "You are the single biggest reason outside of God's grace that I am where I am today. You're the one. I feel like if I lost everything, you'd stay with me and we'd build it up again. As a matter of fact, I know you would," he added. We're not crying, you are. Okay, we totally are too.
But that's nothing compared to the regular gushing posts the "Family Feud" host posts to his Instagram. Marjorie is a staple on her man's page, including on Mother's Day when he shared a sweet video of them dancing in front of the Eiffel Tower (how romantic!) while Steve wrote on the caption, "Love is too weak to define just what you mean to me." But just how far back do these lovebirds actually go?
Steve and Marjorie Harvey's meet cute is totally adorable
Steve Harvey met Marjorie Harvey (nee Marjorie Bridges) all the way back in 1987 at a comedy club while Steve was performing a show, per Good Housekeeping. Marjorie came in late, which caught Steve's attention, and he wasn't afraid to let her know from the get go that she was the one. "The very first thing I said to Marjorie was, 'I don't know who you are, but I'm going to marry you one day.' That was the beginning," the comedian recalled.
As for what Marjorie made of it all, she admitted during an ad break on "Steve" in 2018 of that fateful day they met, "I thought he was gonna give me the business because he got real quiet. He was just staring at me." She added, "I thought I was gonna become part of the show. He finally realized he's gotta say something, he was like, 'Oh, I'm sorry. I don't know who this is, but I'm gonna marry her.'" Steve then admitted that he was so taken by Marjorie the first time he saw her that he stopped breathing for a second. Adorable!
Steve dished a little more on that first meeting during another "Steve" ad break, telling the audience, "I ain't never seen nobody that looked like that. To me." He shared that they dated for two years after that, while he was actually homeless, but they sadly broke up and lost touch.
How Steve and Marjorie Harvey reconnected
Steve Harvey revealed on "Steve" that he and Marjorie Harvey (then Marjorie Bridges) split in 1989, revealing that by the time his career had started to take off in 1991 and he had some money in his pocket, Marjorie had married someone else. "It was too late," he admitted. Steve also moved on and married Mary Lee Harvey, but the two split in 2005 — which is where fate stepped in. Steve's bodyguard called one of Marjorie's girlfriends who then got in touch with her, and the bodyguard handed the phone to Steve while he was gambling in Sin City. "I went to Vegas to forget the s*** I was going through," he said, recalling that he first asked Marjorie about her husband and she revealed she'd actually been divorced for four years. Steve then hopped on a private jet the very next day to visit her in Memphis and the rest, as they say, is history.
Speaking about their reconnection in his Good Housekeeping love letter, Steve called that day in Vegas the best of his life. "I knew I wasn't going to blow it a second time," he wrote, adding, "I finally had somebody I could start over with. You were willing to get in that foxhole with me and grow with me. When we got back together, it was even better because we knew each other. It was just a perfect fit."