How Jimmie Allen Met His Wife Alexis Gale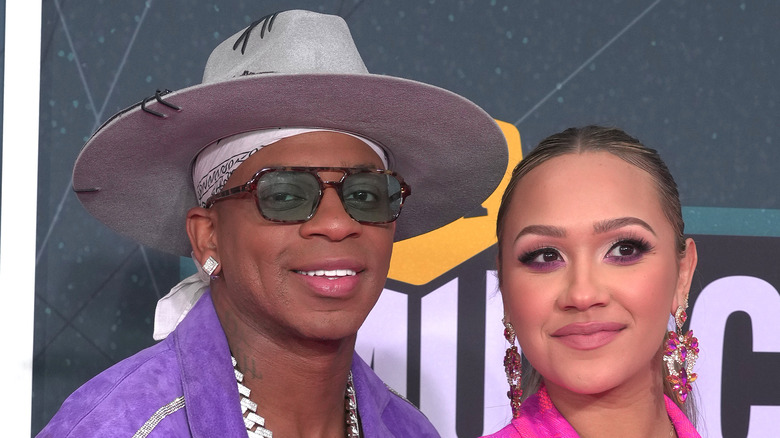 Kevin Mazur/Getty Images
Here at Nicki Swift, we love a good meet cute — and it turns out country star Jimmie Allen and his wife, Alexis Gale, have an adorable one. The "American Idol" alumni (he appeared on Season 10 alongside eventual winner Scotty McCreery) popped the question to his lady love in July 2019 at none other than the Happiest Place on Earth. Gale (who now goes by the name Lexi Allen on social media) confirmed the news on Instagram, sharing a photo of her left hand (with a stunning ring on that finger!) in front of Allen's torso as he rocked a Mickey Mouse t-shirt. "Does this really mean i get to grow old with you?! yesterday, i said yes to forever[.] I am beyond words & lucky to be able to call this incredible man my fiancé," she added, revealing he popped the question at Magic Kingdom alongside a second photo that showed her flaunting the gorgeous ring as she rocked pink Minnie Mouse ears.
Gale and Allen went on to tie the knot in May 2021, with Entertainment Tonight reporting they had a small ceremony with a few famous faces in attendance, including Darius Rucker, Tyler Rich, and Chuck Wicks. But how did these two actually meet?
Jimmie Allen and Alexis Gale have the same hometown
Jimmie Allen and Alexis Gale's meeting is like something out of a Hallmark movie, as the two grew up in the same hometown, Milton, Delaware. However, it took a chance introduction from the wife of Allen's cousin in 2019 for them to actually really get to know each other. The country star told People two years later that he tried to get Allen's attention through social media, admitting, "I would swing by her Facebook and like a couple of pictures on there, like a couple of pictures on Instagram, but I wasn't following her yet." When they properly met face to face though at his cousin's home, it was a different story. Allen confessed he wanted to play it cool and planned exactly what he'd say to the nurse, but all he could get out was a coy "Hi" before he kept chatting with his cousin. At the end of the night though, Allen got the confidence to put his number of Gale's phone... and the rest, as they say, is history!
It didn't take long for Allen to pop that all-important question to Gale, either. The two only dated for a few months before Allen got down on one knee for that super cute proposal. "It feels incredible to find the type of love I've been writing songs about all these years!" he told People shortly after popping the question, while sharing adorable photos from their Walt Disney World trip.
Jimmie Allen felt like he knew Alexis Gale for years before proposing
It seems like one of Jimmie Allen's favorite things about Alexis Gale is that they grew up in the same place. "With Alexis being from my hometown, it is like always having a piece of home with me. We had an immediate connection. It was like we'd always known each other," he told People in 2019 in the wake of his adorable proposal. Aww! The couple then shared a similar sentiment with People during a joint interview three years later, with Gale confessing, "I think our connection with Delaware really helped our relationship," to which Allen then added, "I love Delaware to the core. I would move back right now to relocate — bye Tennessee! I don't need to be here." 
Allen and Gale are now the proud parents of two daughters together, Zara and Naomi, as well as Allen's son Aadyn from a previous relationship, but it sounds like that could be all for this happy couple. "Oh, I am done. I retired my jersey," the "Freedom Is A Highway" singer admitted to Entertainment Tonight in March after expanding their brood from two kids to three. "We threw around the idea of maybe having another one in like four years, we thought about it, we tossed around the idea. And then we closed the idea."