Melissa Joan Hart Sets The Record Straight About Rumored Feud With Lena Dunham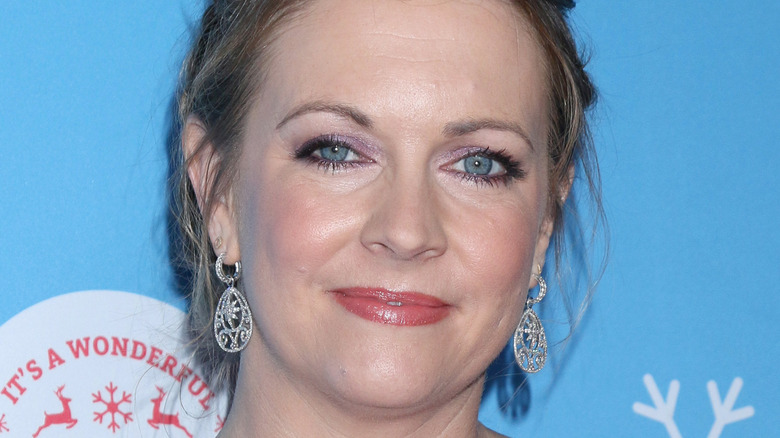 Kathy Hutchins/Shutterstock
Melissa Joan Hart explains it all. And she wants to make it clear that she isn't involved in a feud with Lena Dunham.
On November 12, the popular Instagram gossip account Deuxmoi shared a blind item submission implying that the "Sabrina the Teenage Witch" actor "has it out" for the "Girls" actor. The anonymous tipster claimed that the two had known each other for years, as Dunham's dad was friends with the creator of "Clarissa Explains It All," which Hart starred in back in the 90s. "They've been frenemies for a long time," the tipster wrote (via PageSix) before alleging that the two fought about "child drag queens" at a dinner party. What's more, the source stated that Hart had a "knack for alienating people in her life," as she can be "argumentative" about her "controversial" views. A second tipster corroborated this statement, saying that Hart was "dodging" questions about Dunham in a recent Instagram Live.
It didn't take long for word of the rumor to make its way back to Hart, who took to Instagram to address the alleged beef.
Melissa Joan Hart denies ever meeting Lena Dunham
Melissa Joan Hart took to Instagram to address the rumored beef, sharing a lengthy note to address the claims posted by Deuxmoi. Hart confirmed that she isn't feuding with Lena Dunham. In fact, Hart claims that she has never even met the "Catherine Called Birdy" director. 
"So I don't normally pay any attention to the tabloid rumor mill but numerous friends have asked me about my' rivalry' with @lenadunham and I'm truly confused," she wrote. "We have no 'beef,' and as far as I remember we haven't even had the pleasure of meeting let alone having enough of a relationship to warrant any time to discuss drag queens." She continued her statement with a reminder to her fans, telling them not to succumb to "flashy links" that dispense baseless rumors. "I'm a fan of Lena's work and all that she does to support females in our industry," she continued, adding that she hoped the two could "share a latte someday."
Dunham is no stranger to controversy, but it looks like a feud with Hart isn't among them. She has yet to issue a response, but fans and friends of Hart flooded her comments section with messages of support. "We know it in our bones that all this stuff is BS," Molly Hagan wrote. Beth Broderick, who co-starred with her in "Sabrina the Teenage Witch," also pointed out how random the rumor was. "Just reading it was absurd on its face," she commented. "You never have a bad word to say about anyone. Ridiculous!"