Why Did Adam Levine And Anne V Breakup?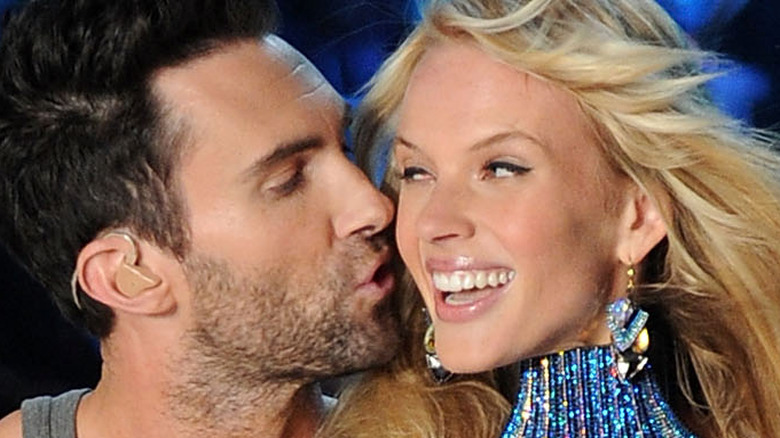 Jamie Mccarthy/Getty Images
Before Adam Levine got hitched and became a family man, he had quite a dating history. The Maroon 5 frontman has been linked to multiple models and celebrities over the years, including the likes of Jessica Simpson, Cameron Diaz, and Nina Agdal. However, he was also involved in some long-term relationships, most notably with model Anne Vyalitsyna, also known as Anne V.
Longtime Levine fans are likely familiar with Anne V since she was featured in two Maroon 5 music videos: "Misery" and "Never Gonna Leave This Bed." They also posed together on the cover of Vogue Russia, and the singer planted a kiss on her on the runway of the 2011 Victoria's Secret Fashion Show. At one point, fans thought that they would be each other's endgame. "I think we just found each other's other half," Anne V told E! News in 2011. "He [Levine] is an amazing guy. He's just a normal dude. He's like the most non-rock-star rock star ever. And he is very caring and very loving and very goofy and funny."
For his part, Levine once told Howard Stern that his relationship with Anne V was the most stable he's had. "This is the longest, most functional relationship I've ever been in," he shared (via OK Magazine)," adding, "I don't want to screw it up." Unfortunately, something seemingly screwed up, as the two parted ways in 2012.
Adam Levine reportedly wasn't giving Anne V enough attention
Christopher Polk/ama2011/Getty Images
In April 2012, Adam Levine and Anne V went their separate ways. In a statement issued to People at the time, the Victoria's Secret model shared that it had been a mutual decision. "Adam and I have decided to separate in an amicable and supportive manner. We still love and respect each other as friends. I wish him all the best," she said.
But the kicker was Levine's friends claimed otherwise, saying that Anne V had blindsided the singer with the breakup announcement. "It was a cheap shot," an insider told Us Weekly. "Anne didn't want it to look like he broke up with her." The source also claimed that Adam was "heartbroken," and that "he wasn't even fully sure they were really broken up," which is ironic because he apparently also "didn't pay her [Anne V] enough attention."
While Anne V didn't supply a reason behind the split, an insider dished that it was primarily because Levine wasn't ready to settle down. "As a woman, you get to a point where you want to get married," they explained. "Adam wasn't ready to take that step."
Anne V still has love for Adam Levine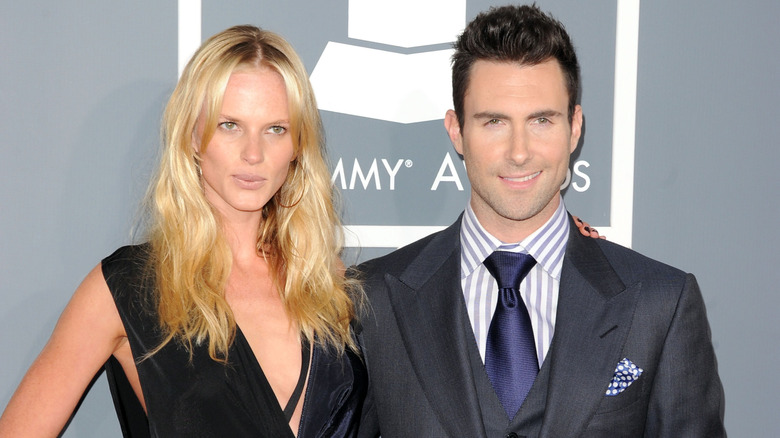 Jason Merritt/term/Getty Images
It seems that Adam Levine will always hold a special place in Anne V's heart. Her ex dated and subsequently got engaged to model Behati Prinsloo a year after they called it quits, but she reportedly harbored no bitterness in her heart.
In a 2014 interview with E! News, Anne V expressed her support for Levine and Prinsloo's relationship and even sent them her best wishes. "Who cares? I'm such a believer in love," she said when asked about the couple's engagement (via Us Weekly). "I will love him forever. He is such a wonderful guy. But we didn't work out." She also that they had remained friendly after the split. "We still care about each other," she continued. "He fell in love with someone else. I'm so happy for him."
Anne V went on to date New York Mets pitcher Matt Harvey, and then got engaged and welcomed a child with businessman Adam Cahan. While neither of those relationships seem to have worked out, it looks like she's thriving as she raises her daughter, Alaska. "Although it's for sure the hardest job in the world, feeling very blessed!!" she wrote on Instagram. "I get to wake up each morning to this bundle of love, light and purity. Here's to a lifetime of #MotherHood."