The Sad Reason Elton John Calls Ed Sheeran Every Day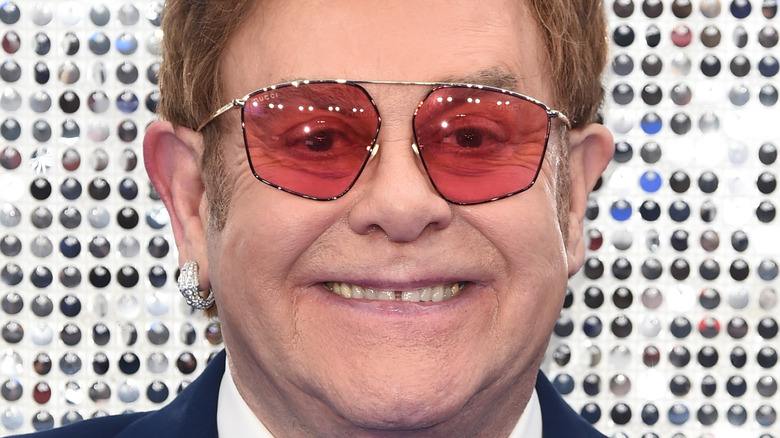 Featureflash Photo Agency/Shutterstock
Elton John's one of the most prolific musical artists in the world. Despite being in his '70s, he was still doing more than 100 shows every year, John told The Guardian in 2016. Although he's still making music, he made it clear to the outlet that the last thing he wants to do is go home and play the piano — he'd rather be spending time with his husband and children. 
"I've got [a piano] at Woodside and one at my house in Atlanta, and I never touch them," he told The Guardian. "Rufus Wainwright plays every morning when he gets up — 'I have to play an hour every day' — so everyone's different, but, God, I couldn't think of anything worse. I have leisure, and I have work. And I do enough work. When I get home, the last thing I want to do is play the piano."
Even that desire to have a personal life hasn't stopped John from releasing hit after hit. He's also known for his major collaborations. He's truly a musician's musician. Some of his best collabs have been with artists like Ray Charles, Aretha Franklin, Britney Spears, and even Luciano Pavarotti. But his friendships extend far beyond his collaborative efforts. In fact, for some, like Ed Sheeran, it means a phone call a day.
Elton John calls Ed Sheeran every morning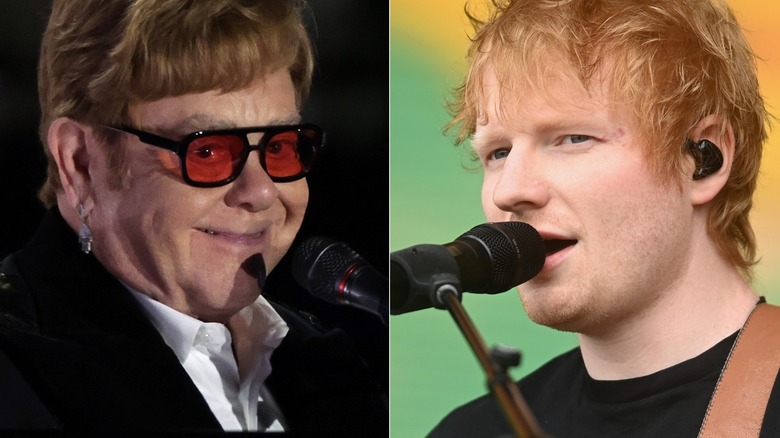 Dave J Hogan/Getty, Alex Wong/Getty Images
In 2021, Ed Sheeran told Apple Music that Elton John calls him every morning, even if it's only a short call, via CNN. Sheeran told the outlet that John began calling him after his dear friend and music exec Michael Gudinski died in March 2021. "When Michael passed away, he rung me the day after to check how I was, and I really wasn't good," Sheeran told Apple Music. "And then just from that point he's literally ringing me every single day ... I am feeding porridge to Lyra in the morning, I get a call from Elton, and it's, 'Lyra, say hi to Elton.' It's just become a daily thing and there's not many people in my life like that and I really, really appreciate him."
John and Sheeran produced a duet in December 2021 which must have been cathartic for Sheeran who told the audience at Gudinski's memorial that music is how he processes through his emotions, when he performed a song he wrote in his departed friend's honor, per Variety. Sheeran told NPO Radio 2, per CNN, that Gudinski's death really reminded him that we never know what's going to happen in our lives. He told the outlet he realized doing a Christmas song with John would be a wonderful way to celebrate the holiday.
Elton and Ed have collaborated several times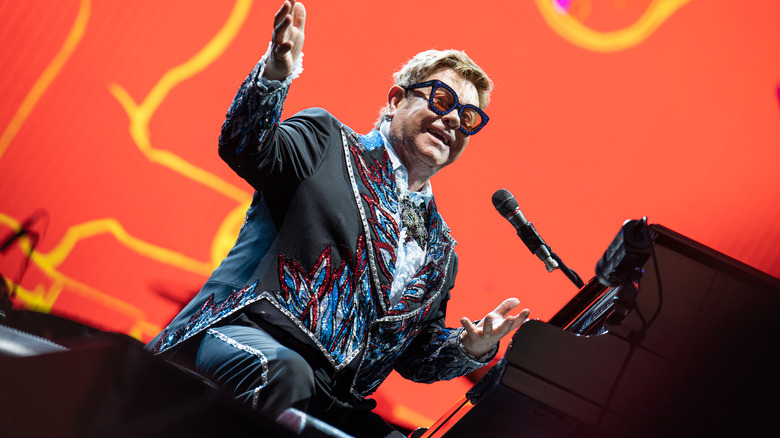 stedalle/Shutterstock
The world wasn't just graced with a single Ed Sheeran and Elton John collaboration during the Christmas season in 2021, John revealed to NME that this duo had actually written several together. "We actually wrote three songs, so I don't know what's happening to all three," he told us. "The other two songs are really good, too, and they're all different. One's called 'Pull My Christmas Cracker', which of course if my favorite because I like to pull a Christmas cracker... But again, it's up to him — he's running the campaign, and I'm not."
Smooth Radio noted that Sheeran and John's "Merry Christmas" song was the first Christmas song John had ever gotten to number one. That seems impossible given his long career of hits, but it's true! Perhaps the popularity is because "Merry Christmas" was such a clever piece with so many Easter eggs — wrong holiday, but you get the idea. Smooth Radio outlined the biggest music video hidden gems that included harkening to David Bowie & Bing Crosby's "Peace on Earth/Little Drummer Boy," Mariah Carey's "All I Want for Christmas Is You" and even "The Snowman" among so many others.