What Really Went Down Between Celine Dion And Aretha Franklin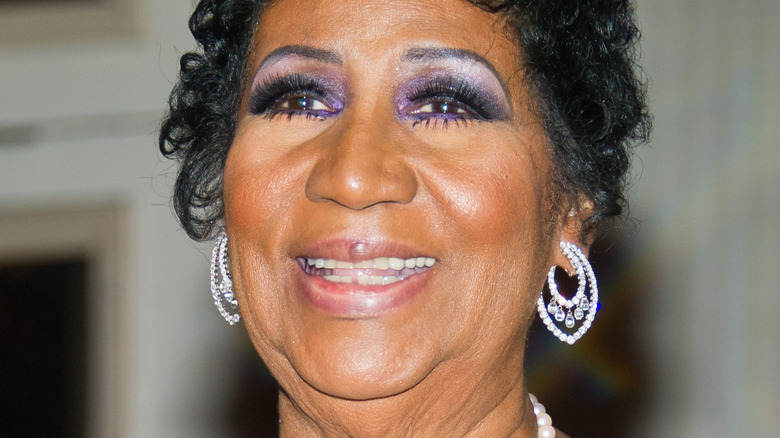 Michael Stewart/Getty Images
Once upon a time in 1998, the world's best-known divas came together for the first inaugural "VH1 Divas Live" concert. The event saw an epic voice battle ensue between Aretha Franklin and Celine Dion (via YouTube). But, we can't help but wonder — was there any real tension between the two singers?
Well, that probably depends on who we ask. Mariah Carey, for one, has made no secret of her disapproval of Dion's antics. In fact, in "The Meaning of Mariah Carey," the singer suggested that Dion had stepped out of line. "One of the divas didn't understand the culture of the court and tried to come for the Queen a little bit during the song," she wrote (via Vulture). The song in question was "Natural Woman," and was intended as a tribute for Franklin. However, if Carey hadn't been amused by Dion flexing her vocal chords on "Natural Woman," she was completely blown away by the final piece in the lineup... which happened to be an impromptu gospel piece (via YouTube). "I couldn't believe anyone would try to upstage Aretha Franklin on her tribute, while singing about Jesus, no less ... My body began to involuntarily back up out of the Diva lineup ... It seemed like blasphemy to me, and I wanted to be out of striking distance should the lightning come," she recounted (via Jezebel). 
That said, Carey is the undisputed queen of shade, so our question remains. What really went down that night?
According to Carole King, Aretha sang Celine's part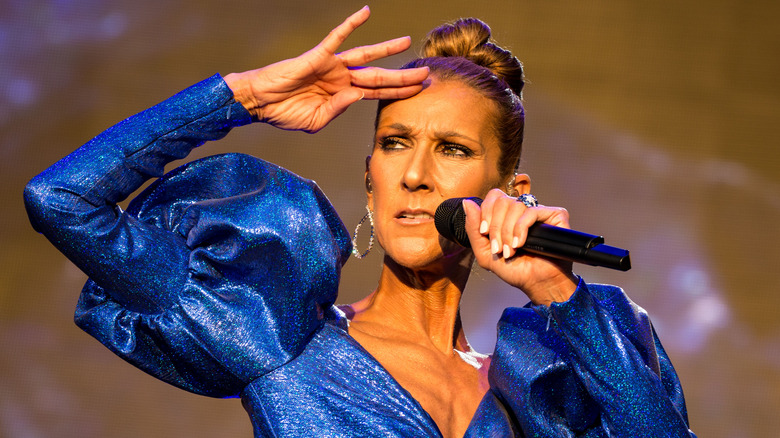 Mariah Carey might not have been impressed with Celine Dion stepping out of line, but Carole King saw things differently. In fact, according to King, it was the late queen of soul, Aretha Franklin, who sang over Dion first.
Speaking of the situation in an A&E special, King laughed, "Aretha, rightly, you know, was the star of that song, but here we are on a stage full of divas, and Aretha is, you know, as she will tend to do, G-d bless her, sort of taking over — and then the part where Celine was supposed to sing, here's Aretha still singing!" (via YouTube). In stark contrast to Carey's take, King applauded Dion. "I just respected her so much for the classy way that she handled that situation," she said. 
That Dion was committed to singing her part is something the "All By Myself" singer has never denied. In fact, two decades after the performance, she joked to ExtraTV, "I knew which line I was going to sing with her ... I was like, I cannot miss that moment. No, I took advantage of the situation, and I had my line with her." It was a comment she doubled down on during an episode of "Watch What Happens Live with Andy Cohen." "I was saying to myself, 'When it's my line ... I'm gonna do a duet with Aretha Franklin," she reminisced. And that she did! 
Celine Dion admitted she was fangirling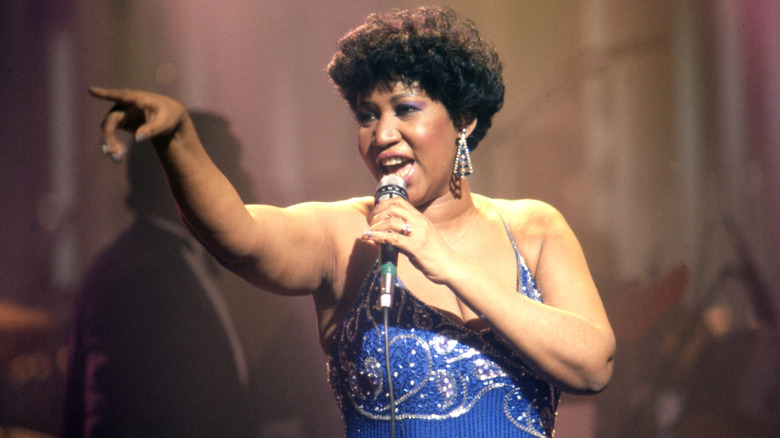 Icon And Image/Getty Images
It's just as well that Celine Dion went in with her line in mind because she's the first to admit that, when she met Aretha Franklin, she had an out of body experience. As she told ExtraTV, "When you're close to Aretha, you're out of your brain, you're out of your body, you're out of your soul."
Dion also shared that while she would have loved to spend more time with the icon, when it came to seeing her backstage, she was a little less confident than she'd been mid-performance. When asked if Franklin had said anything to her prior to the show, Dion joked, "No, no, no, no! No time to talk! Time to feel! Time to get down to business!" That said, she did share on "Watch What Happens Live with Andy Cohen" that she had asked for a picture together, after the show — and that Franklin had happily obliged. "She said, 'Of course' ... and for me, it's so, something so precious," Dion nodded. She also added that she was terrified to take up too much of Franklin's time, out of respect for the legend. "You don't want to abuse ... that time," she shared. 
Opinions on Dion's performance with Franklin may vary, but given what she's said of the "Respect" singer, it seems unlikely the Eurovision alum had ulterior motives. Just don't expect Mariah Carey to change her mind, though.