Aaron Carter's Unapproved Memoir Faces Major Postponement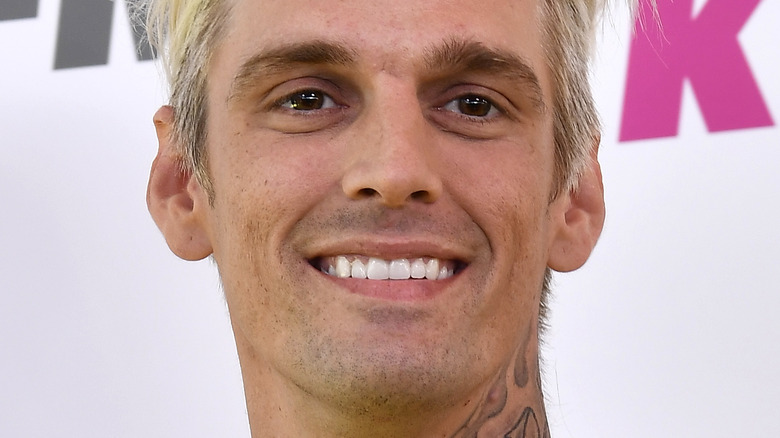 Frazer Harrison/Getty Images
Ever since the announcement of Aaron Carter's death on November 5, stories surrounding his personal life have remained in the press. As previously reported by TMZ, the "I Want Candy" hitmaker died at age 34 after his house sitter found his body in the bathtub. His fiancée, Melanie Martin, was one of the first to speak out. "I love Aaron with all my heart and it's going to be a journey to raise a son without a father. Please respect the privacy of my family as we come to terms with the loss of someone we love greatly," she told the outlet.
Following the former Disney star's death, it was announced that a tell-all memoir, "Aaron Carter: An Incomplete Story of an Incomplete Life," was going to hit shelves on November 15, according to Today. The author, Andy Symonds, stated the book has been many years in the making, claiming he had been interviewing Carter for the past three years. "Aaron was a kind, gentle, talented soul not without his demons," Symonds said (via Today). "He was so excited about telling his story, and I feel I owe it to him to release the parts we did complete." At the time of its announcement, the book was set to be unfinished.
With the release date originally slated for November 15, it seems that won't be the case anymore.
Aaron Carter's posthumous memoir has been postponed 'out of respect'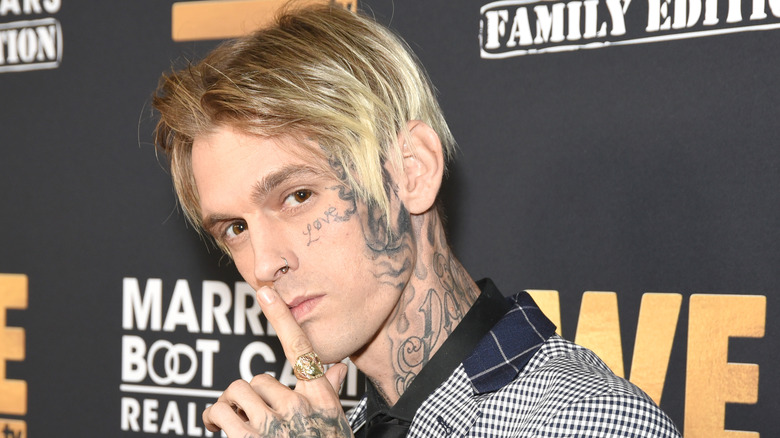 Presley Ann/Getty Images
Aaron Carter's posthumous memoir, "Aaron Carter: An Incomplete Story of an Incomplete Life," will not be released on November 15. As previously reported by Page Six, the book publisher has decided to put the release on hold. "Out of respect for the Carter family, my client has decided to defer the further release of the book at this time," Scott Atherton, who represents publisher Ballast Books and author Andy Symonds, said in a statement. "Mr. Carter was not just a celebrity but also a father, a brother, a son, and a friend to many still grieving for him."
Even though Symonds had claimed to have interviewed Aaron for three years to help him write the book, it has been said that the former "Dancing with the Stars" contestant wanted nothing to do with the memoir before his death. "Aaron, in the midst of [working on the book], said, 'I want nothing to do with this' and stopped, so the fact that the publisher is saying it's green-lit, it's not," his publicist told Page Six exclusively. "That's against Aaron's wishes."
This isn't the only controversy to arise in the wake of Aaron's death. Questions have since come up about whether the late singer's son, Prince, would inherit his estate or not. Ryan Sellers, estate attorney and founding partner at Dallas-based Hales & Sellers, PLLC, exclusively told Nicki Swift, "A will is the only way to disinherit a child. Otherwise, the child is considered an heir."