Andy Cohen Admits Bethenny Frankel's Housewives Podcast Caught Him By Surprise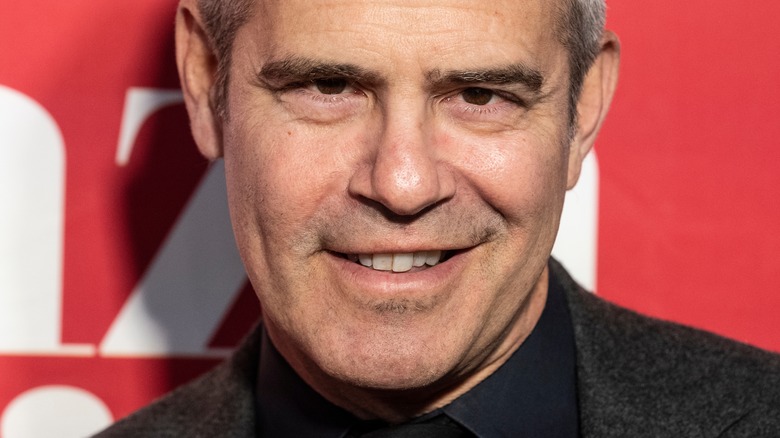 lev radin/Shutterstock
You'd think Andy Cohen would be completely unshakeable at this point. After 16 years of Real Housewives' screaming drama, backstabbing, feuds, table flipping, and scandals, the producer and host's been there, done that, and seen it all. However, it's still possible to catch Cohen off guard, and Bethenny Frankel has always proved skilled at a little shock and awe.
Frankel and Cohen feud rumors have been swirling for years. Dave Quinn's book, "Not All Diamonds and Rosé," claims that Cohen wasn't a Frankel fan and didn't want to cast her in the "Real Housewives of New York," as he wondered if it'd be "a shark-jump moment" (via Us Weekly). Frankel shot down the Cohen feud rumors, claiming it was all sweetness and light between the two of them. She insisted they're on "very similar" paths and walk the same walk. "We have both made mistakes & made good & bad decisions & we don't hate the player & sometimes hate the game," she tweeted. "We respect each other's journey & have debated the whole way."
Frankel found herself facing accusations of transphobia in 2021. Per RadarOnline, she "begged" Cohen to help save her "Just B" podcast. "Andy is a major influencer in the LGTBQ community, and Bethenny thinks that if he comes out and supports her, others in the community will follow," a source said. Well, another day, another webcast, and Cohen admits Frankel's new "Housewives" podcast has caught him by surprise.
Andy Cohen has positive thoughts about Bethenny's latest endeavor
Astrid Stawiarz/Getty Images
Since joining the show in episode one, Bethenny Frankel has treated the "Real Housewives of New York" as somewhat of a revolving door. Per People, the reality star quit the show after Season 3, made a glamorous return for Season 7, then insisted she was totally over it by the end of Season 11. Surprise! She's not. Although Frankel's latest return to the Housewives world isn't what we expected, it wasn't what Andy Cohen expected either.
Page Six reports that Frankel is back with a bang. Despite some very public and vocal criticism of the reality franchise, Frankel's launching a new podcast called "ReWives." Despite being a tad confused by Frankel's "Housewives" 180, Cohen knows better than to look a free-publicity gift horse in the mouth. "I was a little surprised," Cohen admitted about his reaction to the news of the show. "But again, I was like, 'Oh, this is good, good for you.' The more 'Housewives' podcasts, the better." Let's hope it fares better than Frankel's last one. "[Ten-minute rants] with no focus or direction with five minutes being Iheartradio ads. Why bother," one listener opined about "Just B."
Meanwhile, Frankel's former costars aren't exactly rooting for her success. Luann de Lesseps dragged the entrepreneur during an appearance on "Everything Iconic," claiming "it's pretty sad and pathetic" (via E! News). "She has to resort to 'Housewives' because of all her failed pivots since the 'Housewives.' It's a pretty desperate scenario."