Dean McDermott Has Something To Say About Those Tori Spelling Split Rumors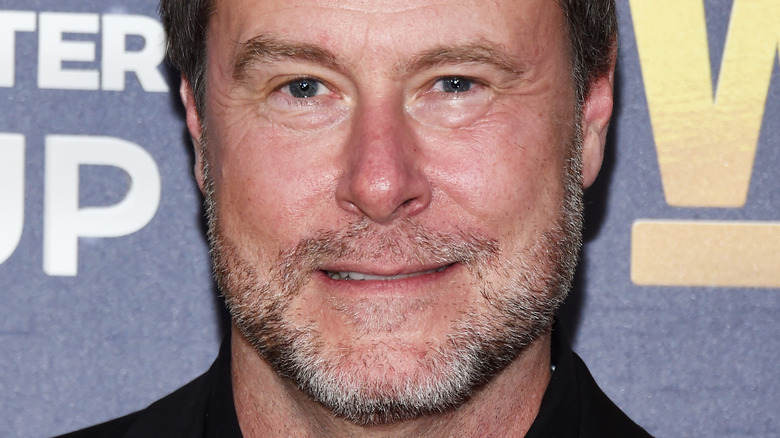 Amanda Edwards/Getty Images
Dean McDermott and Tori Spelling have starred in numerous reality television shows over the years, but no storyline has piqued their fans' interest as much as all of their split rumors. Spelling hinted that there might have been some trouble in paradise when she apparently left McDermott out of their family holiday card and admitted on the "Jeff Lewis Live" podcast that the two of them were sleeping in separate bedrooms. 
All of the rumors must have gotten to McDermott at the time, as he tried to set the record straight about his marital status while on the "Feminine Warrior" podcast back in September 2021. He mimicked fan speculation, saying, "'What's going on with Tori and Dean? She's not wearing her ring.' Why do you need to know that? How is that going to affect your day?" He added, "I don't reply anymore. It's just like, 'OK, if that's what you want to think, then think it'" (via Page Six).
Well, fast-forward to the present time and it looks like McDermott is still having to explain himself once more, as a new crop of split rumors have been making headlines.
Dean McDermott is gearing up for the holidays with Tori Spelling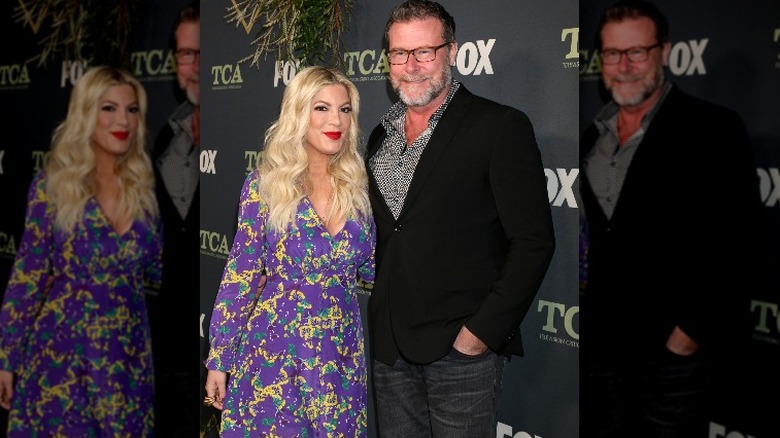 Kathy Hutchins/Shutterstock
Are they or are they not getting a divorce? That seems to be the question that everyone has been asking Dean McDermott and Tori Spelling. According to People, there have been many reports suggesting that they've been "living separate lives." Well, McDermott is once again reminding everyone not to believe everything you read, as he and Spelling are doing better than expected. In an interview with The Sun, the "Chopped Canada" star suggested that he and Spelling are putting their focus on their family as they are gearing up for what sounds like a fun holiday season together. He told the publication, "We're loving the cold weather and then getting ready for the craziness of Thanksgiving and Christmas. I'm excited ... We live in a cul-de-sac and this year we're gonna do a big potluck with all our neighbors. So really looking forward to that."
Interestingly enough, McDermott made his comments while chatting with his ex-wife, Mary Jo Eustace, who he has been spending a lot of time with lately, per Us Weekly. That's not because they are getting back together. instead, McDermott is working with Eustace on a new podcast. Seeing how McDermott seems to be on good terms with all of the important women in his life these days, we'd say that all those rumors about marital strife and missing wedding rings are much to do about nothing.