Sutton Stracke Isn't The Only Real Housewife Who Rented Kyle Richards' House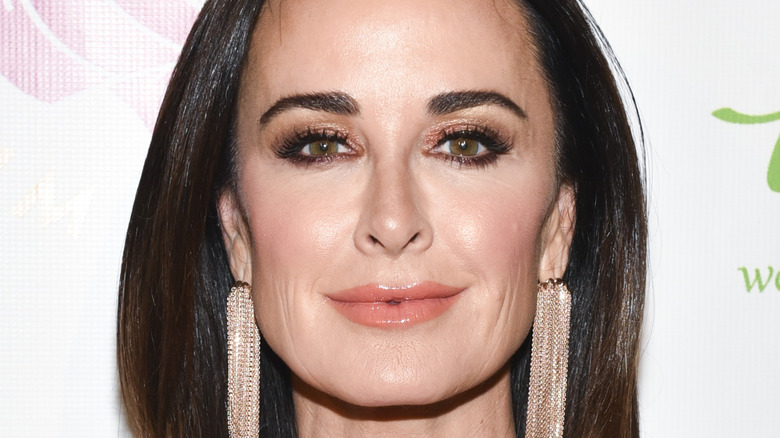 Rodin Eckenroth/Getty Images
Oh, to be a fly on the wall of Kyle Richards' former home.
Bravo viewers were first introduced to Richards' luxe Bel-Air home in 2011 during Season 2 of the "Real Housewives of Beverly Hills." Never forget all of the fabulous white parties filmed in the backyard, the time Taylor Armstrong and her late husband Russell Armstrong were turned away at the door of one of the aforementioned parties, and the infamous kitchen scene wherein former Housewife Lisa Vanderpump needled Richards about rumors that Richards' husband Mauricio Umansky had been seen out and about with another woman. YIKES.
Sadly, however, nothing lasts forever, and in 2017 Richards announced that she was moving on... to Encino. "We went into this house and I went, 'Oh my gosh,'" she told Entertainment Tonight about the moment she fell in love with her new home. "I was completely blown away, because it's not like anything you would see in Los Angeles, normally. I just fell in love, and my husband did, too." But what about their beloved Bel-Air home they spent so much time living and filming in? As the old saying goes, one Housewives' trash is another Housewives' treasure — or something like that. Just ask Sutton Stracke!
Sutton Stracke got the friends and family discount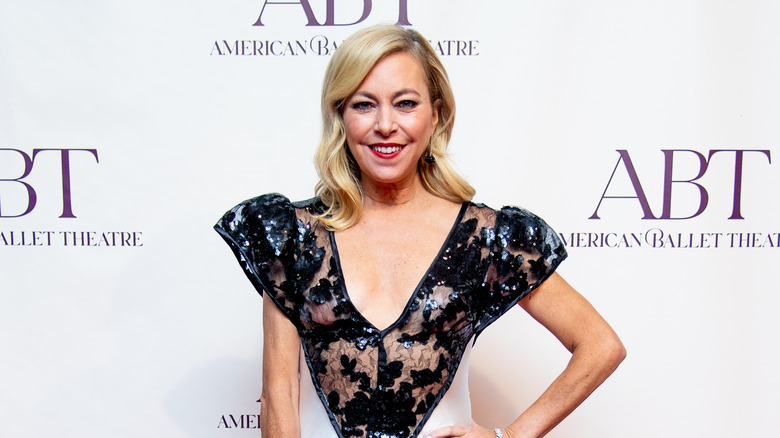 Roy Rochlin/Getty Images
A home for wayward divorced Housewives? 
"Real Housewives of Beverly Hills" newcomer Sutton Stracke hit the ground running during Season 10 of the popular reality series. Right off the bat, viewers learned that Stracke was fresh off the heels of her divorce and very rich after the proceedings were all said and done. In fact, according to Stracke, during the division of assets, she learned that she was a partial owner of two minor league baseball teams. "So yeah it was like 'wow i'm rich!'" she exclaimed on "Watch What Happens Live."
Still, even with all the money in the world, Stracke couldn't make her new home renovation move any faster and that's when she had the bright idea to squat at Richards' old home... to the tune of $20,000 per month. "The only thing that we talk about is, she laughs at me for thinking, like, I'm Pollyanna," she dished to Page Six about their tenant-landlord dynamic. "I'm like, 'My house is going to be ready tomorrow!' And she's like, 'Sutton, your house is going to be ready in 2025!'" And while $20,000 a month seems like an astronomical amount of money to most, Richards was adamant that Stracke benefited from a "friends and family discount." (Per BravoTV, the original monthly rental rate for the home was $25,000.) As it turns out, however, Stracke wasn't the only Housewife to hang her hat in Richards Bel-Air manse...
Larsa Pippen also lived in Kyle Richards house
Santiago Felipe/Getty Images
"Real Housewives of Miami" star Larsa Pippen also hunkered down at Kyle Richards' beautiful Bel-Air home!
Per Bravo TV, Richards' daughter Alexia Umansky revealed in the premiere episode of Netflix's "Buying Beverly Hills" that Larsa Pippen also rented the pricey pad. She did not, however, disclose how much Larsa doled out in rent. (Wonder if she got the friends and family discount too???) And while we don't know precisely when she lived in the home, we do know that after her separation from her ex-husband and former pro basketball player Scottie Pippen, she was on the hunt for a home in Los Angeles. Per ScreenRant, Larsa appeared on Season 2 of the reality television real estate show "Selling Sunset." Unfortunately, in the end, real estate agent Chrishell Stause did not close the deal because Larsa was concerned that the home she was interested in did not have enough space to park her 12 (yes, 12!) cars. Stars, they really are just like us.