Ivanka Trump's Announcement Makes Her Stance On Her Father's Future Crystal Clear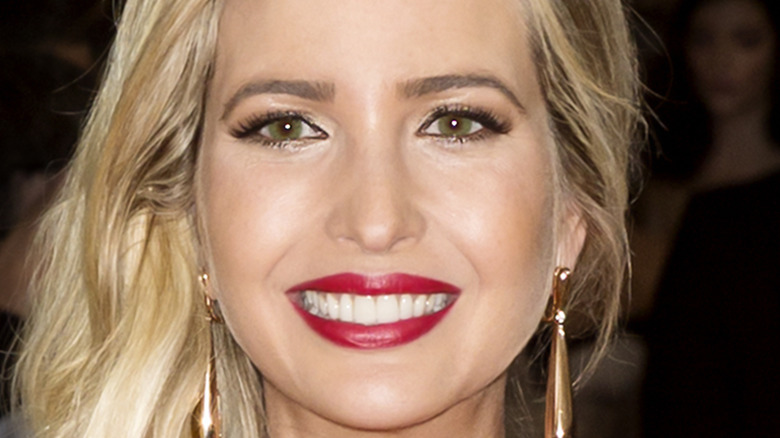 Ovidiu Hrubaru/Shutterstock
It's no secret that Ivanka Trump and her father, former President Donald Trump, have maintained a close relationship over the years and we've seen it play out in the press. Before he assumed the role of president, Donald happened to be on a competition show titled "The Apprentice," and Ivanka was right there by his side for most of the series' run. According to Bustle, Ivanka began appearing in the series in 2006, serving as an advisor to her father. "It's been a great experience, and we just love doing this as a family as we do also love working together every day," she told WWLP-22News.
According to The Real Deal, Ivanka also had a big gig with her father's company, The Trump Organization, where she served as Executive Vice President of Development and Acquisition. And once her dad was elected president of the United States, Ivanka continued working with him very closely. According to Trump White House, Ivanka served as one of Donald's advisors (as did her husband, Jared Kushner). On the site, they explained that Ivanka's role focused "on the education and economic empowerment of women and their families as well as job creation and economic growth through workforce development, skills training, and entrepreneurship."
In November, the Washington Post reported that Donald would run for president again in 2024. "This comeback starts right now," he said from his Mar-A-Lago resort. However, Ivanka does not plan to continue working with her dad after his recent announcement.
Ivanka Trump has no plans to return the politics after hiatus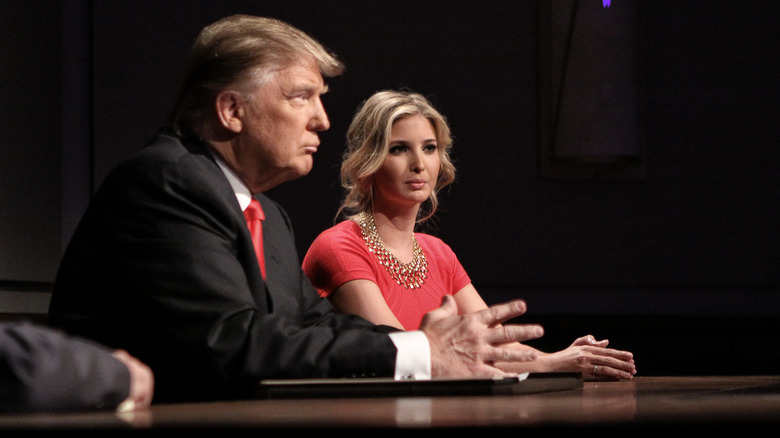 Bill Tompkins/Getty Images
Ivanka Trump wants nothing to do with politics in her future, despite her dad's new political aspirations. While she worked closely with her father during his four-year term in office, that doesn't mean she wants to continue down that path during his political campaign as a 2024 presidential hopeful. 
According to Politico, Ivanka announced the news on her Instagram stories, beginning a lengthy post with "I love my father very much." The mother of three then shared that she is "choosing to prioritize my young children and the private life we are creating as a family." She added that she does "not plan to be involved in politics," and while she will "love and support" Donald, she will "do so outside of the political arena." To conclude the post, she said she was "grateful" to be able to serve "the American people."
Ivanka also spoke about her decision with Fox News, reiterating the fact that she is still "extremely close" with her father. "I've had many roles over the years, but that of daughter is one of the most elemental and consequential," she shared, while adding that she has been loving her life outside of the spotlight in Miami, Florida. She even called it one of the "greatest times of my life," adding, "My kids are thriving, and I want to maintain this cadence — this rhythm — at this point in our family's life."
Ivanka Trump has been busy post-White House
Following her time in the White House, it looks like Ivanka Trump has been enjoying a lot of travel and spending time with family. In July, the mother of three shared several images from a trip to Morocco on Instagram, including a few solo shots and a few with her husband, Jared Kushner, by her side. In November, she posted a few images and videos from a trip to Utah, where she walked across a giant rope ladder suspended between two mountains — proving she has an adventurous side.
The same month, she honored her sister, Tiffany Trump on her wedding. "When I was 12 years old my dream of having a baby sister came true! From the first moment I held @tiffanytrump in my arms and looked into those big, kind, curious blue eyes I was smitten," she gushed. "I wish Tiffany and Michael an abundance of happiness and joy as they begin their lives together as husband and wife!"
According to People, Ivanka and Jared Kushner totally love their quieter life in Surfside, a small town in the Miami area. "They're really just settling into normal life and really enjoying it," a friend of the pair told the outlet, adding that Kushner has been spending much more time with his family. Although their current life is a complete 180 from their White House days, the couple seem to be thriving outside the spotlight.