Nick Cannon Joins In On The Jokes About His Growing Family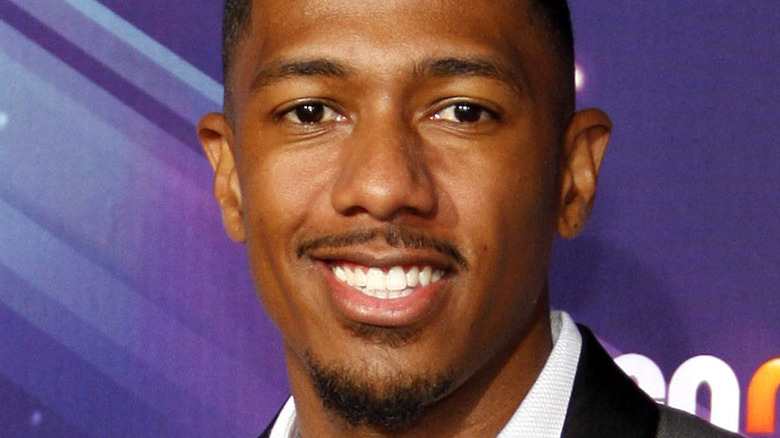 Tinseltown/Shutterstock
Notoriously, Nick Cannon has 11 children with the 12th on the way. According to Today, the television host has two children with ex-wife Mariah Carey, three with Brittany Bell, one with LaNisha Cole, three with Abby De La Rosa, and one with Bre Tiesi. He's also had one child with Alyssa Scott, but the baby died passed do to a brain tumor. Scott recently revealed that she's expecting another baby with the rapper.
In June, Cannon opened up about parenting. "Contrary to popular belief, I'm probably engaged throughout my children's day, more often than the average adult can be," he said in a Men's Health interview. He added that even if he's away from his little ones, he'll use FaceTime to be in their lives as much as possible. "I'm just walking in my purpose and trying to be the best father and best provider I could possibly be," he added.
In August, after it was reported that the comedian was expecting his 10th child, a source told Entertainment Tonight that "The mothers of Nick Cannon's children are cordial and respectful to each other for the most part." The insider added that they all have an amicable relationship with the former "America's Got Talent" host. With all of the baby announcements, more and more people have been joking about it, and Cannon himself has joined in on the fun.
Nick Cannon reacts to a meme about his 12 children
In August, Abby De La Rosa — the mother of two of Nick Cannon's children — poked some fun at the recent surge of baby announcements from the rapper. "Move over Kardashians, Gen 'C' taking over babyyyy," she said in her Instagram stories, via Page Six, reposting a reel that joked that Cannon was "taking on the Kardashians for world supremacy" after having so many children.
Ryan Reynolds made a small joke on Twitter on November 3, after it was announced that the television host had his 11th child. "We're gonna need a bigger bottle," he tweeted, along with the announcement from People.
And now it looks like Cannon himself is joining in on the fun by reacting to one of the memes that was made about the amount of children he's had. The rapper posted a photo collage of different "variations" of himself on Instagram, with the words "National Geographic determined what Americans will look like in 2050, and it's beautiful" at the top of the picture. "Wow!" He captioned his post. "Everybody got jokes!"