The Embarrassing Gift Prince William Once Gave Kate Middleton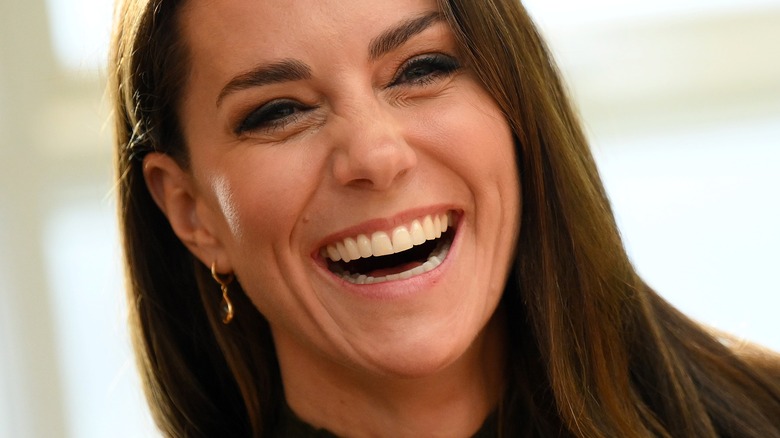 Wpa Pool/Getty Images
Prince William is a loving father and husband, the heir to the British throne, and a patron of charities. A passionate advocate for the homeless, the royal is patron of The Passage, the UK's leading youth homelessness charity, according to People. It's also a charity that holds a special meaning for him because Prince William once visited The Passage with his late mother, Princess Diana. "The visits I made as a child to this place left a deep and lasting impression upon me — about how important it is to ensure that everyone in our society ... is treated with respect, dignity, and kindness," he said.
Like Kate Middleton, the Duke of Cambridge has leveraged his platform to highlight the importance of mental health. In 2016, William, his wife, and brother Prince Harry broke with the royal family's long-standing tradition of keeping their emotional struggles under wraps by launching the Heads Together campaign. The initiative saw mental health charity partners come together in hopes of eliminating mental health stigmas.
But while Prince William is bettering the UK, there's one area in which he might need to improve — gift giving. It's not a biased comment, but something that the future King of England readily admits about himself! In a 2020 interview on "The Peter Crouch Podcast," Crouch spoke about buying a raincoat for his wife, something he called the worst gift ever. That is until Prince William one-upped the host by sharing the embarrassing gift he once gave Kate.
Kate Middleton still teases Prince William about this gift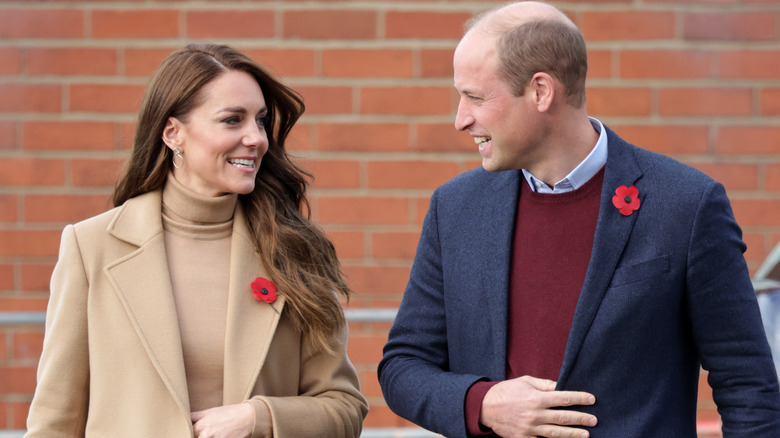 Chris Jackson/Getty Images
What could be worse than giving your significant other a raincoat? Just ask Prince William, who once got Kate Middleton a pair of binoculars. Apparently, he hasn't heard the end of it since. "That was early on in the courtship," William told Peter Crouch on "The Peter Crouch Podcast." "It didn't go so well. Honestly, I have no idea why I bought her a pair of binoculars. It seemed like a good idea at the time." Is Kate a budding ornithologist, and we never realized this until now? Or, were the couple planning to go on a safari (à la Prince Harry and Meghan Markle), and use their binoculars to spot wild animals?
Kate was likewise confused about the present. "I was like, 'These are really amazing! Look how far you can see!'" William continued, explaining how he'd tried to defend the binoculars. "And [Kate] started looking at me going, 'They're binoculars. What's going on?'"
In better news for William, he's become a more romantic gift giver since the binoculars disaster. The Prince surprised his wife for Valentine's Day with an extravagant floral display, as reported by Us Weekly. "[William] handwrote the most romantic message in his card, praising [Kate] for being such a wonderful wife and mother," a source revealed. Looks like roses trump binoculars every day of the week, and not just on Valentine's Day.
Who is the best gift giver in the family?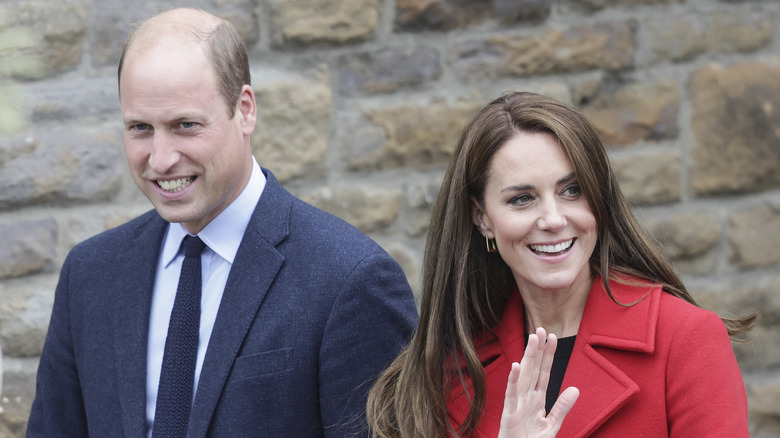 Chris Jackson/Getty Images
Prince William is still learning how to give a good gift, but Kate Middleton has that department covered. According to Hello!, the Duchess of Cambridge "has seemingly nailed the art of selecting unique gifts," probably because she understands that it's the thoughtfulness — and not the price tag — that makes the present. Case in point: Hello! reported that "For her first ever Christmas at Sandringham with the queen, Kate whipped up a batch of homemade chutney using her grandmother's special recipe."
In a 2016 ITV special (via People), the mother-of-three recalled feeling 'nervous' about the occasion, though her homemade gift ended up being well received. "I was thinking, 'Gosh, what should I give [the queen]?' I thought back to what I would give my own grandparents. And I thought, 'I'll make her something,'" Kate said.
As it turns out, the late Queen Elizabeth II was a great gift-giver herself. Just like Kate's homemade chutney, the queen's gift was homemade too (sort of). Per Express, she gifted her grandson and his wife with their very own home on her Sandringham estate, Anmer Hall. In 2015, Prince William and Kate opted to renovate the kitchen of their estate, a decision that did not go down well with Her Majesty at the time. "They have one of those big kitchens with eating areas and she said, 'I can't understand why everybody spends their time in the kitchen,'" royal biographer Sally Bedell Smith told People.