Lena Dunham Actually Got Fired From Her First HBO Show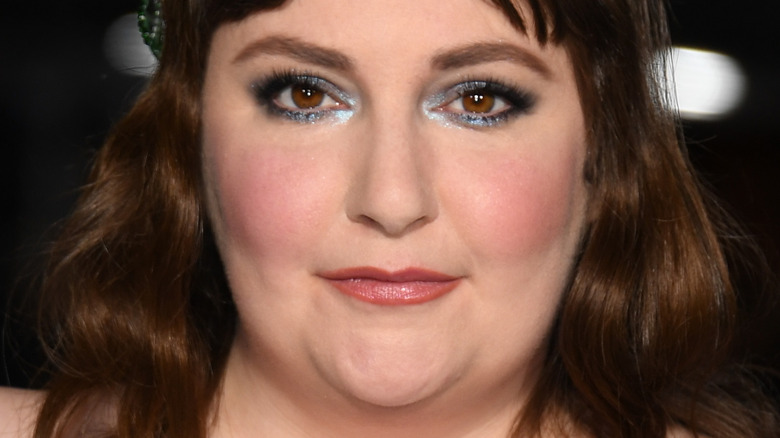 Jon Kopaloff/Getty Images
Before Lena Dunham shot to fame in 2012 with her smash hit HBO show, "Girls," she had actually featured on another popular HBO production. However, unlike her award-winning performance on "Girls," her first HBO appearance was a little less well-received. 
To be clear, Dunham has long hinted that acting is not what she wants to do forever. Speaking to Glamour back in 2014, she told the outlet that she wasn't entirely sure a future in front of the cameras was for her. "I don't know if I'm going to want to act anymore," she shared. Dunham also added that she was, "Always relieved on the days I don't have to [act]." As for what she'd want to do instead, she explained that having a hand in the behind-the-scenes was way more important to her. "I'd rather give parts to other women than be the woman having the parts," she said. Dunham doubled down on those sentiments, later that year. In a Twitter conversation with Apple Books, she shared that if she had to pick the title she cared about the most, she'd take "Writer, forever & always." After all, she quipped, "You can do it from anywhere, at any age, in any outfit." 
It's for precisely that reason that we're not shocked the "Girls" alum has made light of her first experience on an HBO show, but we're dying to know: Which show was she on, and what went so wrong that she ended up getting fired?
Her appearance on Mildred Pierce was a disaster, full stop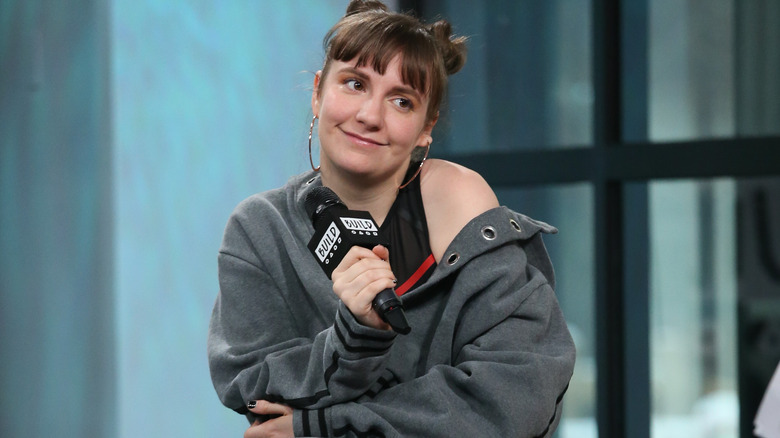 Rob Kim/Getty Images
In 2011, Lena Dunham found herself cast in the Kate Winslet-led period drama, "Mildred Pierce." An amazing platform for a young actor — however, Dunham herself believes that she was doomed from the very beginning. In an interview on The Howard Stern Show, she shared that she hadn't been the director's first choice. "He wanted my friend, Merritt Wever, and she was unavailable ... Someone went, 'How about this girl?' and he was like, 'Okay, that's a different chubby girl, that seems fine,'" she recounted. Being second choice was the least of Dunham's worries, though.
After being cast, Dunham asked her mother, Laurie Simmons, for advice — something she later regretted. Simmons told her, "They're hiring you to be yourself. Just go there and be yourself." Here's the thing: they hadn't. "They're hiring you to be a nurse from the f***ing 1940s!" Dunham laughed in retrospect. After sounding a little too much like her Millennial self, a dialect coach was called in, and one of the producers began auditioning extras for her part. "I had true dissociative anxiety. I remember thinking, 'If I collapse right here, they'll have to take me home in an ambulance, and that will be better for everyone involved,'" she joked. 
Ultimately, Dunham was featured in the show, briefly. In a clip shared by Huffpost, she can be heard saying, "Temperature is rising, Dr. Collins, it's 104." Small wins, right?
... But some good came from the experience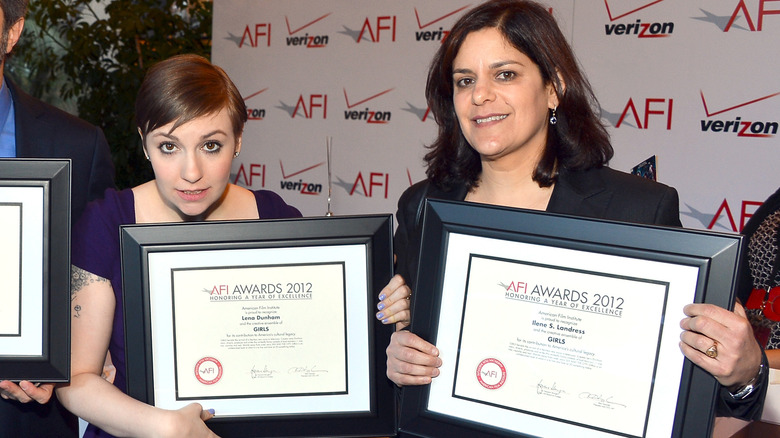 Frazer Harrison/Getty Images
Harrowing though Lena Dunham's experience on "Mildred Pierce" may have been, there is a surprising twist to this story. 
On The Howard Stern Show, Dunham revealed that the very producer who had begun testing out extras on the day of her shoot was none other than Ilene Landress. For those who didn't know, Landress went on to become the co-executive producer for "Girls." "So, the person who was downstairs, auditioning other people for my part ultimately ended up producing our show," she shared. And, the body positivity advocate also told Stern that when she began working with Landress in a new capacity, the award-winning producer confirmed that her "Mildred Pierce" stint had been just as bad as she remembered. "That's how bad I was," she recounted, via Vanity Fair. That said, it's safe to say that there was never any awkwardness between the two while working on "Girls." In fact, far from it, when the show wrapped in 2016, Dunham took to Instagram to gush over Landress and their other co-producers, Regina Heyman and Jenni Konner. In a picture featuring Dunham playfully leaning back on Landress, she described her colleagues as "remarkable."
Hey, "Mildred Pierce" might not have been a good fit for Lena Dunham, but it's safe to say HBO did, in fact, love her for being herself. Maybe Laurie Simmons' advice wasn't so bad, after all.