Jimmy Fallon Enlists Elon Musk's Help To End Viral Death Hoax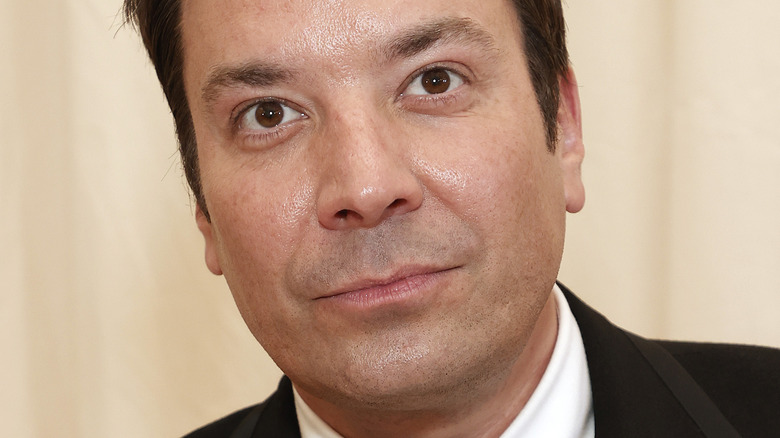 Arturo Holmes/mg21/Getty Images
Twitter has experienced a lot of notable changes since Elon Musk's takeover. Recently, many celebrities have stopped using the platform, as they are unsupportive of Musk's direction and decisions thus far. According to People, supermodel Gigi Hadid and producer Shonda Rhimes are among the stars who have called it quits. On Instagram (via People), Hadid called out Musk, writing, "I deactivated my Twitter account today. For a long time, but especially with its new leadership, it's becoming more and more of a cesspool of hate & bigotry, and its not a place I want to be a part of." Before deactivating her account, Rhimes tweeted, "Not hanging around for whatever Elon has planned. Bye."
One celebrity who remains on the platform is Jimmy Fallon. But recently, his existence came into question when a morbid hashtag about him started circulating. When Fallon asked Musk to put a stop to the chaos, the new Twitter CEO didn't exactly take the hoax too seriously.
Elon Musk replied to Jimmy Fallon's tweet with a joke
Taylor Hill/Getty Images
Despite what Twitter may believe, Jimmy Fallon is alive as ever. On November 15, #RIPJimmyFallon began trending on the platform. Fallon tried to stop it, tweeting, "Elon, can you fix this? #RIPJimmyFallon." Early on November 16, Elon Musk responded, "Fix what?" Later that day, somebody reportedly filled Musk in, per People. He then tweeted, "Wait a second, how do we know you're not an alien body snatcher pretending to be Jimmy!? Say something that only the real Jimmy would say..."
The Jimmy Fallon incident is symptomatic of a larger problem that Twitter faces. Recently, the app experienced an increase in the spread of false information, per The Hollywood Reporter. It's been further aggravated by Musk's decision to fire employees responsible for handling content moderation, fake accounts, and inaccurate news. On November 10, an account impersonating pharmaceutical giant Eli Lilly and Co, which had bought a blue verification check, tweeted (via The Hollywood Reporter), "We are excited to announce insulin is free now." As a result of this fake tweet, the pharma company's stock price plummeted from $368 a share to $346 a share. According to The Guardian, people can no longer use Twitter's blue check verification service.