The Worst National Anthem Performances Ever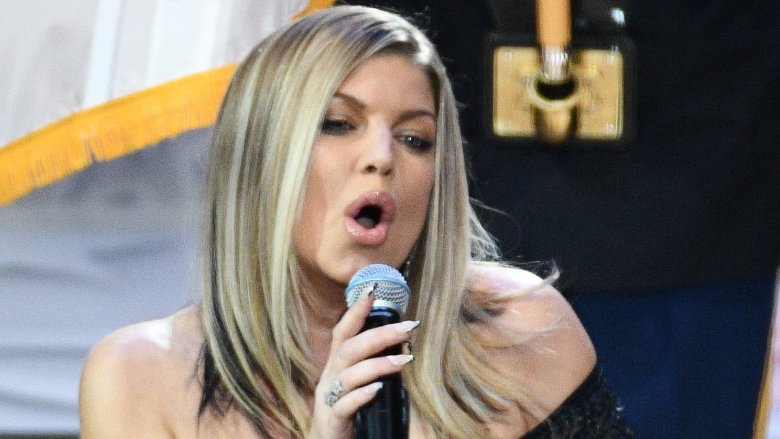 Getty Images
Let's get this out of the way: The national anthem is an extraordinarily difficult song to sing — period. That said, not everyone will be able to belt it out like Mariah Carey, Lady Gaga, or Whitney Houston, who delivered what's regarded as the best rendition of the song ever. As a result, people may try to rework it like Marvin Gaye did in 1983 when he basically turned "The Star-Spangled Banner" into a slow jam. Others just power through it. And some singers, well, destroy it.
Here are the worst national anthem performances ever sung. Let's just hope this list doesn't get any longer. After all, hasn't Lady Liberty suffered enough?
Fergie
At the NBA All-Star Game in February 2018, Fergie attempted a jazzed-up rendition of "The Star-Spangled Banner." Unfortunately, the former Black Eyed Peas singer's vocal runs, poor tune, and bizarre inflections butchered the song completely. Adding insult to aural injury, several NBA stars (most notably Draymond Green), as well as Chance The Rapper, Chris Rock, and Jimmy Kimmel, couldn't even contain their laughter during the performance.
Kimmel, who noted that he didn't realize he'd been on camera at the time, later addressed Fergie's singing on his show, stating, "Fergie gave an unusually sultry version of our national anthem." He added, "In Fergie's defense, we don't know what Francis Scott Key was thinking when he wrote the 'Star-Spangled Banner.' Maybe he wanted it to be sexy."
Following her cringeworthy performance, Fergie told The Hollywood Reporter, "I've always been honored and proud to perform the national anthem and last night I wanted to try something special for the NBA. I'm a risk taker artistically, but clearly this rendition didn't strike the intended tone. I love this country and honestly tried my best."
Despite her apology, a source told Us Weekly, "Neither Fergie nor her team thought anything was wrong with her national anthem rendition. That's the way she sings a lot of her songs. She loves adding a little sexiness and being different with her riffs. It was meant to be jazz-inspired. She wanted to stand out."
Aretha Franklin, Dr. John, and Aaron Neville
After Hurricane Katrina, New Orleans natives Aaron Neville and Dr. John seemed like great choices to perform the national anthem at the 2006 Super Bowl — especially with the addition of The Queen of Soul, Aretha Franklin, and a gospel choir. While all of the elements were somewhat solid — save for Neville's trademark, murmuring vocal runs, which didn't quite fit the tone set by the rest of the performers — the whole of the performance was lackluster and disappointing.
Michael Bolton
Michael Bolton can serve vocals for days, but no one is immune to sound issues or sudden memory loss. While singing the national anthem ahead of a New York Yankees and Boston Red Sox game in 2003, a terrible echo in the stadium hindered Bolton's performance — and he didn't even try to hide it when he peeked at the lyrics he'd written on his hand.
Christina Aguilera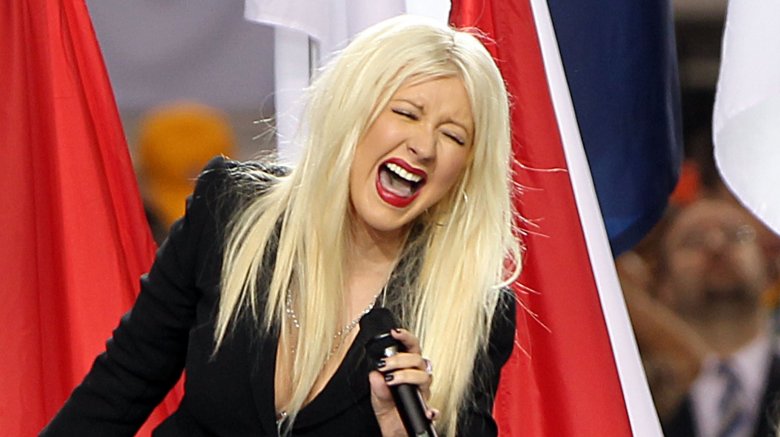 Getty Images
Grammy winner and The Voice coach Christina Aguilera has the pipes to deliver a beautiful rendition of the national anthem. Unfortunately at the 2011 Super Bowl, she focused more on vocal histrionics than on remembering the lyrics to the song, singing "What so proudly we watched at the twilight's last reaming" instead of  "O'er the ramparts we watched, were so gallantly streaming." Yikes.
A source told PopEater (via MTV News), "This was the biggest performance of her career and she blew it. To mess up the lyrics was a disaster." Another insider said that a "hush" fell over the stadium and that Aguilera was "devastated" after her near-career-breaking performance.
Aguilera later said in a statement (via CBS News), "I got so caught up in the moment of the song that I lost my place. I can only hope that everyone could feel my love for this country and that the true spirit of its anthem still came through."
Scott Stapp
At the NASCAR Ford 400 in November 2005, Creed frontman Scott Stapp snarled, slurred, and growled his way through the national anthem, ignoring most of the song's melody. At a Miami Marlins game in April 2010, he did slightly better. Slightly. Very slightly.
Aaron Lewis
Staind frontman Aaron Lewis' performance of the national anthem at the World Series in 2014 sounded a bit like Scott Stapp's, if Scott Stapp also had a bit of a sinus issue. The vocals were flat, nasal, and lackluster, and there was an audible struggle with "rocket's red glare." He also flubbed the lyrics a bit, subbing "at the twilight's last gleaming" with "were so gallantly streaming."
It may have been a bit of karma for Lewis, who'd previously slammed Christina Aguilera's own botched performance of the song, griping at the time, "I guess I just don't understand how people who sing the national anthem can be so f**king self-absorbed that they would try to change that f**king song. If there is a single song in the history of this country that deserves no creative interpretation, it's that one."
Lewis later apologized, writing on Facebook, "All I can say is I'm sorry and ask for the nation's forgiveness. My nerves got the best of me and I am completely torn up about what happened. America is the greatest country in the world. 'The Star-Spangled Banner' means so much to so many, including myself. I hope everyone can understand the intensity of the situation and my true intent of this performance."
Carl Lewis
Carl Lewis is a talented man, and he has nine Olympic gold medals, one Olympic silver medal, and ten World Championships medals (eight of them gold) in track and field to prove it. Unfortunately, his skill at runs on a track didn't translate to runs on his vocal cords, and when he performed the national anthem at a 1993 NBA game at the Meadowlands in New Jersey, it was a nightmare (via Deadspin). His voice cracked, his pitch was off, and he was so bad at one point that he actually told the audience, "Uh oh, I'll make up for it now." Spoiler alert: He didn't.
He later explained on Oprah's Where Are They Now, "I was actually under the weather and didn't want to do it ... I shouldn't have sang that day, but I'm actually glad it happened, because it's a part of your journey. And the great thing about it — kids will come and say, 'I saw your anthem and I didn't realize you were that fast!' Then other people will go and say, 'Hahaha, isn't that funny?' And if that's how you want to define me, that's your business."
Lewis added, "I've been on interviews and they'll just laugh it up and I'll say, 'Isn't it funny? My anthem 25 years ago has been seen by more people than your show.'"
Kat DeLuna
Kat DeLuna has a good voice, but she audibly struggled with some of the high notes during her performance of "The Star-Spangled Banner" at a Dallas Cowboys game in September 2008. It sounded as if she attempted to change registers towards the end of the song, but her overwrought vocal runs and head-twisting histrionics had already sealed her fate with the crowd, who booed her once she was finished.
Keri Hilson
Keri Hilson has a beautiful voice, but not the best memory. At an April 2010 Lakers game, Hilson forgot the lyrics to "The Star-Spangled Banner" and ended up singing the same verse twice. But hey, at least she hit all of her notes, right?
She later blamed the flub on in-ear issues, tweeting (via The Boombox), "LMAO bad sound can really distract U ... Well it happened 2 Aretha & the best of em!! EEK!!" (Sorry, Hilson, but that's not at all what happened to Aretha Franklin.)
The Fray
The Fray tried to put their own spin on "The Star-Spangled Banner," completely reworking the song and keeping only Francis Scott Key's lyrics for their April 2012 performance at the NCAA title game. Unfortunately, it didn't work so well, with the guitarists' often not syncing up. The band was, at least, self-aware of the failure, tweeting (via Billboard), "Upon thinking about it, doing the national anthem is a bit like choosing between Jif and Skippy. You just can't please everyone."
Alicia Keys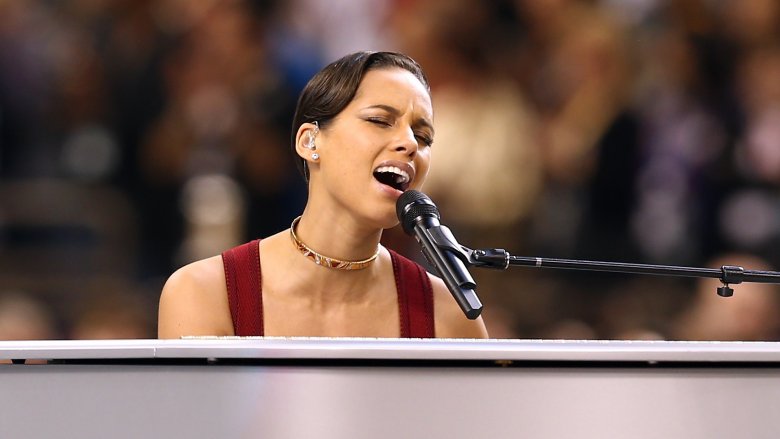 Getty Images
Alicia Keys' performance of the national anthem at the 2014 Super Bowl started out lovely, with the Grammy winner singing softly behind her piano. However, once she began belting, she didn't exactly land a touchdown vocally, as she audibly struggled to hit high notes and her voice became increasingly gravelly, pitchy, and all-around unpleasant.
Steven Tyler
Steven Tyler has one of the greatest voices in rock 'n' roll history, which is why it was so upsetting that he butchered the national anthem more than once. While performing "The Star-Spangled Banner" at the 2001 Indy500, he deliberately switched up the lyrics and added way too much harmonica for most people's tastes.
He didn't fare much better in 2012, ahead of a New England Patriots football game.
He told the Associated Press of the criticism he received afterward, "I actually hit the notes so I don't even know what they're talking about. I emphasized 'free' for 'freedom,' which was well thought out prior to. I wasn't messing with American tradition, I am an American, I'm proud of it and I am most proud that we are free. Because I've been all over the rest of the world, and they are not in so many places. Freedom means a lot. And I nailed that note! So if they don't like it, too bad."
​Beyonce
Beyoncé visibly suffered from audio issues during her performance of the national anthem at President Barack Obama's inauguration in January 2013, as the living legend removed her inner-ear monitors during the song. The move led many to speculate that she lip-synced the entire performance, which she later told press was completely false.
"I practice until my feet bleed and I did not have time to rehearse with the orchestra," Queen Bey said (via CBS News). "Due to no proper sound check, I did not feel comfortable taking a risk. It was about the president and the inauguration, and I wanted to make him and my country proud, so I decided to sing along with my pre-recorded track, which is very common in the music industry. And I'm very proud of my performance."
To further shut up her haters, weeks later, she sang an a capella rendition of "The Star-Spangled Banner" at an NFL press conference leading up to her epic Super Bowl performance.
Roseanne Barr
In July 1990, Roseanne Barr made a mockery of "The Star-Spangled Banner," complete with shrieking, giggling, crotch-grabbing, and even spitting on the pitcher's mound.
She would later tell Raw Dog on SiriusXM, "It wasn't a televised baseball game, and it was working woman's night, so I was America's most famous working woman ... I could sing well and I had practiced for a long time to sing it. The night before I sang it, I went on Johnny Carson again, and Johnny says, 'Now you be careful not to start too high.' ... So of course I started too high." She continued, "About six notes into it, I was like, 'Can I stop and start over?' but I knew I couldn't, and I knew there was no way I'm gonna make those high notes, so I just thought, 'What the Hell? I'm a comic, I'm gonna make it funny.' ... It was going from being a beloved person to being a despised and hated person overnight."
After all that, one would think that Barr would have some sympathy for other performers of the national anthem. But the comic still dissed Fergie for her 2018 NBA All-Star Game rendition, tweeting, "Who saw Fergie's national anthem performance at the NBA All Star Game? I think mine was better low-key."
We'll let fans decide that for themselves.