Paulina Porizkova Opens Up Like Never Before About Her Rocky Marriage To Ric Ocasek
Sergi Alexander/Getty Images
Supermodel Paulina Porizkova isn't holding back in her new memoir "No Filter." She has previously spoken candidly about her toxic marriage to Ric Ocasek, who was the frontman for the rock band The Cars. Their rocky romance dates back to 1984, when Porizkova appeared in the group's music video, "Drive," at the age of 19, per the Daily Mail. Five years later, she married Ocasek, who was 21 years older than her. In a 2021 interview on The Conversation with Amanda de Cadenet podcast, Porizkova shared, "I construed his interest as love, but for him, I think it was more of an obsession." She addressed Ocasek's control over her, adding, "He didn't want me to do anything. He didn't want me to go anywhere. He wanted me to be within his circle at all times. I was his soul emotional provider for everything, and I confused that with love."
Following a turbulent marriage, the pair separated in 2018. Ocasek passed away a year later, with Porizkova finding him dead following a recent surgery, per Fox News. The two still lived together at the time of his death (via The New York Times). The Swedish model later experienced betrayal upon learning that she was taken off of her husband's will. According to the outlet, Ocasek wrote, "I will make no provisions for my wife because she abandoned me."
Amid the recent release of her book, Porizkova is divulging even more shocking details about her relationship with the former rock n' roll star.
Ric Ocasek reportedly had major secrets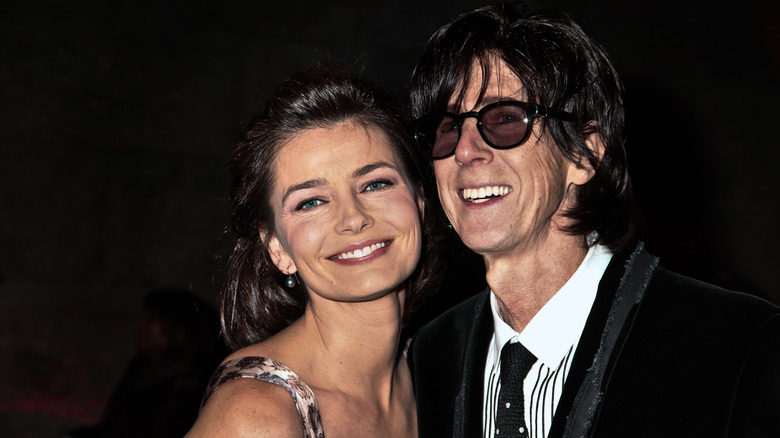 Miro Vrlik Photography/Shutterstock
In a recent appearance on Facebook Watch's "Red Table Talk,"  Paulina Porizkova discussed her unstable marriage to Ric Ocasek. According to the 57-year-old, Ocasek revealed he was married to someone else a few weeks into their relationship. By that time, she claimed she was already "passionately in love" with him. In her memoir "No Filter," Porizkova described the confession as "a glass of cold water thrown" in her face. The surprises didn't end there, as she later learned that he also had kids. Despite these revelations, Porizkova and Ocasek stayed together. She explained, "I was in too deep at the point. And when he said he needed time because there were two small children involved I went, 'He's such a good dad.' It never really dawned on me that he had all the lies that had started as soon as we met." Prior to splitting with his wife, her and Ocasek's relationship was kept under wraps for three years.
In addition to her difficult relationship with Ocasek, Porizkova shared an alarming story from her early modeling days on "Red Table Talk" (via People). When she was 15 years old, a photographer approached her in an extremely inappropriate manner. She explained that she felt something on her shoulder, but was perturbed as to what it was. The supermodel revealed, "It wasn't until he retracted it and zipped up his fly that I realized it was his penis." Sadly, it seems as though Porizkova has had no shortage of disturbing encounters.