Paulina Porizkova Reveals More Chilling Claims About How Toxic Her Marriage Really Was
Ron Adar/Shutterstock
When model Paulina Porizkova met Ric Ocasek, the frontman for the rock band The Cars, she was appearing in his music video for the group's 1984 song "Drive" at 19 years old, according to the Daily Mail. Porizkova and Ocasek tied the knot in 1989, welcoming two children, Jonathan in 1993 and Oliver in 1998. However, when Ocasek died in 2019 at the age of 75, as reported by Yahoo, Porizkova and him were in the process of finalizing their divorce. "We had been together for my entire life," she reflected for StyleLikeU, "...and suddenly he seemed not to find me attractive anymore
Once Ocasek's will was released, Porizkova was informed that she was written out of it completely, with Ocasek citing he was "abandoned" — despite the two still living together following a separation in 2018. In the two years following Ocasek's death, along with briefly dating again with filmmaker Aaron Sorkin, Porizkova is finally coming to terms with the toxicity inside her longtime marriage and revealing new details about the relationship.
Paulina Porizkova claims Ric Ocasek was obsessive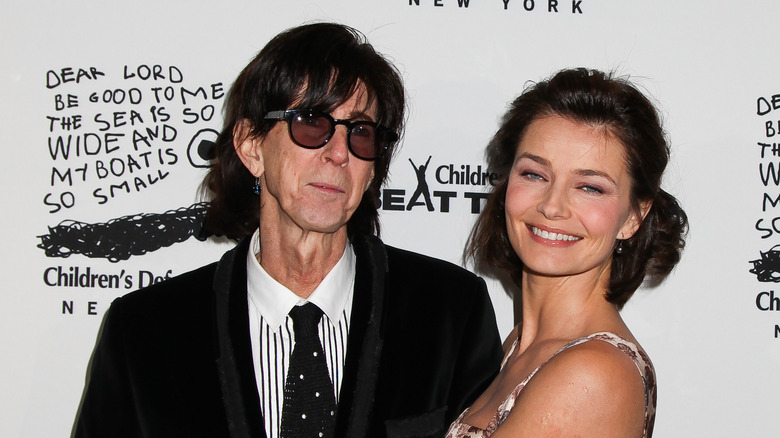 Miro Vrlik Photography/Shutterstock
In a new interview on Amanda de Cadenet's podcast "The Conversation," Paulina Porizkova opens up further about the dynamic between her and her late estranged husband, Ric Ocasek, sharing some problematic details in the process. "I construed his interest as love, but for him, I think it was more of an obsession. He was obsessed with me," Porizkova shared. "And because he was obsessed with me, it felt like the ultimate love," she continued, saying she was "confused" by his actions while they were happening.
Porizkova also touches on the prospect of growing up, but feeling like her changes were limited through Ocasek's perspective of who she was. "I didn't realize for a very long time that when you are a treasured possession, opposed to as a person who is loved, you don't get change, you don't get to grow, you don't get to get older," she reflected. "You are very limited in your usefulness. You have to be the person that they're obsessed with." 
The former model further described her transformation in their relationship as "Pygmalion" as she continued to grow and get more famous. "He took me under his wing, he told me what to wear, he told me what to do," she continued. "I conformed to his wishes because not doing so would risk losing his love and his love was more important to me than any career or any friends or anything I wanted to read or do."