How Britney Spears Really Felt About Justin Timberlake's Cry Me A River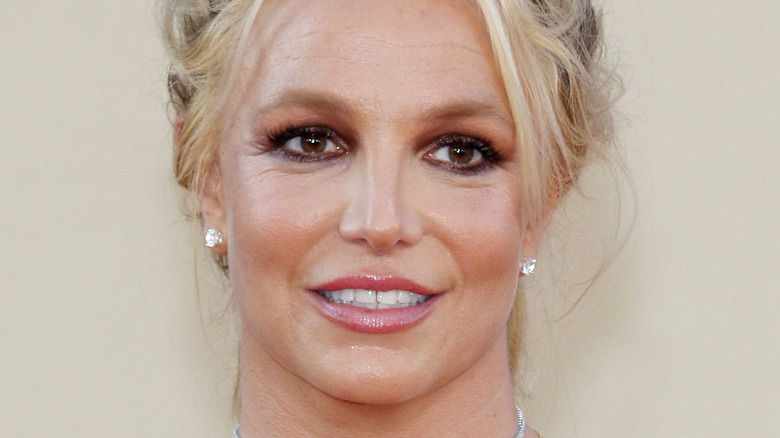 Tinseltown/Shutterstock
Any fan of pop icon Britney Spears will remember that, among her many relationships, perhaps the one which stands out the most is her three-year romance with former NSYNC member Justin Timberlake. Of course, Spears and Timberlake first met on the set of "The Mickey Mouse Club" when they were just children. According to The Guardian, it was confirmed that they were dating in 2000 after both had become headline-garnering media superstars in their own right.
However, the relationship between the two pop icons did not last. Per The Telegraph, the two broke up in 2002. Later that same year, Timberlake infamously recorded "Cry Me a River," a song which, according to media outlets, was interpreted to be about his relationship and breakup with Spears. The accompanying music video for the song included a lookalike of Spears.
Although Timberlake denied the connection to Spears at the time, Timbaland confirmed in 2011 that the breakup inspired Timberlake to make the song. But how did Spears herself feel about this whole drama as it unfolded? Well, nearly two decades later, Spears has continued to poke fun at her ex-boyfriend over it and has not minced words when it comes to how she really felt. 
Britney Spears subtly called out Justin Timberlake on Instagram
Kevin Winter/Getty Images
In 2021, Britney Spears made an Instagram post in which she referenced Justin Timberlake's "Cry Me a River" video — namely, the female lookalike of Spears used in the video. Spears showed off various outfits in front of a camera in the short video clip, wearing the signature gray newsboy cap sported by the actress in the music video.
"Thoughts while making this video," Spears wrote in the post. "Hmmm, something looks familiar ... The hat ... wait I look like that girl in the Justin Timberlake video with that hat in 'Cry Me A River!!!' Oh, s*** that's ME!!!" 
Of course, this is not the first time Spears used her creativity to respond to Timberlake's song. In 2003, the year after the release of "Cry Me a River," Spears wrote and released "Everytime," a pop ballad in which she emotionally pleads for forgiveness for hurting an unnamed lover. Annet Artani, a former backing vocalist for Spears who co-wrote the song with her, confirmed that the song was indeed a response to Timberlake. "It was a very organic, sad experience, but I think that's where the truth comes out," Artani said in 2010, per MuuMuse.
Britney Spears was infuriated about Cry Me a River at first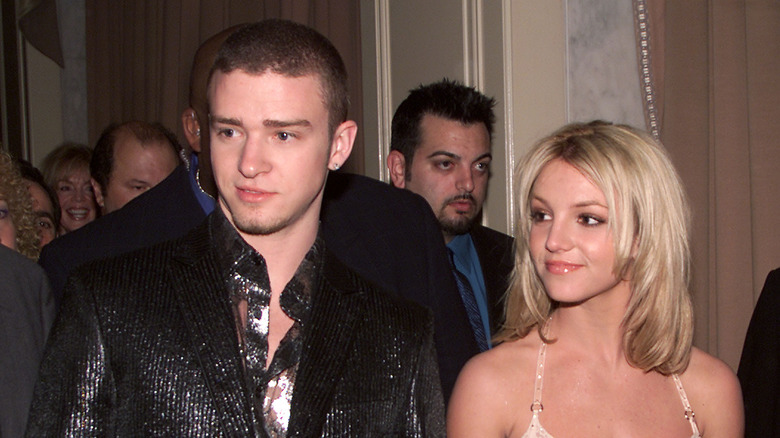 Kevin Winter/Getty Images
Although Britney Spears may have seemed gracious in her response to "Cry Me a River" — even writing a whole song apparently seeking forgiveness — she did not react so kindly at first.
In 2011, Spears revealed to Rolling Stone that Justin Timberlake actually called her before he released the music video and disclosed that she was being portrayed in it. She explained, "He called me up and wanted to supposedly get back together or whatever, but behind it was, 'And by the way, you're in a video that's coming out.'" 
The singer added that she had the power to prevent him from making the video, but she ultimately chose to let it go. However, when the music video was actually released, she suddenly felt differently. "I should've freakin' said no to this s***!" Spears said she thought after seeing the visual. 
In spite of the drama, Spears and Timberlake have managed to maintain a platonic connection over the years. "They don't talk all that often, but Justin checks in on her from time to time," a source close to both revealed in 2020 to OK Magazine (per Celebrity Insider). "They'll give each other career advice, call when they have a birthday, or sometimes just to catch up."