The Shady Way Justin Timberlake Supposedly Dumped Britney Spears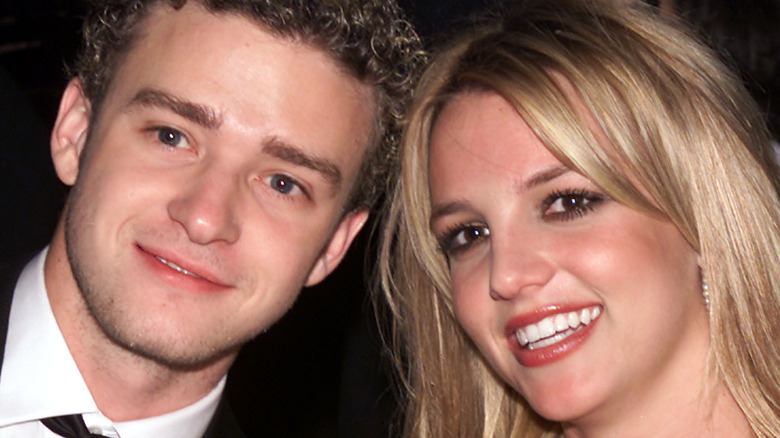 Frank Micelotta Archive/Getty Images
At the height of her fame in the early 2000s, Britney Spears was widely regarded as among the most popular pop stars of her time. Every aspect of her life — both personal and professional — became the subject of intense media scrutiny, and her romantic relationships were no exception. 
She and her fellow pop superstar Justin Timberlake, who were both born in 1981 and first appeared on TV together as children in the early '90s on "The Mickey Mouse Club," first started dating in 1999, right around the time her career really took off. However, the relationship did not last long, as it ended rather abruptly in March 2002.
Although their relationship never ended up becoming anything more than a brief dalliance between two young celebrities, it was an intense period for both of them. While both Spears and Timberlake seem to have moved on from the early 2000s, one person close to Spears revealed recently how Timberlake supposedly dumped her, and it appears to be pretty shady. 
Justin Timberlake dumped Britney Spears by text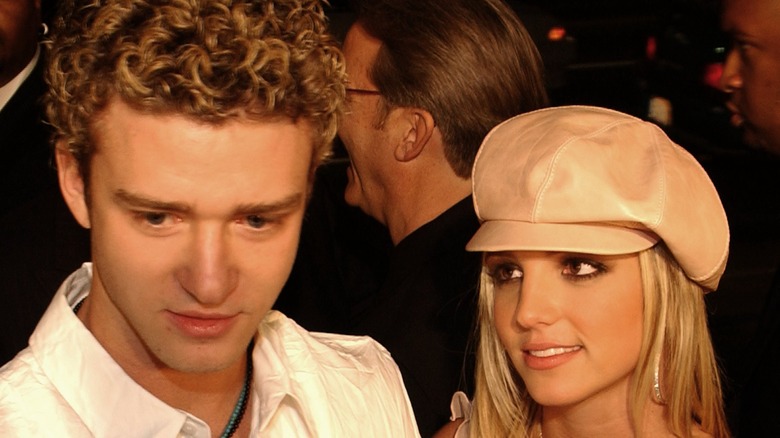 Vince Bucci/Getty Images
Although the relationship between Britney Spears and Justin Timberlake was all the rage in early 2000s tabloids, not much is known about what happened behind closed doors, and little about how Timberlake supposedly dumped her was known until just recently. In April, Chris Applebaum, who directed "The Darkside Remix" music video for Spears' 2001 smash hit, "Overprotected," revealed on Instagram exactly how Timberlake did it: by text. 
Applebaum told the story of Spears' immediate reaction to receiving Timberlake's breakup text, which happened during production for Applebaum's music video (which was filmed in Los Angeles the first weekend of March 2002, per MTV). "At some point during the 2nd shift [of shooting] Brit disappeared and I went to her trailer to fetch her," Applebaum wrote in the post, "only to discover her BF Justin had just broken up with her via text message." 
He went on to say that he and Spears "sat on the floor of her trailer for a minute, talked it out, and then rallied." He continued, "I told her she should get out there & show Justin he made the biggest mistake of his life." He also added a note to anyone who may be contemplating a breakup: "Let me recommend to any who reads this: don't break up via text!" Spears would go on to be nominated for her sixth Grammy Award for "Overprotected," in the category of best female pop vocal performance.
Justin Timberlake made allegations about Britney Spears post-breakup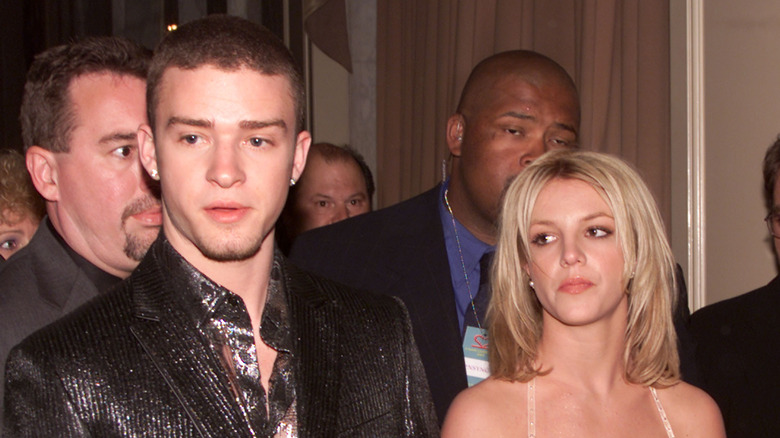 Kevin Winter/Getty Images
Naturally, rumors began to spread about Justin Timberlake and Britney Spears' shady breakup almost as soon as it happened — rumors which were bolstered by Timerlake's song, "Cry Me a River," which was released later that year. The song's music video featured Timberlake catching his girlfriend, a Spears lookalike, walking hand-in-hand with another man, understandably fueling rumors that Spears was unfaithful to him. Though he denied at the time that the woman in the video — or the song overall — was based on Spears, he and his producer, Timbaland, later acknowledged in 2011 that that was indeed the case, per HuffPost.
However, in the nearly two decades since, the two seem to have reconciled, or at least made peace. In June 2021, Timberlake spoke out in support of Spears during her controversial conservatorship battle with her father (which ended in its termination). Shortly after court audio was released of Spears publicly acknowledging her disdain for the conservatorship for the first time, Timberlake wrote in support of her on Twitter. 
"After what we saw today, we should all be supporting Britney at this time," he wrote. "Regardless of our past, good and bad ... what's happening to her is just not right." He went on to say that he and his wife, actor Jessica Biel, "send our love, and our absolute support to Britney during this time. We hope the courts, and her family make this right and let her live however she wants to live."