Why Prince William Didn't Get The Final Say On His Wedding Attire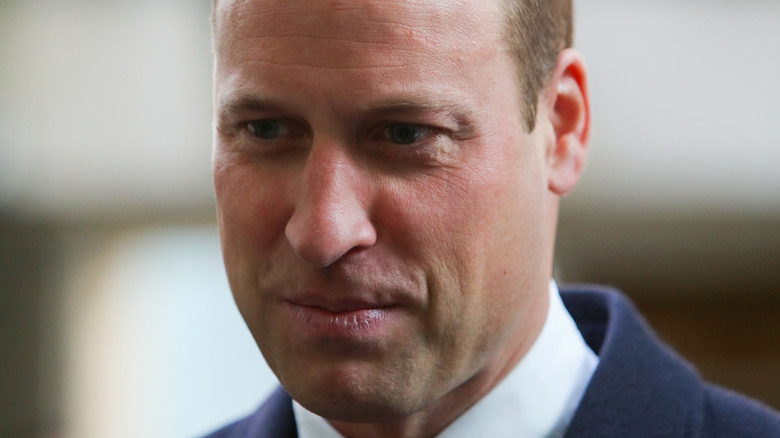 Wpa Pool/Getty Images
At any wedding, all eyes are typically on the bride. But on Prince William and Kate Middleton's wedding day, there were lots of eyes — 162 million, to be exact. In 2011, the Duchess of Cambridge stepped out of a black Rolls-Royce wearing a white satin Alexander McQueen ball gown and officially set hearts racing. But don't take our word for it — designers across the world gave the bridal dress their seal of approval, too. "[Kate] is very elegant," Karl Lagerfeld said on France 2 TV (via Vogue U.K.) at the time. "The dress is classic and goes very well in the Westminster decor. It almost reminds me of Queen Elizabeth's wedding, the royal weddings in the 50s," he added. "I like the veil a lot."
It may have been Kate's big day, but there were plenty of other classy outfits, including her sister Pippa Middleton's head-turning look. Unsurprisingly, every detail of the ceremony was carefully choreographed, right down to the bridesmaids' flower wreaths. As body language expert Darren Stanton told PureWow, "Kate Middleton getting her flower girls to wear floral head wreaths similar to the one her mother Carole wore on her wedding day is another suggestion that Kate Middleton wanted her wedding day to be a family affair." Indeed, from Kate's "something borrowed" to the bouquet she carried down the aisle, both sides of the family tree were honored.
As for Prince William, he had less say in his own wedding attire than people might realize.
Queen Elizabeth wanted Prince William to wear the red tunic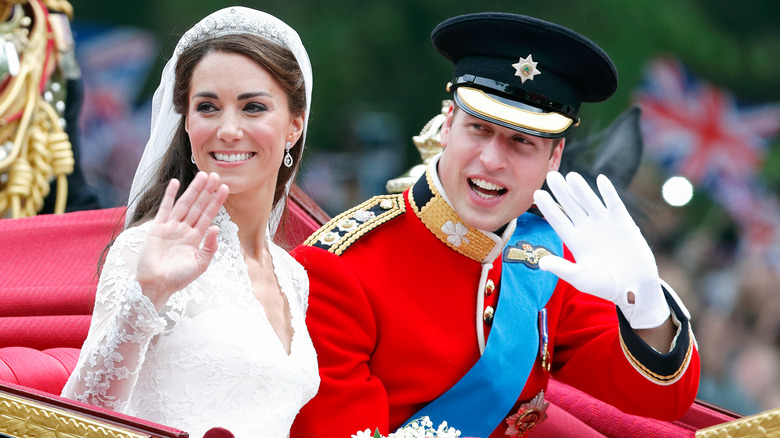 Max Mumby/indigo/Getty Images
Prince William and his late grandmother Queen Elizabeth II were often in sync, but they clashed in the run-up to his 2011 nuptials. The cause of their friction was simple: William's wedding day attire. "I wanted to decide what to wear for the wedding," he told Robert Hardman, the author of the book, "Our Queen" (via E! News). "[Instead], I was given a categorical, 'No, you'll wear this!" The prince originally favored his Irish Guards frock coat, which was his go-to outfit at royal functions, as Express reported. However, his grandmother preferred for him to wear a red tunic representing his role as colonel of the regiment. "We had a couple of discussions on this matter, but, as I learnt growing up, you don't mess with your grandmother," the Duke of Cambridge joked (via The Mirror). Granted, the paps scrutinized Kate Middleton's dress over Prince William's tunic, but perhaps the groom should have been given more of a voice?
Her Majesty didn't budge over William's attire, but she did show leniency in other areas of wedding prep. For example, she allowed the happy couple to draft their own guest list after William objected to the initial list. "I was given this official list of 777 names — dignitaries, governors, all sorts of people — and not one person I knew," the Duke of Cambridge told author Hardman (via The Daily Mail). "They said, 'These are the people we should invite.' I looked at it in absolute horror and said, 'I think we should start again.'"
Things were different at Prince Harry and Meghan Markle's wedding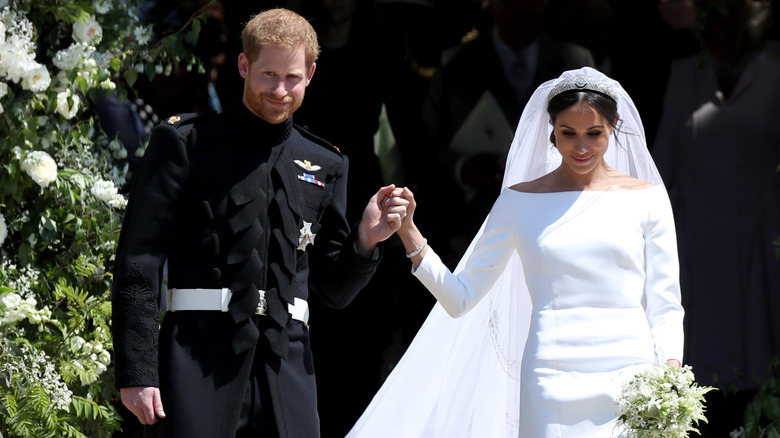 Wpa Pool/Getty Images
Unlike his big brother, Prince Harry was permitted to wear the outfit of his choice when he tied the knot with Meghan Markle in 2018. According to GQ U.K., this was the traditional dress of the Blues and Royals regiment, over which the queen served as colonel-in-chief. However, Meghan bucked Her Majesty's preference by wearing a pure white off-the-shoulder Givenchy stunner, per Brides. Maybe this was an early sign that the Duchess of Sussex was all about starting her own traditions? She was backed in her decision by an unlikely source: her sister-in-law, Kate Middleton.
Understanding her role as a fashion icon and global trendsetter, Marie Claire reported that Kate deflected attention away from herself and onto Meghan by recycling an Alexander McQueen coat. She'd previously worn the look at Princess Charlotte's christening and to Trooping the Color. It was classy (like everything Kate wears), but old news for fashionistas. It turns out, Kate is a master of recycling outfits, often choosing different accessories and even reworking pieces of the outfits themselves to make them look brand new. Repeat-wearing is still rare on the red carpet today, but Kate's influence sends a powerful message about the importance of sustainability. Sartorially speaking, wearing what you already own says a lot about your confidence and values. If you're Meghan Markle, wearing that pure white wedding dress says a lot, too!