Marla Maples' Dress At Tiffany Trump's Wedding Is A Head-Turner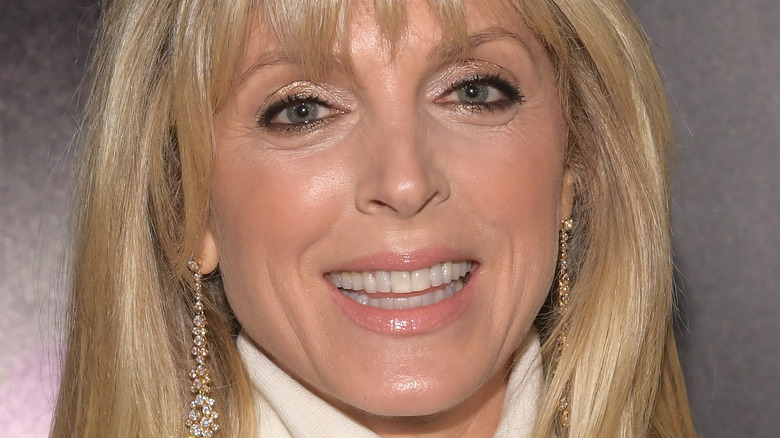 Ben Gabbe/Getty Images
When it comes to high-profile families with infamous reputations, the Trumps easily top the list. While the family has remained in the spotlight primarily due to Donald Trump's shocking statements and questionable politics, the public eye has also shifted its attention to the younger Trump generation. In recent years, Tiffany Trump, Donald's youngest daughter, has received heaps of attention for her relationship with Michael Boulos of the wealthy Lebanese Boulos family.
At the beginning of 2021, the University of Pennsylvania graduate announced her engagement a day before her father left his position as the President of the United States, according to The New York Times. "It has been an honor to celebrate many milestones, historic occasions and create memories with my family here at the White House, none more special than my engagement to my amazing fiancé Michael," Tiffany wrote on Instagram. In the months following their high-profile announcement, the couple focused all their energy on planning a lavish wedding. 
In July 2021, a source told People that Tiffany and Boulos wanted an "international spectacle." "Tiffany likes the idea of a glamorous and glitzy affair and, surprisingly, so does Michael," they told the publication. Of course, the pair had no issue with money due to their extremely wealthy backgrounds –– especially Boulos and his family's business in Nigeria. After more than a year of planning, the two finally tied the knot on November 12, surrounded by their family and friends. However, one of the most talked about guests of the evening was Tiffany's mother, Marla Maples.
Marla Maples' lavender gown shines at Tiffany Trump's wedding
On November 12, Tiffany Trump and her fiancé Michael Boulos married after four years of dating. Unsurprisingly, the event — held at Mar-a-Lago — was full of glitz and glamour. While the wedding was a step away from their previous plans of an "international spectacle," Tiffany did wear a stunning Elie Saab gown to honor Boulos' Lebanese heritage, per Town & Country. "The most magical day," Tiffany wrote on Instagram.
Yet, while the Georgetown Law alum and her dress shined throughout the ceremony, she wasn't the only one to turn heads. The bride's mother, Marla Maples, stunned in a breathtaking Elie Saab-designed gown to honor Boulos' heritage, too. "It's a Lebanese American wedding, so we were so happy to have Elie Saab create the magic," she told People regarding her lavender gown.
The publication also noted that Tiffany took inspiration from her mother's union to her father, Donald, regarding their cake, also opting for a 7-foot Sylvia Weinstock wedding cake. "Marla and Tiffany have talked about this day for a very long time. She is so proud of her daughter and feels she chose the right man," a source revealed. A day before the larger-than-life wedding, Tiffany and Maples celebrated the impending nuptials during a walk-through on the expansive Mar-a-Lago estate. According to the Daily Mail, the event saw an array of international guests attend. "It's just a chance for everyone to get together and enjoy this time with Tiffany and Michael," a source said.
Marla Maples and Tiffany Trump share a strong bond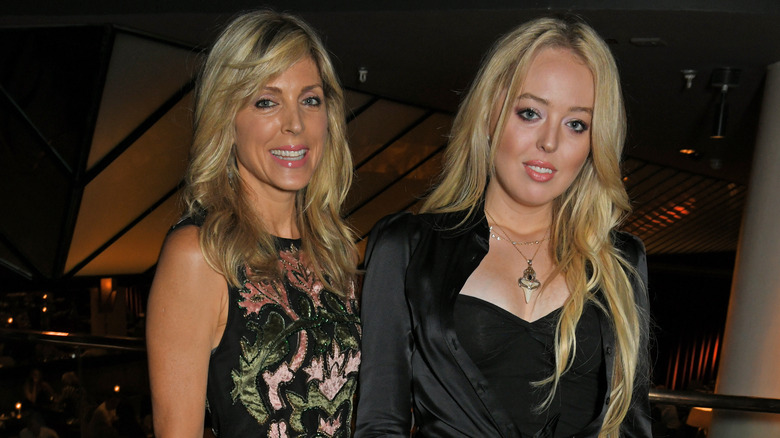 David M. Benett/Getty Images
Over the years, Marla Maples has always shown unconditional love to her daughter, Tiffany Trump, despite her messy relationship with her father, Donald Trump. Back in the 90s, Maples and the former president of the United States made headlines after they were caught having an affair, per Vanity Fair. While the public painted the actor and dancer as Donald's mistress, the "Liv and Maddie" star said that was far from the truth. "I never consider myself a mistress. I mean, that's the truth," she said on the "Journeys of Faith with Paula Faris" podcast in 2018.
Nevertheless, the two went on to get married and welcomed Donald's second daughter, Tiffany. After her divorce from "The Apprentice" host in 1999, Maples moved to California, where she raised her daughter away from public scrutiny. "Raising Tiffany in California, I think, was important. I wanted to sort of get away from the spotlight and have a chance to have a real good mommy-daughter time so she can really discover who she is," she explained in a 2018 interview with "Today."
A couple of years before Maples' interview, Tiffany shared similar sentiments in an interview with People, even praising her mother for giving her a "normal childhood." "We loved going to the movies together... we were always together. She gave me a chance to have a normal childhood," Tiffany explained. If Tiffany's wedding is any indication, it looks like their mother-daughter bond is stronger than ever.