What We Know About Southern Charm Star Leva Bonaparte's Husband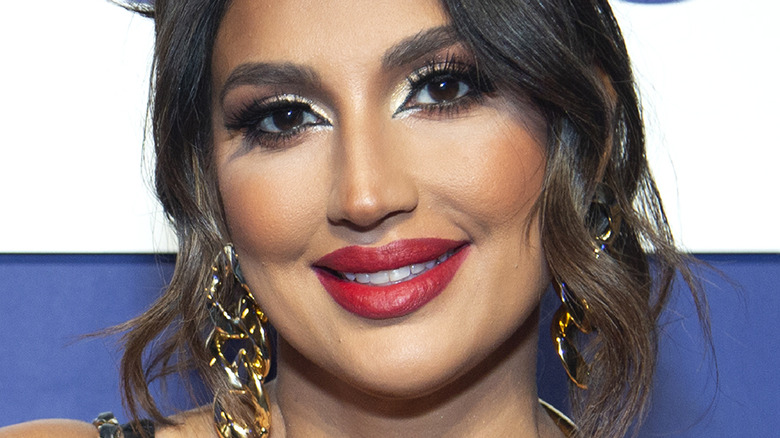 Santiago Felipe/Getty Images
Since joining the cast of "Southern Charm" in 2020, Leva Bonaparte has not shied away from offering glimpses into her life. However, when it comes to her husband, Lamar Bonaparte, he's a little less forthcoming. So, what exactly do we know about Leva's leading man?
While Lamar might not be an aspiring reality star himself, it's worth noting that he's far from being a recluse. In fact, as the co-owner of several of Charleston's hottest spots, he's something of a local celebrity — and he regularly rubs shoulders with other stars in the high-end restaurants he runs alongside Leva. As "Shrimp Tank" podcast host, Eric Elkins, pointed out in an episode featuring Mr. Bonaparte and highlighting his success in the hospitality industry, "Lamar is friends with a ton of different folks, and especially athletes, that I'm sure will end up showing up at his new place." Leva herself has also spoken of her husband's charisma in the past, and pointed out that, while he might not be comfortable sharing it on a public forum, their personalities are pretty similar. In fact, speaking to Decider, Leva shared, "My husband and I both have really strong personalities, so I think that knife is sharpened at home." 
With all that said, for those looking to learn more about Lamar's personal life, intel can be a little hard to come by...
Lamar's super private, but Leva finds ways around that
Reality TV isn't the only public forum Lamar Bonaparte shies away from. Far from it, as anyone who's tried to catch a peek at Leva Bonaparte's love via Instagram will know, he's pretty camera-shy, in general — something the "Southern Charm" star has acknowledged in the past. As she told Decider back in 2020, "He doesn't even like taking pictures." That said, Leva has, on occasion, found ways around that. 
Though you'd be hard-pressed to find a gushy Instagram post chronicling anniversaries or date nights on the "Southern Charm" star's social accounts, in honor of Father's Day in June, Leva shared a sweet black-and-white picture of her husband holding their son, Lamar Bonaparte Jr., to Instagram. Granted, the former's face was covered with his baseball cap, but small wins, right? A few months on, in September, Leva shared an elevator mirror selfie to the platform, which just managed to capture Lamar in the far corner. Just days later, she also posted a video montage of their family trip, again, featuring Lamar on the sidelines. 
It seems that may have been it for Leva's Instagram boldness for the time being, however. For Halloween, Leva posted a family picture her uber-private hubby is sure to have approved: her and Lamar Jr. as Ghostbusters ... and Lamar Sr. in a fully-enclosed Stay Puft Marshmallow Man costume. We'll call that the perfect compromise!
Lamar supports Leva's choice to be on reality TV
It's pretty clear that, for Lamar Bonaparte, the spotlight just isn't where he wants to be. However, that doesn't mean he's not fully supportive of his wife's decision to join the cast of "Southern Charm."
Quite the contrary, in her Decider interview, Leva shared that once she informed Lamar of her plans to join the cast for its seventh season, he backed her all the way. "It definitely is far from his wheelhouse of comfort. But he's excited for me, and he knows that I was having a great time and that I enjoyed it ... So he's very supportive," she told the outlet. So supportive is Lamar, in fact, that IMDb lists him as a producer of Leva's "Vanderpump Rules"-esque spinoff. No word on whether Lamar will feature as a cast member for the first season of "Southern Hospitality" just yet, but it's clear that he's more than happy to be involved — at least, from behind the scenes. 
So, just who is Lamar Bonaparte? He might not be an aspiring reality TV star or social media influencer, but we'll go ahead and file him under super-successful restauranteur and uber-supportive husband.