You Might Not Remember Tiffany Trump's Short-Lived Music Career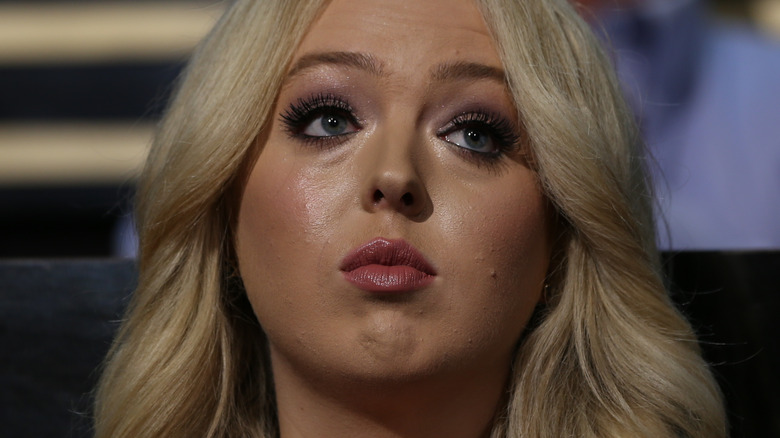 mark reinstein/Shutterstock
Tiffany Trump, the youngest daughter of former president Donald Trump, may not be the most famous of the Trump children, but she has certainly had much to boast about. Given her father's decades-long time in the spotlight, Tiffany first made headlines upon her 1993 birth to Donald and Marla Maples, a model and Donald's then-girlfriend. (They married two months after Tiffany's birth and divorced six years later.) 
When her father famously announced his 2016 presidential campaign in June 2015, Tiffany was 21, and the youngest of Doanld's four adult children. Although she was not as outspoken on the campaign trail as her elder half-siblings, Donald Jr., Ivanka, and Eric, she nonetheless saw an increased presence in the media, and gave several interviews, speaking fondly of her father. 
However, what many may have forgotten is that, years before her father's initial run for the presidency, Tiffany aspired to become a singer. And although it may not have lasted long, she did, in fact, have a brief and fleeting musical career.
Tiffany Trump released a single in 2011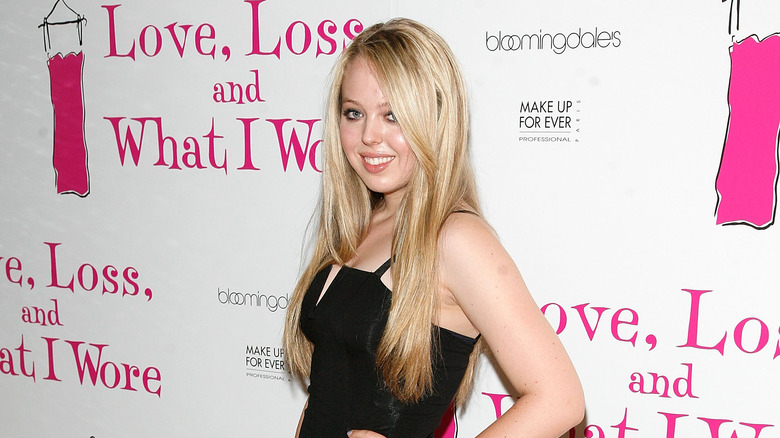 Andy Kropa/Getty Images
In 2011, four years before the onset of her father's presidential campaign and one year before she graduated high school, then-17-year-old Tiffany Trump dipped her toe in the music industry, releasing an electro-pop single titled "Like a Bird." But, unfortunately, her musical career ended there, and she has not released another single since. Instead, she decided to focus on her academics. Indeed, she told Oprah Winfrey in a 2011 segment for her show, "Where Are They Now?" that music used to be a "big passion" for her, but had since become "more of a hobby."
"We'll see in a couple of years if I actually do want to take it to the next level — to a professional level," Trump said (via Vanity Fair). "But right now my priority is focusing on school and getting into a good college."
Indeed, Trump proceeded to get into her father's alma mater, the University of Pennsylvania, in 2012, the year after "Like a Bird" was released. She graduated in 2016 with a Bachelor of Arts in law and sociology, then attended law school at Georgetown University in Washington. She received her Doctor of Jurisprudence in 2020. 
Tiffany Trump's single surged in popularity in 2016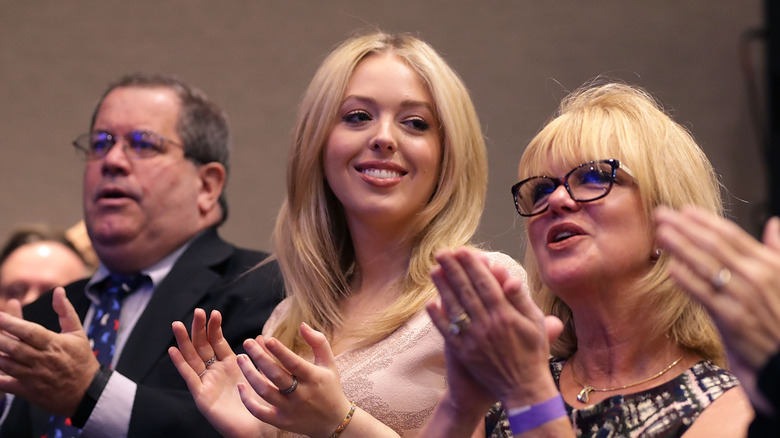 Chip Somodevilla/Getty Images
Although Tiffany Trump's musical career may have been short and sweet, it arguably didn't end in 2011. Just recently — around 2021 — her only single, "Like a Bird," saw a surge in popularity on TikTok, according to Business Insider. Although users on the famous app, widely popular among those in Generation Z, are generally not so kind to the former president, many young people on the app took interest in the song, both for its context and content. In fact, many compared its electro-pop sound to that of Canadian musician Grimes. 
"Tiffany Trump was kind of the original grimes if you think about it because they're both making ethereal dream pop and are also class traitors," user chr0matica cheekily noted, likely referring to Grimes' short-lived romance with billionaire Elon Musk. Others, however, such as user angelphroot, were less kind to the song itself, calling it "garbo."