Jane Fonda Has A Little-Known History With Marilyn Monroe
DFree/Shutterstock
Despite being the daughter of actor Henry Fonda, Jane Fonda didn't grow up wishing to follow in her father's footsteps. Instead, the young Jane thought she'd pursue a career in the arts. In her late teens, Jane moved to Paris to fulfill that ambition, throwing music and Italian into the mix as well, The New York Times reported in 1974. But Jane was doing many things but studying in the French capital, her brother, Peter Fonda, told the publication.
The Fonda siblings had lost their mother to suicide a few years earlier, sparking Jane's youthful rebellion. "She was demanding our father's attention in any way she could get it," he said. "Running away from Vassar and doing far‐out, freaky numbers in Paris, where she was supposed to be going to art school but was running around with the top playboys in the jetset world." Henry brought his then-21-year-old daughter back to the United States in 1958.
Her fate began to change when Henry took Jane to Lee Strasberg's Actors Studio. "It was a turning point in my life. I went to bed thinking about acting. I woke up thinking about acting. It was like the roof had come off my life!" she said, according to Arnold W. Foster and Judith R. Blau in their 1989 book, "Art and Society: Readings in the Sociology of the Arts." At the Actors Studio, Jane crossed paths with some of the industry's most memorable figures. And that included the iconic Marilyn Monroe. 
Jane Fonda sparked a friendship with Marilyn Monroe
While Lee Strasberg may be better known to film fans as Hyman Roth in Francis Ford Coppola's "The Godfather: Part II," those in the industry know him as the head of Actors Studio, a school famous for promoting Method Acting. Through his role, Strasberg helped propel the careers of James Dean, Sidney Poitier, and Marilyn Monroe. The sex symbol was still a member of the Studio when Jane Fonda joined in the late 1950s — just a few years before Monroe's tragic death.
Fonda and Monroe became friendly rather quickly, with the latter often seeking out the former. That's because the world-famous blonde disliked the male attention she drew upon walking into any room, according to Fonda. "I'll never forget a party that Lee Strasberg gave and she came late, and she walked in and men there started to shake," Fonda told The New York Times in 2020.
To feel more protected, Monroe often searched for a friendly female face to keep her company. "She walked straight to me and started talking to me," she said on "The Howard Stern Show" in 2020. "I knew it was because she felt a kinship and she felt safe with me." While Monroe certainly endured a lot of objectification, Fonda understands that the blonde bombshell's allure extended far beyond her obvious sex appeal. "She glowed! There was a glow coming out of her that was unbelievable! ... I've never seen anything like it," Fonda said. 
Marilyn Monroe was quite insecure, according to Jane Fonda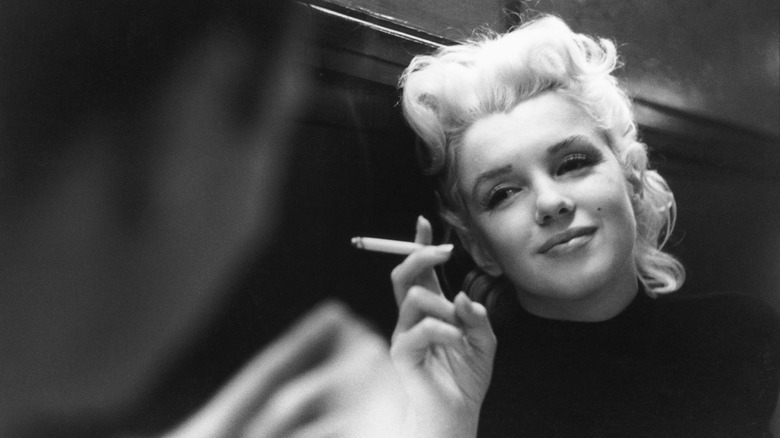 Michael Ochs Archives/Getty Images
Marilyn Monroe wrote her name in pop culture history as the confident blonde bombshell capable of charming American presidents. But, according to Jane Fonda, that was the mask she assumed before the public. Behind closed doors, Monroe was the opposite of confident. In fact, she didn't think she deserved the fame she attracted. "It's the strange thing about celebrity, on the one hand, she knew she was the most famous woman in the world and the sexiest and the most sought after," Fonda told David Letterman in 2012 (via HuffPost). "On the other hand, she always thought, 'This is the day they'll find out I'm a fraud.'"
Monroe's self-doubt, in Fonda's eyes, was also the reason the two actors connected. "She liked me. I think she liked me because she sensed my insecurities and she was drawn to vulnerable things," she told The New York Times. Monroe and Fonda saw in each other's insecurities a part of themselves. "She recognized it in me," Fonda said on "The Howard Stern Show". "She was very insecure — way more than me. She didn't have my resilience, unfortunately."
By observing Monroe, Fonda, who told Stern she grew up feeling unattractive, learned that self-worth doesn't come from outside sources. "I was just fascinated by the dichotomy of who she was and her beauty... The objective reality isn't what matters. It's how you were made to feel," she said.