The Sneaky Trick Tia And Tamera Mowry Pulled Off In High School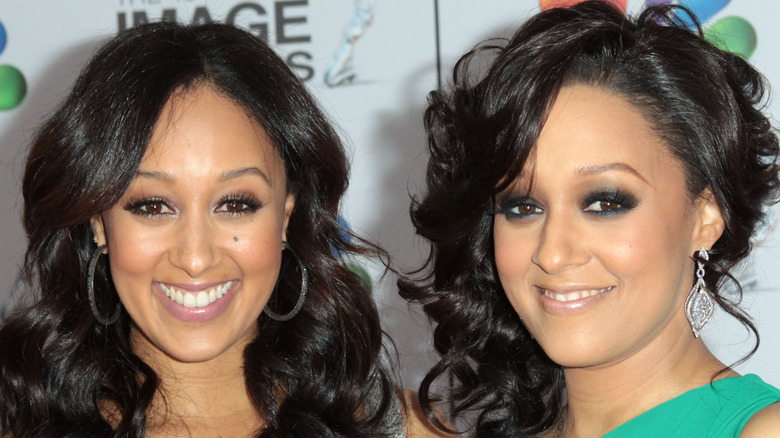 Frederick M. Brown/Getty Images
It's no secret that Tia Mowry-Hardrict and Tamera Mowry-Housley rank quite high on the list of everyone's favorite set of celebrity twins. And with good reason! Not only did the Mowry twins star in the beloved '90s sitcom "Sister, Sister," but they've also managed to gracefully transition beyond child stardom without too many bumps in the road. Unlike some of their peers, Tia and Tamera still have a squeaky clean image that's just as pristine as it was during their "TGIF" hey day. And while they definitely brought the drama on their short-lived reality show, "Tia & Tamera," even their foray into reality TV couldn't pull them too out of character. "My sister and I were like, 'We aren't those type of people,'" Tia told Vibe Vixen (via Essence). "So, it's all about us being positive role models. People always say it's nice to see fresh, vibrant women on television, and that's my sister and I. That's how our career has always been and we knew we weren't going to change who we are for the show business, so it's kind of something that has been accepted." With that said, childhood is the time to make mistakes, and not even the Mowry sisters kept things above the fray all the time. 
In a particularly candid tale, the twins once shared a super sneaky trick they pulled off while still in high school.
Tia and Tamera created a system to cheat in school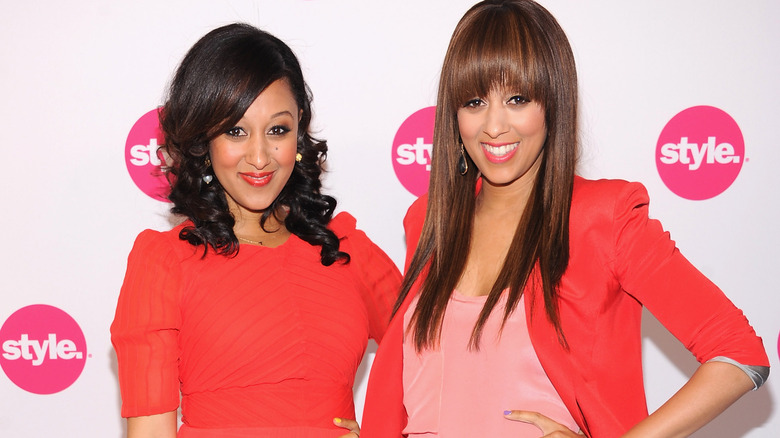 Dimitrios Kambouris/style/Getty Images
Tia and Tamera might have spent their high school years starring in a hit television show, but they still had to go to school like everyone else. Fortunately, the famous twins were good students. According to Seventeen, Tia graduated with a 3.8 GPA. Meanwhile, Tamera "loved being a student more than being in school," but was kind of the "nerd type" who was "more into my career and my studies than the dances and being popular" (via Seventeen). Following high school, both twins attended and graduated from Pepperdine University. 
And while we have no doubt that the twins were intelligent, Tia and Tamera definitely helped each other out when it was time to take tests. During an appearance on "The Kelly Clarkson Show," Tia was asked about the biggest "crime" she'd committed and spilled about her and Tamera's misdeeds in school. "OK, you guys, I think this is an exclusive," said Tia. "So my sister and I, we were kind of seen as like the perfect twins and girls, or whatever, but we were actual cheaters in school." As for how they pulled off their cheating? Well, according to the "Family Reunion" star, they would slyly tap each other the number of times that corresponded with each letter. Basically: one tap for A, two taps for B and so on, as Today points out.
Tamera's version of the story, which she shared on "The Real," includes sign language.
Tia and Tamera may have taken inspiration from their onscreen characters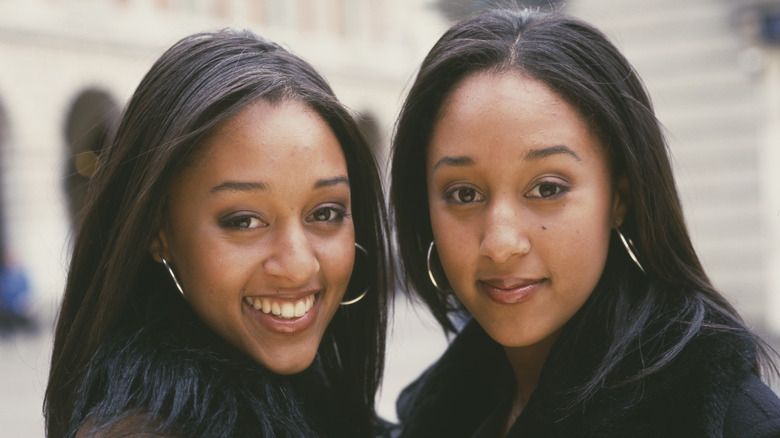 Tim Roney/Getty Images
The Mowry twins played stark opposites on "Sister, Sister." Longtime fans of the show know Tia Landry was the smart, rule-following twin, while Tamera Campbell was the fun-loving, irresponsible twin who, by the way, was a horrible student. And while neither twin was bad in school in real life, they definitely shared similarities with their onscreen counterparts. "We actually did get to choose [our character's personalities]," shared Tamera during a YouTube "Sister, Sister" Q&A. "If my memory serves me correctly, back in the day, Tia was actually the more studious one. And I was definitely the, maybe not mischievous, I wasn't as mischievous as Tamera Campbell." However Tamera shared that she did "become mischievous as I got older...like once I turned 23" and that she was also boy crazy like her character.
Given these details, it's no surprise that art imitated life during multiple episodes of "Sister, Sister." Season 1, Episode 4, entitled, "Cheater, Cheater," set the tone for Tia and Tamera's school dynamic when Tamera, with the intent to impress her father, convinces Tia to switch places and take her history exam for her. Everything goes swimmingly until the teacher overhears one of their friends address Tamera by name. Then, in Season 6's "Twins or Consequences," Tamera asks Tia to take her college mid-term, but this time they're faced with possible expulsion. Fortunately, Tia realizes the gravity of the consequences and backs out.