The Supernatural TV Show That Taylor Swift Nearly Guest Starred In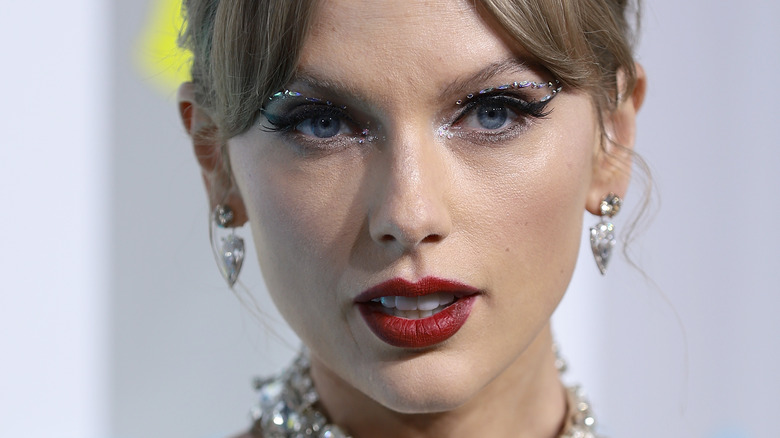 Dimitrios Kambouris/Getty Images
Taylor Swift is not only a singer, but an artist with countless on-screen credits to add to her impressive filmography. She, of course, stars in her music videos and even directed several, such as "Mine," "The Man," and "Cardigan." To be able to convey the messages in her videos, Swift obviously needs to act a bit, and she's taken that onto bigger screens like TV and movies. Most recently, Swift appeared in 2022's "Amsterdam," but she also played the voice of Audrey in "The Lorax" and a ditzy high schooler in love opposite her ex, Taylor Lautner, during "Valentine's Day."
Earlier in her career, Swift also did some television outside of talk show appearances. Like many celebrities, Swift appeared in a procedural; she played a role in an episode of the original "CSI" series in 2009. Not to mention she's appeared on "Saturday Night Live" as more than a just musical guest in some sketches. But guest starring in a supernatural series is one thing Swift never did, but that doesn't mean showrunners didn't try.
'The Vampire Diaries' wanted Taylor Swift to guest star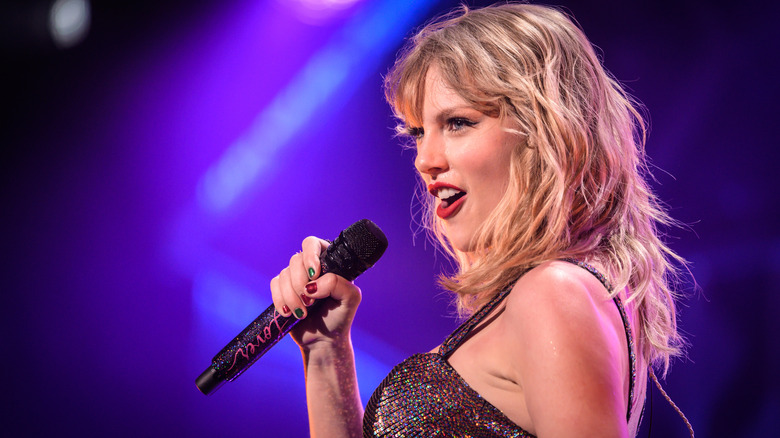 Brian Friedman/Shutterstock
"The Vampire Diaries," a supernatural fantasy show that aired on The CW, came out during the resurgence of vampire media in the late 2000s, thanks to "Twilight." Based on the book series also called "The Vampire Diaries," Nina Dobrev played the protagonist, Elena, a human in love with two vampire brothers named Stefan (Paul Wesley) and Damon (Ian Somerhalder). "The Vampire Diaries" had a lot of guest stars throughout its eight-season run. According to BuzzFeed, Hayley Kiyoko, Bianca Lawson, Stephen Amell, and McKenna Grace appeared in the series at different points. But Taylor Swift was the guest star that never was.
MTV News reported that Dobrev spilled about the situation in 2020. "I remember at the very beginning, we heard that Taylor Swift was a fan of the show," she told E! News's Pop of the Morning. "And then the producers tried to write a role for her," Dobrev remembers that Swift didn't book the role due to her packed schedule. "It didn't work out schedule-wise, obviously," Dobrev said. "She wasn't on the show." The "Vampire Diaries" actor agreed that Swift was a "surprising one" when it came to potential guest stars and said Swift "would have been great" on the show.
Taylor Swift would have played a vampire, of course
Famed screenwriter Kevin Williamson wrote iconic 90s teen horror movies "Scream" and "I Know What You Did Last Summer." He also created and wrote "The Vampire Diaries" for television. He told E! News while Season 1 was airing in 2009, that he actually wrote a role intended for Taylor Swift in that season. He was "desperate to have [Swift] come play a vampire" and intended Lexi, Stefan's best friend, for Swift. Lexi was eventually played by Arielle Kebbel, who appeared in multiple episodes throughout the series, as a vampire, ghost, and helpful entity for Stefan.
"Wouldn't she make an amazing Kirsten Dunst circa 'Interview with the Vampire"-type?" Williamson said about what he imagined for Swift and "The Vampire Diaries." "Oh my God, I cannot tell you how hard I'm trying to get her. I would kill to have her on the show!" And despite Dobrev saying there were scheduling conflicts that didn't allow this role to happen, Williamson said Swift was just "too big" to appear on the series in such a small part. However, even though Williamson lamented that Swift was too much of a big-time star to come on "The Vampire Diaries," Swift did do a cameo for a TV show in 2013. She appeared in "New Girl" as the wedding-stopping girl, Elaine, who runs off with Cece's arranged fiance, Shivrang, during her ceremony. Very "Speak Now" of her, of course.