Who Is Imelda Staunton's Famous Husband?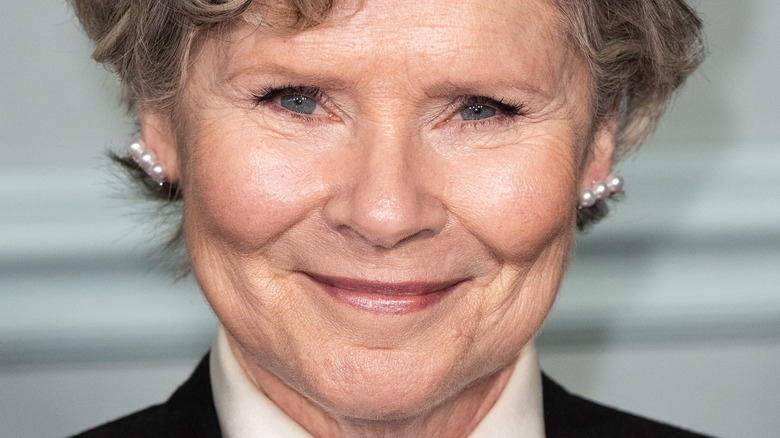 Jeff Spicer/Getty Images
Celebrity couples who work together (usually) have the most stunning onscreen chemistry. After all, audiences flocked to watch Elizabeth Taylor and the actor she divorced and re-married, Richard Burton, for decades. For stage and film actor Imelda Staunton and her husband, Jim Carter, working together is one of the best parts of the job. Staunton, who struck fear and hate in children's hearts as Dolores Umbridge in "Harry Potter and the Order of the Phoenix," most recently worked with her husband on "Downton Abbey: A New Era."
As Express reported, Staunton and Carter appeared in both "Downton Abbey" movies together. Jim Carter plays Downton's stalwart butler, Mr. Carson, and Staunton appears as the aristocratic Lady Maud Bagshaw. "'Downton' was just luxury, like a nice box of chocolates," Staunton told Express. But she did say they didn't have a ton of time together while on set, only about two days' worth of work. "It was so nice, so exciting," she said. "But of course, I have been living with 'Downton' for six or seven years ... I tried to get the dog in it, no they weren't having [it]." But who is Jim Carter? Staunton's husband has an impressive film resume, too.
Imelda Staunton and Jim Carter have a really solid relationship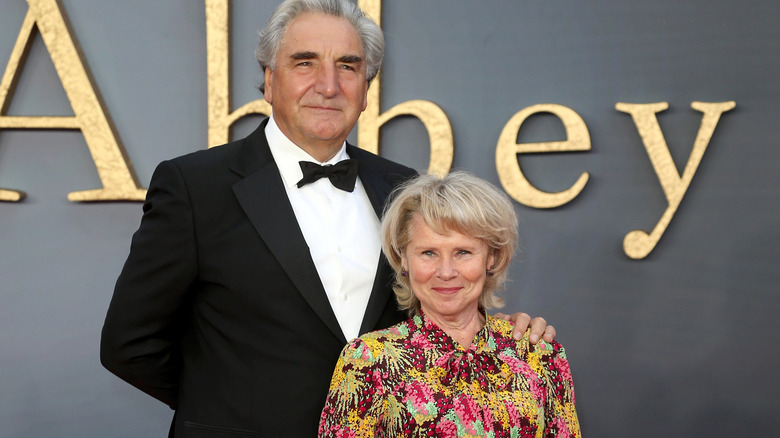 Fred Duval/Shutterstock
According to HELLO!, Imelda Staunton and Jim Carter met in 1982 when the two of them were in the Royal National Theatre production of the Broadway musical, "Guys and Dolls." It was Staunton's first big stage production while Carter, on the other hand, had been in several theatrical roles. They got married in 1983, and have been a solid couple ever since.
Even with over 30 years of marriage, something like the COVID-19 lockdown could put a strain on any couple. But Staunton and Carter told The Daily Mail that things had been pretty peachy. Carter shared how he was growing out his hair like his" hippie roots" and how Staunton performed a little DIY by cutting her own. The outlet commented on how their real-life chemistry easily shows why they've lasted so long as a married couple. But when it came to Zoom and other 21st century ways of communication, the pair are not as thrilled. "We both hate technology and we're not very good at it,' Carter said. 'We don't feel the need for it. I'm enjoying making phone calls rather than sending emails, having the luxury of a long conversation, not shoveling out information."
They have one child, Bessie Carter, who stayed with her parents during the lockdown as well, according to RSVP Live. She is also in the period piece circuit, having played Prudence Featherington in Netflix's "Bridgerton," per IMDb.
Jim Carter said Imelda Staunton is very different than Queen Elizabeth II
Other titles that Imelda Staunton has worked on with her husband, Jim Carter, include "Shakespeare in Love" and "Alice in Wonderland." In "Shakespeare in Love," Carter received a Screen Actors Guild Award nomination for his role as Ralph Bashford in the 1998 Oscar-winning film.
For Staunton, she has the task of taking on the role of Queen Elizabeth II in "The Crown," her most recent project. It's a part that Claire Foy and Olivia Colman took on before her. It's a hefty role and one that has been done several times outside of the Netflix series. But Carter told Insider that his wife is actually immensely different than the late queen. "Imelda is from Irish peasant stock, so it's a purely acting job for her," Carter revealed. "She doesn't bring any regal airs and graces, nor do I bring any talent as a servant into the domestic home." This was a playful nod to his butler role in "Downton Abbey."
As for Staunton, she told Entertainment Tonight that feels more nervous about the role than she would have if she were in Foy or Colman's positions. She felt "more daunted" about portraying a queen who the public is more visually familiar with. They of course had to break in filming when the real Queen Elizabeth II died in September. Staunton said she felt "extremely said" about the queen's passing.