Jason David Frank's MMA Background Is Beyond Impressive
Gabe Ginsberg/Getty Images
Jason David Frank, the actor who rose to prominence as one of the original "Mighty Morphin Power Rangers," has died at 49 years old. "Please respect the privacy of his family and friends during this horrible time as we come to terms with the loss of such a wonderful human being," Frank's rep said in a statement to TMZ. "He loved his family, friends and fans very much. He will truly be missed." Per the outlet, Frank's death was the result of a suicide, although an official cause of death has yet to be determined.
Frank is most known for his role as Tommy Oliver in the "Power Rangers" series, which ran from 1993 to 1995. He went on to make cameos in various franchise installments, appearing most recently in 2018's "Power Rangers Ninja Steel." And while Frank spent many years fighting crime as a fictional superhero, his professional MMA skills are just as impressive as his on-screen stunts.
Jason David Frank was an undefeated MMA fighter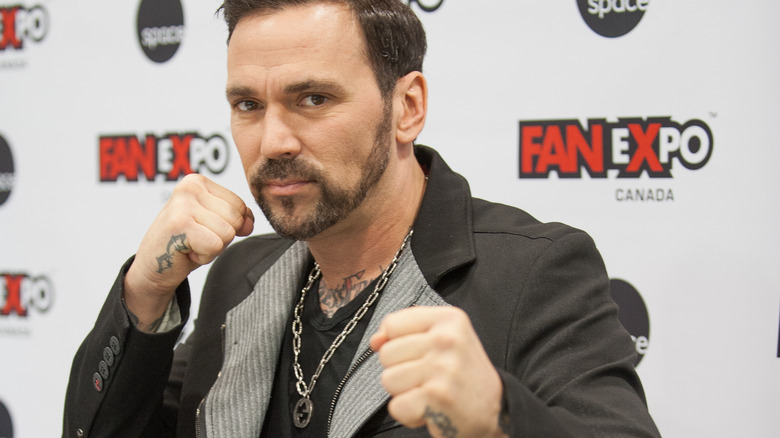 Che Rosales/Getty Images
Jason David Frank previously opened up about starring in the "Mighty Morphin Power Rangers" franchise and admitted that he was shocked by the warm reception the show received. "It was a soap opera for kids, and I lost powers and people cared," Frank told CBS News. Adding, "I was only hired for 10 episodes and, you know, 200 something episodes later, two feature films, returning in the 'Super Mega Force' this year on Nickelodeon ... Just still going strong" However, in addition to his time as the Green Power Ranger, Frank was also an accomplished mixed martial arts fighter.
According to Bleacher Report, Frank began his fighting career at the age of four and was a seventh-degree black belt. After signing with SuckerPunch Entertainment in 2009, Frank made his MMA debut a year later and was an extremely successful fighter. Frank previously opened up about his desire to further his professional sports career and revealed that he was motivated by his brother's death. "There are reasons behind why I want to fight," Frank asserted. "I lost my brother about seven years ago, we were going to do this together, and it's [a] personal thing." Frank went on to become an undefeated MMA star, winning 4 amateur matches and one professional fight.