Riley Keough Comes From A Very Famous Family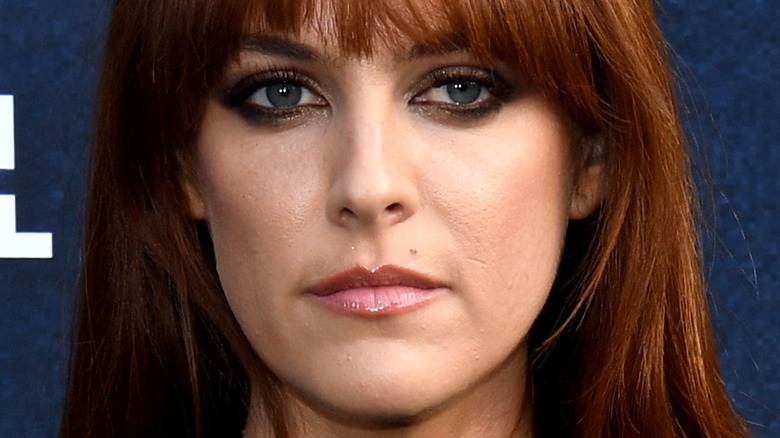 Jon Kopaloff/Getty Images
Plenty of today's stars come from a long line of celebrities. But the granddaughter of the King of Rock 'n Roll has one of the biggest claims to Hollywood royalty imaginable. And she doesn't even use the Presley name–you know her as "Zola" star Riley Keough, granddaughter to the late Elvis Presley. Elvis and his only wife, Priscilla Presley, were married from 1967 to their divorce in 1973. And Elvis only had one child with Priscilla and that was Lisa Marie Presley.
Elvis Presley died in 1977, over a decade before Keough's birth, but his imprint on her life has been ever-present. But as Today reported, Keough told Marc Malkin on the "Just for Variety" podcast in 2021 that when it comes to her grandfather's music, she "[doesn't] put it on" but she'll listen if it's already on. "There's definitely emotion around it. There was definitely a lot of grief around it growing up, especially seeing my mom and my grandma," Keough said. "There was a sad thing, tragic kind of a thing... so there was definitely that relationship to it. And I could see from a young age that it would make my mom sad. And so I could feel that." His emotional and gospel songs are what make Keough the most emotional. And while she isn't following her grandfather's musical legacy, she felt a connection to him through the recent "Elvis" film.
Riley Keough is Elvis Presley's granddaughter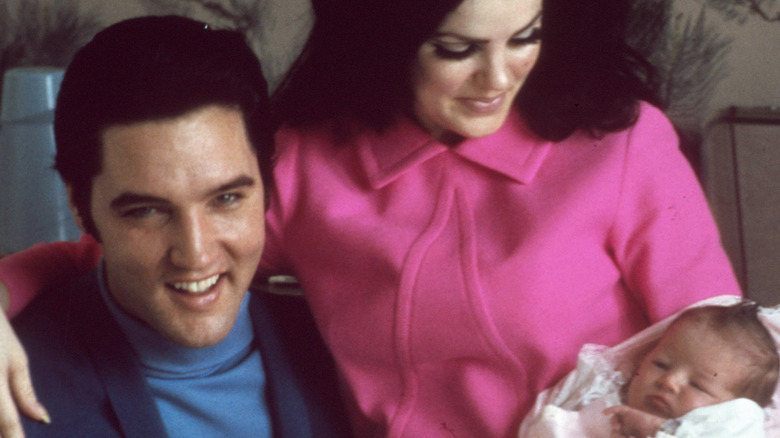 Michael Ochs Archives/Getty Images
Riley Keough is a low-key indie star, despite being best friends with another member of Hollywood royalty, Dakota Johnson, whose A-list parents are Melanie Griffith and Don Johnson. But the reason their friendship has lasted so long — they met at 15 or 16 years old according to SheKnows — is because Johnson was grounded and hasn't changed at all despite her famous family and popularity. Keough feels she's the same, and that's a pretty impressive feat considering just how famous her family lineage is. But again, Keough is very conscious of the work she does and mostly sticks to independent films. Her most mainstream role is upcoming, as she's set to play the titular role in the adaption of "Daisy Jones & The Six."
While she told Variety's Marc Malkin that her singing voice is nothing like Elvis' in "Daisy Jones & The Six," she fully supported another taking on the role of her beloved grandfather. Austin Butler played Elvis in Baz Luhrmann's 2022 film, "Elvis," which depicted the late King's legacy from the moment he started gaining an audience until his death. Keough got to spend time with Butler, posting a picture of the actor playing Elvis' guitar in Graceland back in June. She wrote how "special and overwhelming" the experience was, saying she hadn't "quite processed" seeing Butler play the guitar, and wrote that "very few people aside from" Elvis had played said guitar, making the experience even more meaningful.
Riley Keough said the Presleys were moved by Baz Luhrmann's 'Elvis'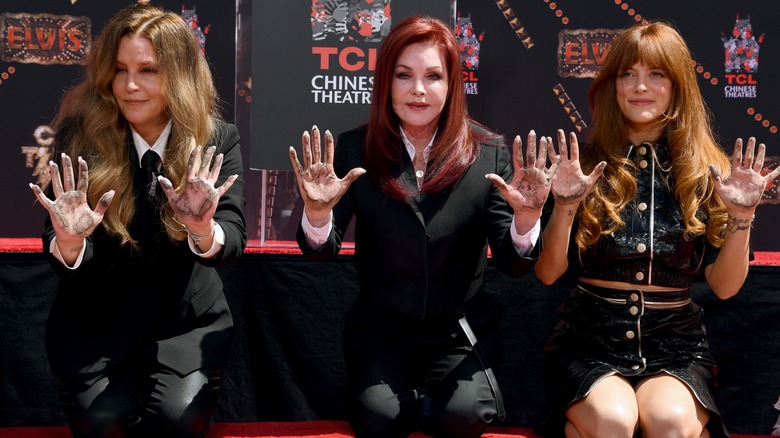 Jon Kopaloff/Getty Images
According to Today, Variety reported that Riley Keough saw Baz Luhrmann's "Elvis" with her mother Lisa Marie Presley, and her grandmother (Elvis' ex-wife) Priscilla Presley in May at the Cannes Film Festival. "It was a very emotional experience. It's very intense to watch when it's your family," Keough said during a Women in Motion panel at the festival. "The first movie I ever watched in the theater and said I wanted to make movies was 'Moulin Rouge,' I was 12. It was a real honor to know Baz was doing this movie. 'Romeo + Juliet' and 'Moulin Rouge,' for the age I was at the time, were really powerful. It wasn't like I distrusted Baz in any way, but you're protective over your family." Additionally, Keough and her two matriarchs attended the Memphis premiere of the film in June, according to CNN.
While IndieWire reported that Keough would have turned down any role in the film if offered, she didn't have an issue with how it turned out. According to Today, Keough revealed that the first time she watched the movie with her mother and grandmother, there were tears. "I started crying five minutes in and didn't stop," Keough shared. "There's a lot of family trauma and generational trauma that started around then for our family. I felt honored they worked so hard to really get his essence, to feel his essence. Austin captured that so beautifully."