Twitter Has Some Thoughts About Machine Gun Kelly's Extreme 2022 AMAs Outfit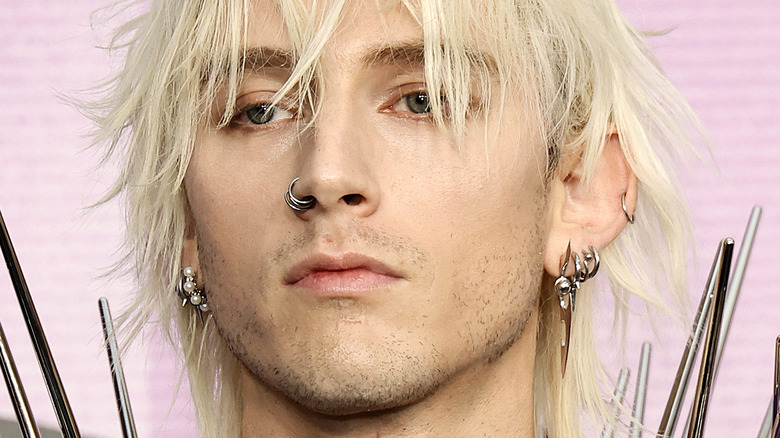 Frazer Harrison/Getty Images
The American Music Awards are known for being star-studded, and punk-rapper Machine Gun Kelly took that direction literally. The "Emo Girl" singer was nominated for two coveted prizes this year, in the Alternative Rock Artist and Rock Album categories. While he's known for his controversies and high-profile relationship with Megan Fox, this time MGK was turning heads for a whole different reason.
MGK arrived on the red carpet solo, allowing his fashion to shine without any distraction from Fox's typical glamor. Even if she had been at his side, his outfit would've likely stolen the show.
He showed up with a bleach-blond mullet and a dark purple suit. Perhaps in an homage to the rock-and-roll genre, (or the sharp point of an American Music Award), he also opted to have the suit covered entirely in spikes. People shared photos of the get-up, and these aren't your average studs. The spikes are several inches long and quickly became the inspiration for hilarious fan reactions.
Fans can't make up their minds about MGK's AMAs fit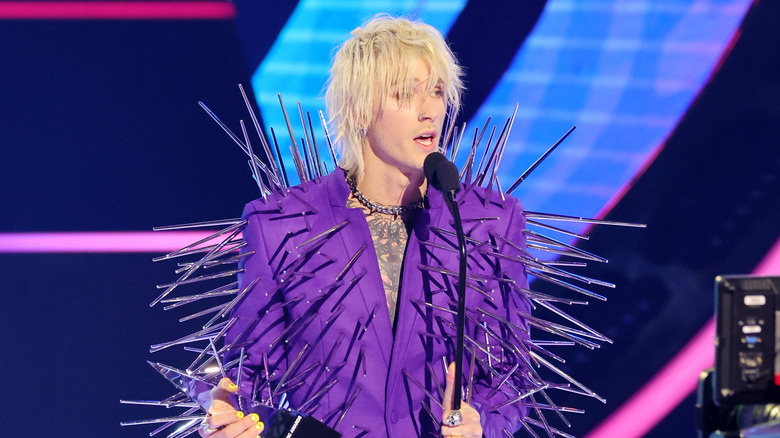 Matt Winkelmeyer/Getty Images
"Wth do mgk have on," one fan tweeted, moments after his carpet debut. The question seemed to be everywhere, but so did its answer. Photos of the fit quickly circulated on Twitter, with E! News dubbing the rapper an "emo porcupine." While AMAs fashion is usually only evaluated on a scale from "hot" to "not," some concerned viewers brought safety into the equation while considering the choice.
One fan feared for Lionel Richie who, as reported by Vulture, is being honored at the ceremony with the Icon Award. "So they are honoring [Lionel Richie] yet he has to sit next to MGK all night which is clearly a life risk," they posted. "One bad sneeze and he's going to be impaled."
Apparently, the outfit doesn't just pose risks to those around him, however. Early into the ceremony, MGK made it on-stage after winning the AMA for Favorite Rock Artist. As recapped by Entertainment Tonight, he was quick to acknowledge his unusual outfit through an embarrassing admission: "This suit is really uncomfortable to pee in."