Machine Gun Kelly's Behavior Escalates To Concerning New Level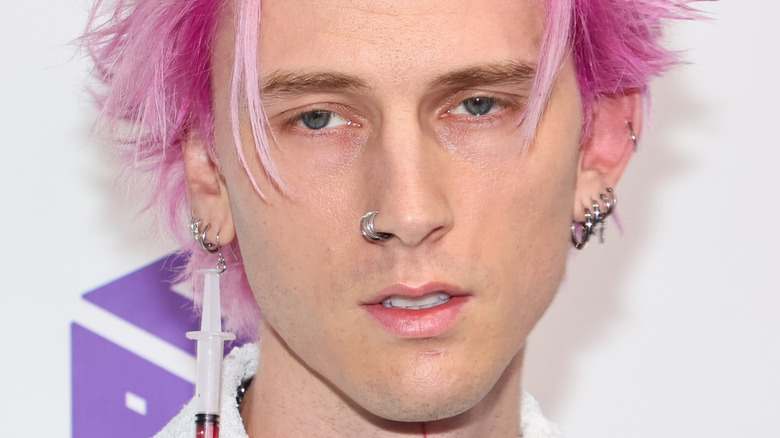 Theo Wargo/Getty Images
The following article includes a graphic image of blood.
You'd think that Machine Gun Kelly would be at the top of the world right now. As he has made extremely clear to everyone — whether you wanted to know or not — he is in love and engaged to be married to Megan Fox. On a professional level, he's fresh off of a new album release. He's made his foray into the realm of movie-making with "Good Mourning," which he wrote, directed, and stars in. He's even the subject of a new Hulu documentary about himself, "Machine Gun Kelly's Life In Pink." All signs point to MGK living the good life. 
And yet, the multi-hyphenate artist has been exhibiting some downright disturbing behavior lately. Based on some of the most recent headlines we've seen about MGK, his antics in NYC have only been getting worse. The "Emo Girl" singer has been accused of smashing glass, screaming at members of his crew, and more. 
Machine Gun Kelly smashed a champagne glass on his head
Machine Gun Kelly was playing a sold out show at Madison Square Garden on June 28, according to Page Six, when things began to go off the rails. Near the end of his set, the singer apparently stormed off stage and was caught screaming at a male crew member, to the point that another member of the crew had to physically hold him back as he yelled at the employee. Kelly eventually made it back on stage, where his band had continued playing, and smashed his guitar. Because, why not? 
But that wasn't the end of MGK's very eventful evening. After the show, Kelly was performing at an after party at the New York City seafood restaurant Catch, when he smashed a champagne flute on his head, causing blood to stream from his forehead. "I don't give a f***, bro. I don't give a s***," he reportedly said into the microphone. Per Page Six, Kelly also shared a video of the incident on his own Instagram Story, as well as a clip of himself examining the damage in the morning, commenting, "Oh, s***." Indeed.